Wendy Williams' Ex-Husband, Kevin Hunter, Alleges Charlamagne Tha God Has Extramarital Affairs
For years, Charlamagne Tha God voiced his opinion on what he believed to be a toxic marriage between Wendy Williams and her now ex-husband, Kevin Hunter. Charlamagne worked closely with the former couple before a disagreement left him disgruntled about Hunter and estranged from Williams. Since Williams and Hunter's divorce, Charlamagne has championed for Williams. Hunter is now telling his side of the story, alleging that he is responsible for Charlamagne's success and makes shocking claims about Charlamagne living a double life.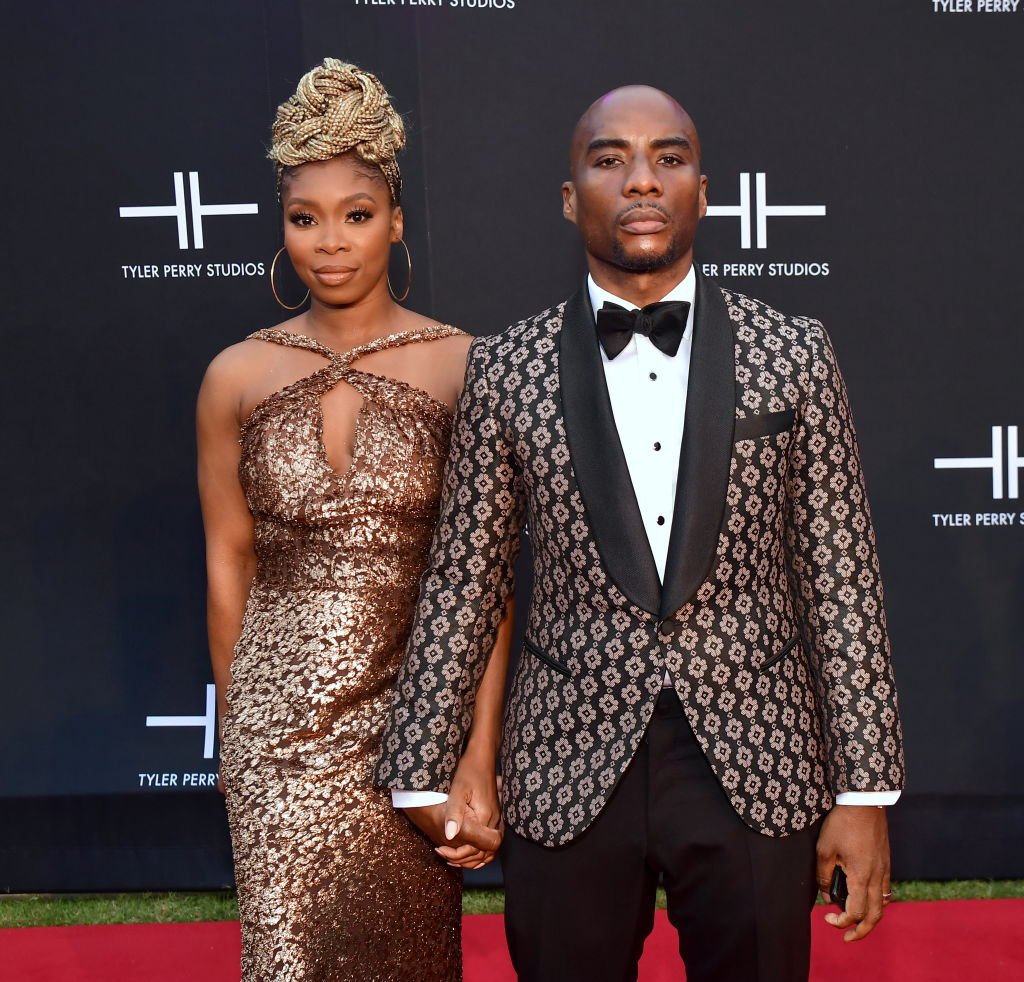 Charlamagne Tha God is married to his high school sweetheart, Jessica Gadsden
Charlamagne has been open about the shortcomings in his relationship with Gadsden. They began dating when he was 16-years-old. He's made several controversial statements during his time on his popular morning radio show about cheating on his wife throughout their long relationship and their multiple breakups. He claims his decision to change his ways and commit to Gadsden was a result of a conversation with his eldest daughter.
"Me and the mother of my kids have been together since high school. When you have your seven-year-old daughter asking why you and mommy don't have the same last name, that affects you as a man," he told xoNecole in 2017. It made me think, 'Well, why don't we? What's stopping me from taking that next step?' 
After dating Gadsden on and off for 16 years, he made things official when they married in 2014.
Together, they share three daughters. Charlamagne credits Gadsden's love for his maturity and growth both personally and professionally. He's kept his family out of the public eye, and photos of Gadsden did not surface online until a few years ago.
Though her husband is well regarded in media and Black culture, Gadsden is accomplished in her own right. She graduated from the University of South Carolina-Columbia with a degree in journalism and mass communication.
She later earned a Master in Business Administration's degree from Webster University in Missouri, as well as a Bachelor of Science degree in biology from Bergen Community College in 2013. According to A Momma, Gadsden has worked as a fitness instructor for the past decade. 
Kevin Hunter hints that Charlamagne Tha God told Wendy Williams about his mistress and alleges Charlamagne continues to cheat on his own wife
Hunter once handled Charlamagne's business affairs, though he never made The Breakfast Club host sign a management contract. Their relationship soured when Charlamagne says Hunter became enraged after feeling that Charlamagne was introducing his mistress, Sharina Hudson, to other men. Hudson and Charlamagne were friends and it was Charlamagne who introduced her to Hunter.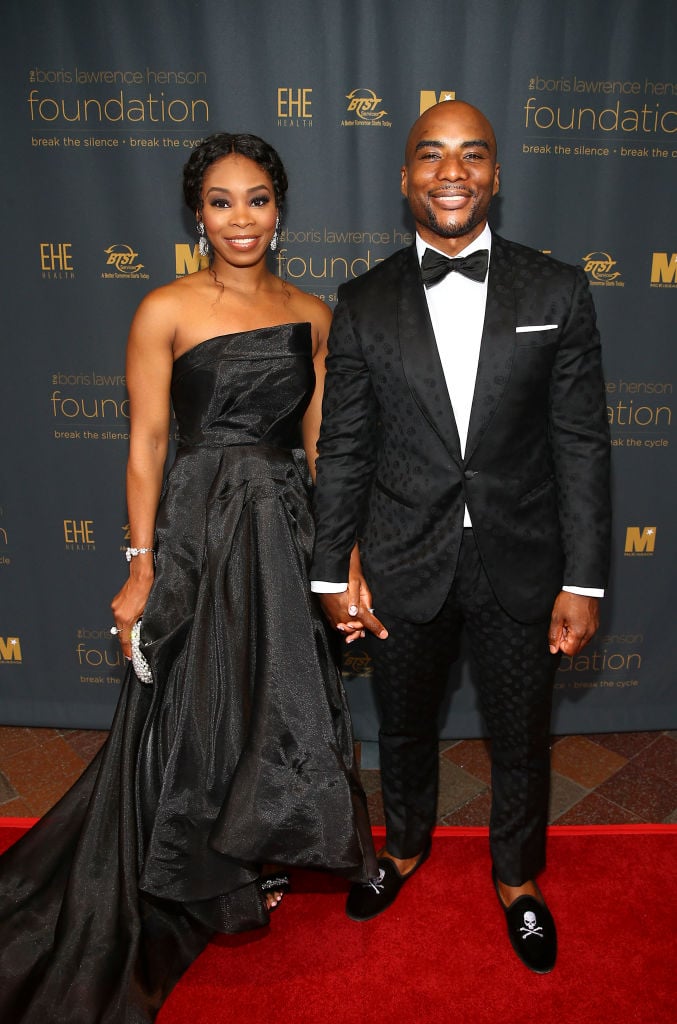 Related: Wendy Williams' Ex-Husband, Kevin Hunter, Says He's Responsible For Charlamagne Tha God's Career In New Interview
Hunter told YouTube star Tasha K that their relationship started to fizzle due to Charlamagne's jealousy that he was dating Hudson. He alleged that Charlamagne became bitter because he was interested in Hudson and she chose Hunter instead. Hunter also believes that Charlamagne broke guy code and told Williams about his affair with Hudson.
"He's told Wendy some intimate details, he broke the g-code by telling my wife and soon to be ex s**t that you shouldn't have no business telling her, unless you a real b***h," Hunter said of Charlamagne. 
Though Charlamagne has said in the past that Gadsden agrees with his choice to not have their family on public display, Hunter claims the radio host has a different reason.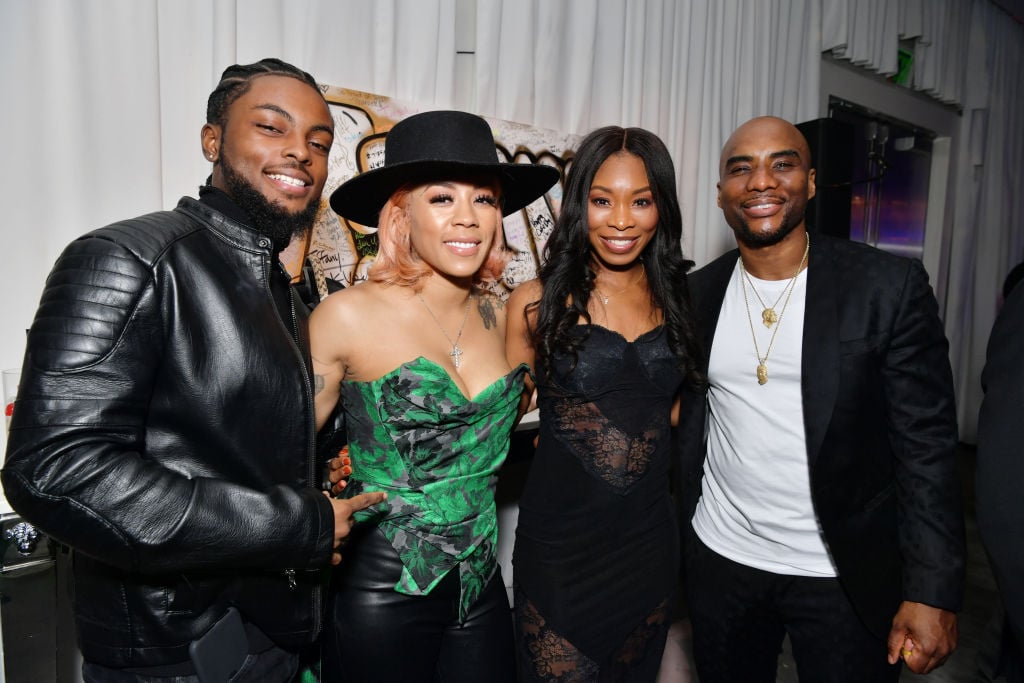 "The girl [Gadsden] is the key to the whole s**t. If you go and pull her out of hiding, it'll be crazy for that n***a," Hunter said. According to him, Charlamagne prefers to keep Gadsden and his family out to the spotlight to avoid his own discretions from being revealed. He hinted to Charlamagne having affairs since he's been married to Gadsden.
"He keeps her in hiding for a reason, pull her up, look at her. He never brought her around. When I invited him to Thanksgiving dinner, he didn't bring her. The way he carried on, he talking s**t about me but the way he carried on, they must have an understanding because that n***a was f***ing everything," Hunter continued.
Charlamagne has insisted that since marrying Gadsden, that he's been faithful.