Wendy Williams Slams Justin Bieber's Drug Addiction Battle: 'Why Should I Care?'
Wendy Williams has a lot of opinions. The daytime talk show host speaks her mind on every one of her shows, even if it means she creates a bit of controversy.
On her February 5 show, Williams discussed Justin Bieber opening up about his past drug addiction. And she blatantly said she doesn't care about what he went through. Here's what she had to say.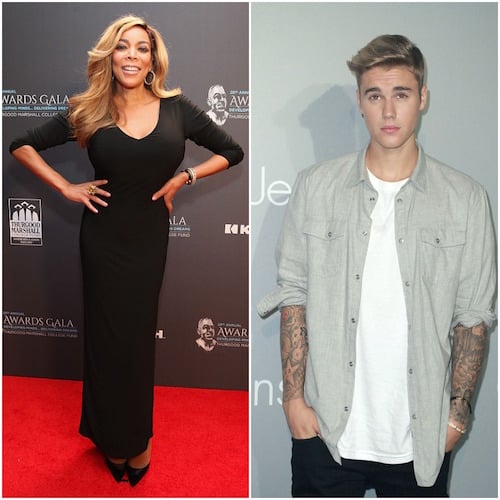 Williams' opinions are often controversial
The best part of Williams' show, albeit the most controversial part, is that she never hides how she feels. The Wendy Williams Show host has been doing this since her first episode premiered back in 2008, and her opinions and humor have been a big part of why she's retained such a large fan base.
Williams has landed in hot water with some people though, since her comments can sometimes be pretty harsh. She once called Lori Loughlin's daughter, Olivia Jade, "stupid" and "entitled," and most recently called out Rob Kardashian for dating Love & Hip Hop star Tommie Lee. Lee then bashed Williams on social media. But it hasn't stopped Williams from remaining true to who she is.
Williams recently said she doesn't care about Justin Bieber's drug problems
In typical Williams fashion, she recently spoke her mind about Justin Bieber opening up about his past drug addiction. Bieber recently debuted a documentary series about his life and everything he's been through, and in it, he detailed his past drug problem that he hid from the world. He said he would start every morning by "popping pills" and "smoking a blunt." He found himself in a very dark place and said he turned to God to help him.
Williams showed the clip on her show, and before getting into the discussion she said, "I don't care," that Bieber dealt with a drug problem. "Why should I care?" she reiterated. "I saw who he was hanging out with."
Justin Bieber once tore up her green room while on her show
Williams doesn't have the fondest memories of Bieber. He once appeared on her show when he was 13, and, per Williams' account, he was completely out of line. "He tore up my green room … Was nasty to everyone around here," Williams said. "It was Scooter and his father who made him go upstairs and straighten up that green room. … So they had a piece of a handle on him," she added.
Williams then said that Bieber's dad "fell in love with the limelight" and wasn't as much of a dad as he should have been in the situation.
Williams has struggled with drug addiction herself
With drugs becoming such a problem in our society, it seems insensitive that Williams would blatantly say she doesn't care about Bieber's struggles with addiction. It's also surprising, considering Williams opened up about her own struggles with addiction early last year. Williams admitted to fans that she had dealt with a bad cocaine addiction through the years and was living in a sober house at the time.
Many celebrities fall victim to drugs, and it could partially be because of the pressure to succeed and maintain a good image. It's nice to know that both Williams and Bieber were able to overcome their addictions, when, unfortunately, others aren't so lucky.