Wendy Williams Slams Rob Kardashian's New Girlfriend, Says He Needs to 'Do Better'
Wendy Williams has no problem speaking her mind. In fact, it's part of the reason why she's had such a successful career. Each day on her show, Williams discusses "Hot Topics," which are trending topics about celebrities. On her January 30 show, she discussed Rob Kardashian's rumored new girlfriend — and she didn't hold back.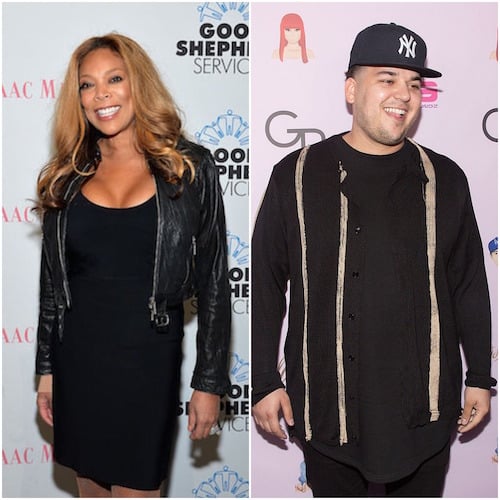 Williams always speaks her mind
The Wendy Williams Show has been on for more than a decade, and the reason for its long run is because Williams doesn't hold back on her thoughts. Whenever she has an opinion on something, she shares it, even if it's not necessarily what everyone else thinks. Williams has said some harsh things now and then, such as when she called Lori Loughlin's daughter Olivia Jade "stupid" and "entitled." (But, in all fairness, some might agree with that analysis.) Through it all, though, Williams remains true to her personality.
She loves engaging her audience in 'Hot Topics'
One of the most entertaining parts of Williams' show starts from the moment Williams walks on stage. After her introduction, she goes into "Hot Topics," where she discusses what's new in entertainment news and gives her opinions on some scenarios. This is also where she engages her audience the most (she calls them her "co-hosts" for this reason). At this point, Williams gives her honest opinions on everything that's happening in the celebrity world, whether the audience agrees with her analyses or not.
Williams slammed Rob Kardashian's new girlfriend
On Williams' January 29 show, she discussed Rob Kardashian's rumored new girlfriend. The only Kardashian son is rumored to be dating Love & Hip Hop: Atlanta star Tommie Lee, and Williams had no problem suggesting that these two aren't right for each other. She revealed that Lee has been arrested 31 times, and she seemed disappointed in who Kardashian had chosen as a girlfriend. Kardashian has previously dated rapper Blac Chyna and Love & Hip Hop star Alexis Skyy.
Williams said Rob needs to 'do better' in choosing the women in his life
When it comes to girlfriends, Kardashian doesn't have the best track record. When Keeping Up With the Kardashians first premiered, Kardashian was dating actress Adrienne Bailon — a friendly, outgoing woman. He cheated on her, though, and the two broke up. Since then, Williams suggests he hasn't brought home the best women. Kardashian dated Blac Chyna a couple years back, and the two share a daughter, Dream. Last year, he dated reality television star Alexis Skyy, and he has recently been rumored to be dating Lee. But Lee, who has a troubled past, might not be the best for him, according to Williams.
"Rob, why attract the same type of woman every time?" Williams asked rhetorically, suggesting these women have a common denominator of getting into trouble. Williams then showed images of all of Lee's 31 mugshots and said Kardashian needs to "do better" in terms of the women he dates. Ultimately, it's up to Kardashian to decide who he spends his time with, but it's clear that the people around him are questioning his taste.