Were Meghan Markle and Kate Middleton Popular in High School?
Meghan Markle and Kate Middleton both went to private schools when they were younger. What were they like as students? Were they popular among their peers?
Meghan, Duchess of Sussex and Catherine, Duchess of Cambridge are two of the most popular women in the world. They have admirers everywhere they go, and many women look up to them. But what were they like in high school? Were Meghan and Kate popular when they were teenagers?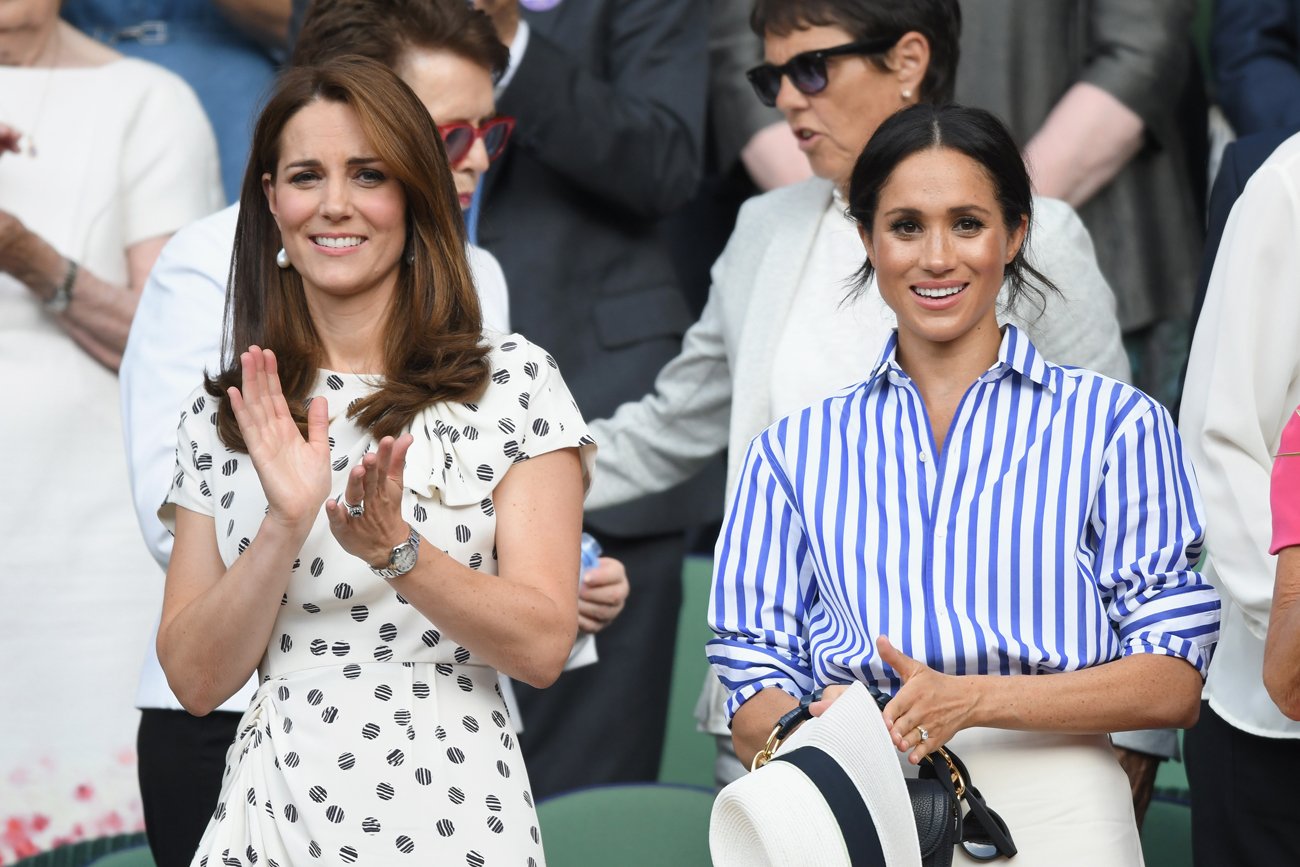 Which schools did Meghan Markle and Kate Middleton attend?
Both Meghan and Kate grew up with some money and attended private schools. 
Meghan attended Immaculate Heart High School in LA. It is a Catholic institution for girls that boasts other notable alumni such as Tyra Banks and Dakota Johnson. 
Meanwhile, Kate attended Marlborough College, which is both a boarding school and a day school. It attracts many students from the upper classes of society in England, including Kate's cousin-in-law Princess Eugenie.
Both Meghan Markle and Kate Middleton were popular in high school
Meghan and Kate are known to be charming ladies now, and it seems many classmates found them likable as well.
For example, Meghan participated in many different activities in school, including theater. A classmate said, according to People, "She acted as a TA in drama and most kids our age wouldn't have felt as confident in their skills. She was bubbly, optimistic and positive. She was also very focused and had her eye on the prize – she knew where she wanted to go to college and she knew she wanted to do drama."
Schoolmates also nominated Meghan for prom queen, which showed just how popular was she was at the time.
At Marlborough, Kate attracted many boys with her effortless beauty. Her old friend Gemma Williamson told the Daily Mail in 2005 that Kate used to lack confidence but seemed to "bloom" after one summer break.
"It happened quite suddenly. Catherine came back after the long summer break the following year an absolute beauty," Williamson said. "Although she was sporty, Catherine was very feminine too… With that adorable, cheeky little grin of hers, she was a totally different girl – and every boy in the school fancied her rotten."
Kate was also reportedly voted "most likely to be loved by everybody" in her last year at Marlborough.
Kate Middleton is more popular as a royal than Meghan Markle
Although Kate and Meghan were well-liked among their classmates, Kate is more popular as a royal than Meghan.
According to a poll from YouGov, Kate is the third most popular royal. She has an approval rating of 64 percent among people in the UK. Since joining the royal family in 2011, she has impressed the public with her dedication to causes such as mental health and child development.
Meanwhile, Meghan is the third least popular royal. Her approval rating is only 32 percent. She was more popular when she first joined the royal family in 2018, but her popularity has dipped this past year after she stepped down as a senior royal.