With 'West Side Story,' 'Hamilton,' and 'In The Heights,' Movie Musicals Are Taking Over the Box Office
Whether you love the history of 'Hamilton' or the music of 'In the Heights,' these musicals are headed straight to movie theaters in the coming months.
Musical theatre nerds, rejoice! Thanks to Disney and a few other production companies, Broadway musicals are officially taking over the box office. From Steven Spielberg's adaptation of West Side Story to the live movie-musical of Hamilton, here are a few of the musicals set for their film debut in 2020 and 2021.
Lin-Manuel Miranda's 'In the Heights' heads for theaters during 2020
With Cats featuring a furry version of Taylor Swift, it's safe to say 2019 was a pretty unique year for musical theater. Another movie musical is heading to theaters in the coming months. In the Heights, a musical created by Lin-Manuel Miranda, enjoyed its broadway debut during 2005, even featuring Corbin Bleu and Jordin Sparks as cast members.
This summer, a movie musical version of In the Heights makes its debut, telling the story of one neighborhood in New York City. The trailer for this film is available on YouTube, currently holding over 8 million views.
"When I saw the show years and years ago, it reminded me of my family," Director Jon M. Chu said. "I grew up in an immigrant family. The community and the fight to survive and the right to dream was everything to me. That's the American story. I said, 'I know how to make this movie and how to express it.'"
Rachel Zegler and Ansel Elgort star in Steven Spielberg's 'West Side Story'
When you're a Jet, you're a Jet. There's a new version of West Side Story coming to theaters this year. This film stars The Fault in Our Stars and Baby Driver's Ansel Elgort, alongside movie newcomer Rachel Zegler. (Of course, she's no newcomer to musical theater — Zegler even starring as Maria in a stage production of the show.)
Although news first broke of the leading cast members during 2019, the movie premieres during December 2020. It features much of the same music from the 1961 movie, there are a few differences noted by the screenwriter.
"It's not a straightforward remake [of the movie], but it's definitely the Jets and the Sharks. It's New York City. I think people will find a new way to love the story and to love the songs through our interpretation," West Side Story screenwriter Tony Kushner said on the red carpet, according to Vanity Fair.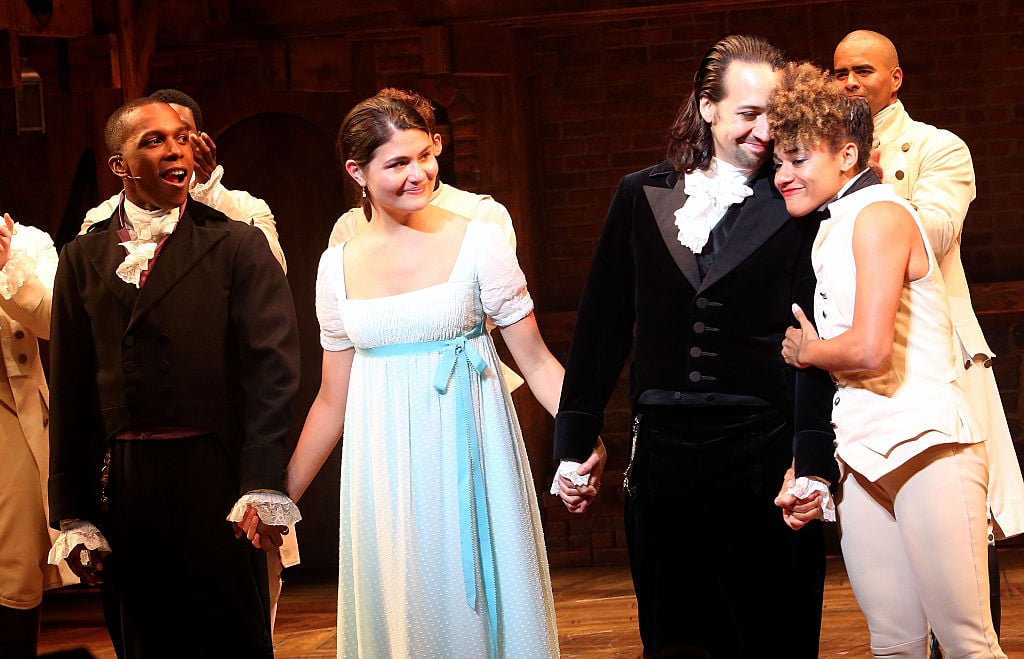 Recently, Lin-Manuel Miranda shared news for 'Hamilton' fans
Disney has never been shy about their love for musical theatre. The studio released movie musicals Newsies and Into the Woods. Now, it has their sights set on the Tony-award winning Broadway production of Hamilton.
"Disney presents: Hamilton. With The Original Broadway Cast. Filmed onstage at The Richard Rodgers Theatre. In A Theater Near You. October 15, 2021. #Hamilfilm," Lin-Manuel Miranda shared on Twitter. Unlike West Side Story, this would be the first time Hamilton would appear on the silver screen. This would be Lin-Manuel Miranda's second play-turned movie, after In the Heights.
Unfortunately, there's still over a year before fans can see characters like George Washington, Alexander Hamilton, and Aaron Burr strut across the stage. In the meantime, the production resides in New York City, where it has been since 2015.
In the Heights premieres in theaters on June 26, 2020. West Side Story premieres in theaters on Dec. 18, 2020.