'West Side Story': Natalie Wood's Ghost Singer Can Be Heard In Several Classic Films
In 1961, the musical West Side Story came out in theaters, and it quickly became a classic. Natalie Wood enchanted audiences as Maria, the sweet Puerto Rican girl who falls in love with the wrong boy. Wood's charming acting, light-footed dancing, and beautiful singing have become iconic. However, one of those skills wasn't actually hers. The voice you hear in Wood's songs was dubbed by another woman, and Wood wasn't the only big movie star she sang for.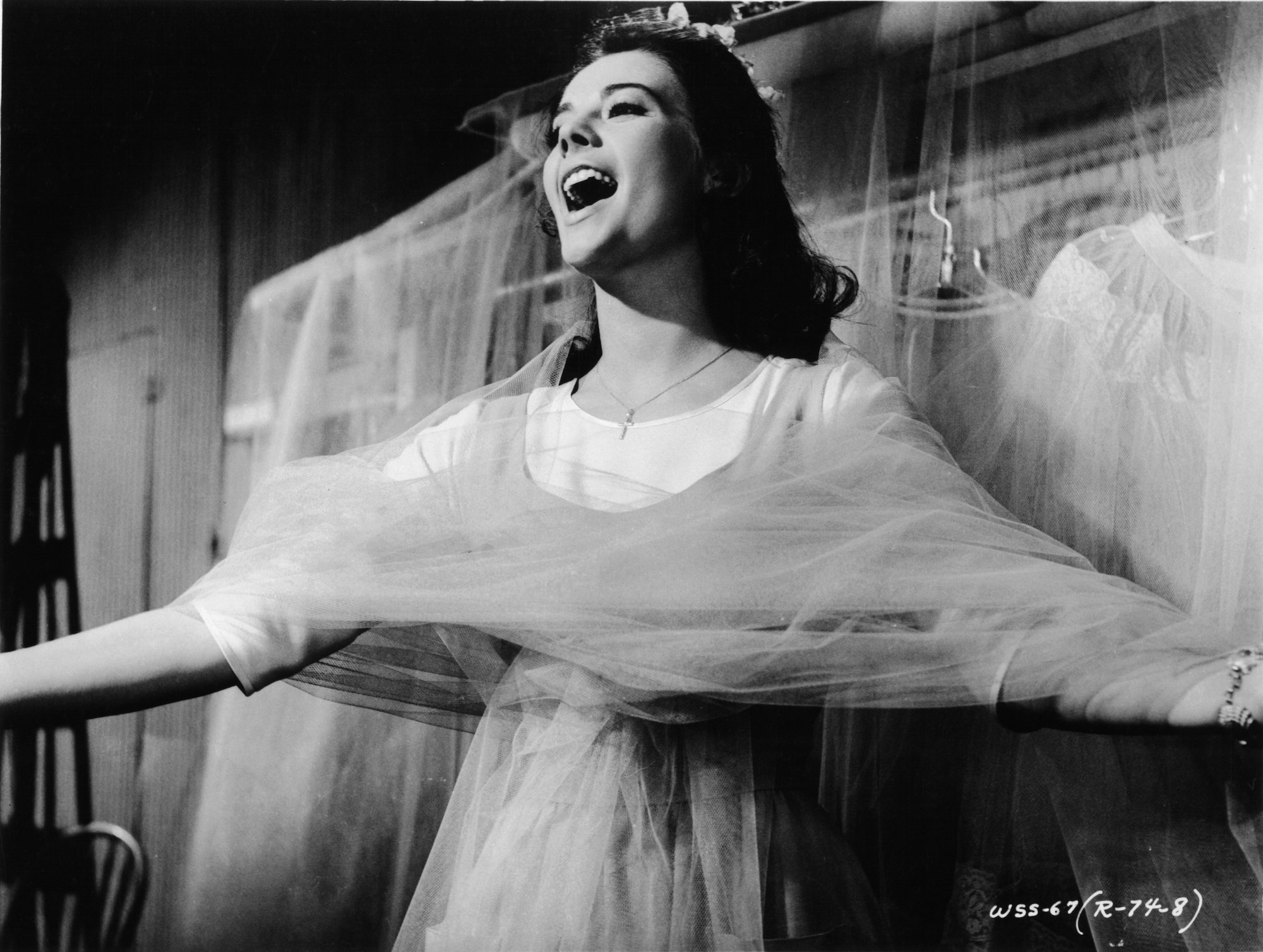 Natalie Wood in 'West Side Story'
According to Entertainment Weekly, it's been nearly 60 years since West Side Story debuted, and it's still a beloved part of musical cinema history. The movie was based on the Broadway musical by Leonard Bernstein and Jerome Robbins, and its intense choreography and addictive songs made it a huge hit. It took the story of Romeo and Juliet and set the tragedy in the streets of Manhattan's West Side. 
Wood played the part of Maria, the innocent girl who falls in love with her brother's sworn enemy. The show's producers first offered the part to Audrey Hepburn, but she had to turn it down because she was pregnant. The movie turned out to be one of the biggest of Wood's career, and people often associate her with Maria, dancing and singing that she feels pretty. But it turns out that the voice in that familiar song isn't Wood's after all. 
Marni Nixon, ghost singer
NPR reports that at the time, it wasn't uncommon for movie studios to hire ghost singers to dub the voices of famous actors who couldn't quite manage their characters' songs. Wood was one of those stars because she simply didn't have the musical ability to carry off the West Side Story tunes. 
To make the now-famous songs shine, studio executives brought in one of the foremost ghost singers of the day, Marni Nixon. Although Nixon had worked with many famous singers, Wood was not as easy to get along with as most of them. 
Producers didn't want Wood to know that none of her singing would be used in the film, so they led her to believe that Nixon's voice would only be dubbed in for the high notes. Nixon felt uncomfortable with this situation, especially when she heard people praising Wood's singing when it was not very good and would not be used. 
Who was Marni Nixon?
Fortunately, most of Nixon's experiences as a ghost singer were not so awkward. She started working for Hollywood as a teen, and she was quickly in demand. She had perfect pitch, could sight-read any sheet music, and she had a beautiful voice. Although she was required to sign contracts promising secrecy, her reputation as a singer kept her busy in Hollywood. 
In 1954, she was hired to sing Deborah Kerr's songs in the movie The King and I. Nixon said that Kerr was pleasant to work with. Next came her difficult time with Wood on West Side Story, and after that, she went on to ghost sing for Audrey Hepburn in My Fair Lady. Although her voice was heard in some of the biggest musical films of the era, she only appeared on-screen once. She played the part of Sister Sophia in The Sound of Music, singing "How Do You Solve a Problem Like Maria?"
Nixon died in 2016 at the age of 86, from complications from breast cancer. Although not many people knew her name, and even fewer knew her face, she left her mark on the world. Whether they realize it or not, most people have heard her sing some very famous songs.