What Are R. Kelly's Chances in Court? Legal Experts Weigh In
Lifetime's docuseries Surviving R. Kelly Part II: The Reckoning focused primarily on the accounts of R. Kelly's alleged survivors. Each interviewee was given the chance to tell their story, uninterrupted, about their alleged sexual, physical, and/or emotional abuse at the hands of R. Kelly. He has denied all allegations against him. 
But at the end of the three-part limited series, producers turned their attention to Kelly's impending criminal trial. He is facing a number of charges related to alleged sex crimes in a case that is slated for trial beginning Apr. 2020. 
Legal experts and attorneys on Surviving R. Kelly Part II weighed in on how they believe the upcoming trial could shake out for the disgraced R&B singer.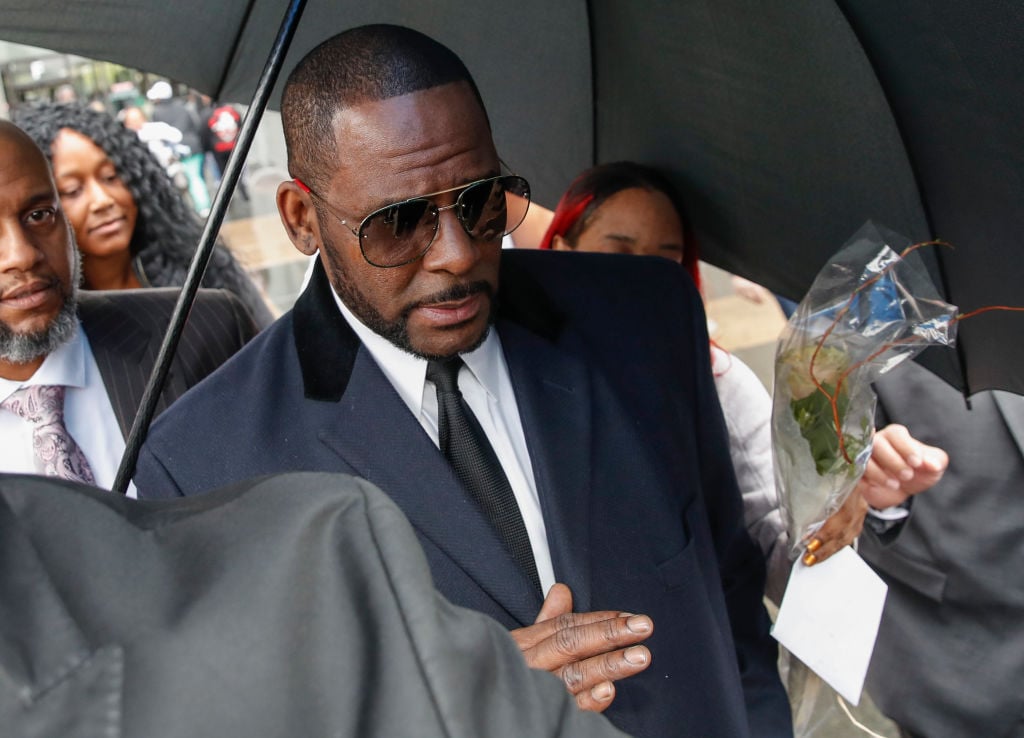 Kelly was arrested on federal sex crimes charges in Chicago in 2019
Kelly was arrested in Chicago in Jul. 2019 for a number of federal charges. 
According to NPR, the 18 charges include child pornography, racketeering, violations of the Mann Act, obstruction of justice, and more. Each count carries a potential three to seven years in prison, meaning that he could potentially spend the rest of his life in prison if convicted. Several minors are involved in the allegations.
He also has pending charges for an alleged sexual assault in an Illinois state court and solicitation of a minor in Minnesota, as well as several ongoing civil lawsuits.
Surviving R. Kelly Part II reminded viewers that Kelly was first found not guilty of charges related to child pornography allegations in 2008. But, at least according to many attorney opinions, that's unlikely to happen again.
Attorneys and legal experts believe the charges will be tough to beat
According to the legal experts and attorneys on Surviving R. Kelly Part II, Kelly will have a tough time getting off scot-free in his upcoming trial. 
Gerald Griggs, an Atlanta-based lawyer who represents the Savage family (parents of Joycelyn Savage, Kelly's longtime live-in girlfriend whom they claim was held against her will), said he believed the case would be tough for Kelly's team to beat. This was especially true, he said, because of Kelly's past charges for related allegations. 
"If I was R. Kelly's defense attorney," Griggs said, "one, I'd get rid of my team. Two, I'd have a real conversation with my client. I have never, ever seen somebody beat trial twice. He's already gotten his one, which was 2008. So now you're working on loaded dice." 
Legendary victim's rights attorney Gloria Allred agreed that the charges would be beyond difficult for Kelly to escape. She hinted that the sheer number of allegations and charges alone, as well as the length of time across which they occurred, would probably mean something at trial. "I, in 43 years, have never seen so many charges filed in so many jurisdictions against one celebrity," she said on the Lifetime docuseries.
One lawyer said R. Kelly's trial should be used to send a larger message
Ian Alexander, attorney to alleged survivor Tiffany Hawkins (often called Kelly's "first victim" because she was the first sue), agreed that Kelly's conviction was likely. 
Alexander also argued that the potential conviction should send a strong message about celebrity culture, power, and the entertainment industry. In particular, several of Kelly's former associates and staff members have talked about being pushed to "look away" from his alleged behavior because of how much profit he was bringing to his record label and other artists.
"What would justice look like to me?" Alexander mused on Surviving R. Kelly Part II. "Since we can't turn back the hands of time, jail. Forever. And, something more societally, an understanding that this kind of behavior can't be tolerated and put aside in favor of profit."