What Ariana Grande Songs Are About Mac Miller?
Mac Miller is someone who has always held a special piece of Ariana Grande's heart. Though the two started off as friends after collaborating at the start of her career, their relationship turned romantic when they reconnected in 2016.
The pair maintained a loving relationship for two years until they called it quits in 2018. A year later, Miller died of an overdose. Since his unprecedented death, Grande has written several personal songs about the late rapper and the love they shared during their short-lived romance.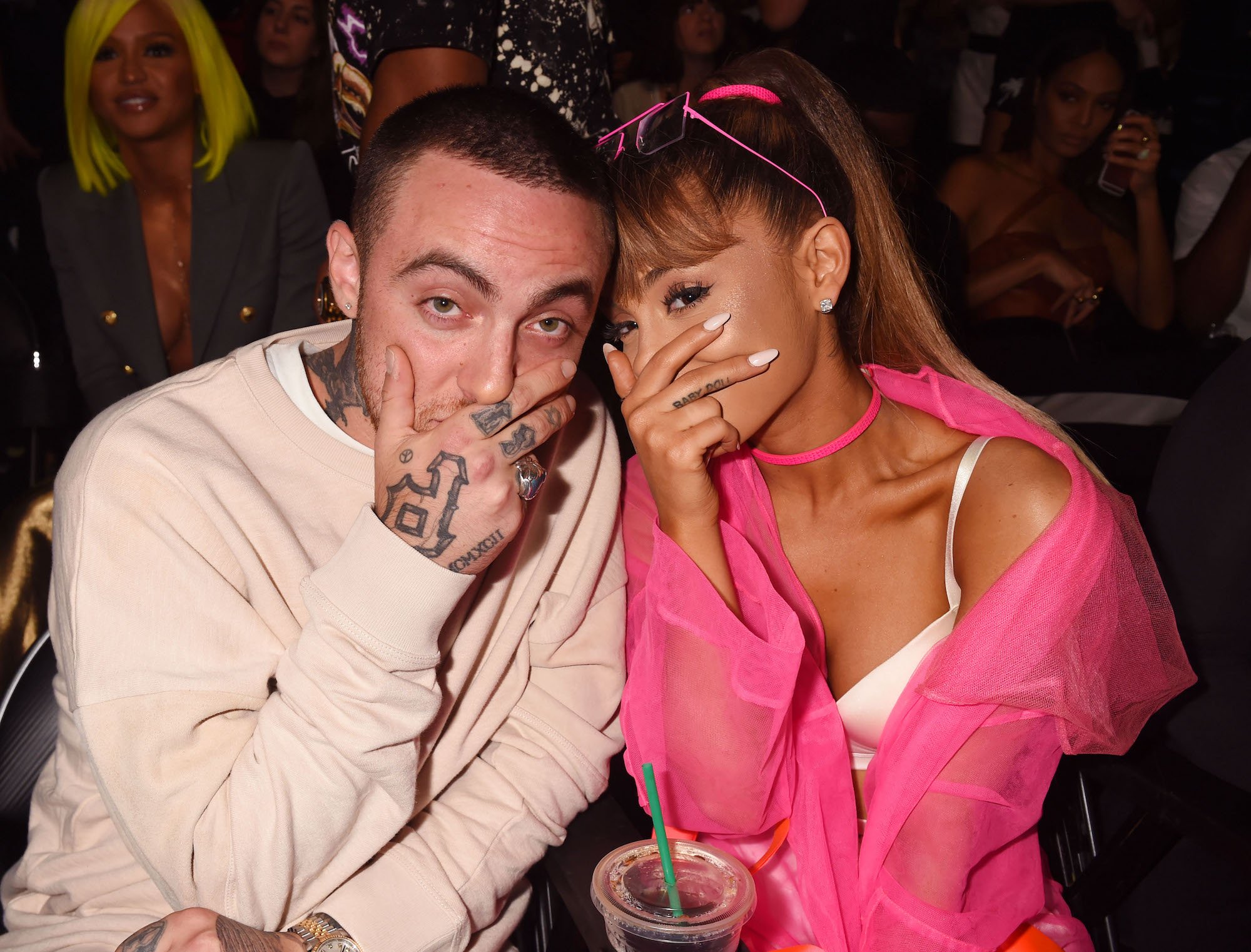 'Ghostin'
Off of her fifth studio album, Thank U, Next, "Ghostin" is a song that may not have topped the Billboard music charts like some of Grande' other tracks, but it is one that put many people in their feelings after they listened to it.
In the song, Grande sings to her ex-fiancé Pete Davidson about being haunted by Mac Miller, the titular "ghost" whose presence is too overbearing for either of them to try to deny.
She sings, "Though I wish he were here instead/Don't want that living in your head/ He just comes to visit me/ When I'm dreaming every now and then (And then)."
Before the release of Thank U, Next, Grande described "Ghostin" as being about "feeling badly for the person you're with bc you love somebody else. feeling badly bc he can tell he can't compare."
'Imagine'
Thank U, Next features several songs believed to be about Miller. The opening track "Imagine" is one many are convinced Grande wrote with the late rapper in mind.
In the song, she sings, "Click, click, click and post / Drip-drip-dripped in gold / Quick, quick, quick, let's go / Kiss me and take off your clothes Imagine a world like that / Imagine a world like that / We go like up 'til I'm 'sleep on your chest / Love how my face fits so good in your neck / Why can't you imagine a world like that? / Imagine a world."
While the lyrics might not immediately conjure up images of Miller, Grande did reveal on Twitter that the song is about "a simple, beautiful love that is now (and forever) unattainable." Paired with the lyrics of Miller's 2016 track "Cinderella," it's safe to say that the rapper was on her mind when she wrote this song.
'Better Off'
Now, it's unclear if this song is actually about Miller. However, fans are convinced that it is after giving it a good listen.
On the track, which is from her Sweetener album, Grande sings about a "love gone wrong."
Seeing as she alluded to a troubled relationship with Miller back in May 2018 after the two had broken up, many believe that "Better Off" has the rapper's name written all over it.
Showbiz Cheat Sheet reached out to Grande's team for confirmation that "Better Off" is about Miller but did not hear back by the time of publication.
'Everytime'
Another track off her Sweetener album that seemed to illustrate a troubled romance was the song "Everytime."
In it, she sings, "You get high and call on the regular/ I get weak and fall like a teenager/ Why, oh why does God keep bringing me/ Back to you?"
It's been alleged that Miller's drug use played a part in his split from Grande. Though that has neither been confirmed nor denied, fans think the singer alludes to these issues in the lyrics.
Showbiz Cheat Sheet reached out to Grande's team for confirmation that "Everytime" is about Miller, but did not hear back by the time of publication.
'Just Like Magic'
On her most recent album, Positions, Grande sings the song "Just Like Magic," which includes the lyrics: "Good karma my aesthetic (Aesthetic) / Keep my conscience clear, that's why I'm so magnetic / Manifest it (Yeah), I finessed it (I finessed it) / Take my pen and write some love letters to Heaven."
According to Capital FM, some fans believe Grande was referencing Miller in the track with one person writing on Twitter, "The Mac Miller reference on 'Just Like Magic' has me so f*****g weak. Ariana really breaking me with this album."
Showbiz Cheat Sheet reached out to Grande's team for confirmation that "Just Like Magic" is about Miller, but did not hear back by the time of publication.
'Off The Table'
Though she mostly sang about her relationship with fiancé Dalton Gomez on her Positions album, the record still included personal tributes to Miller.
One being in her song "Off The Table," featuring The Weeknd. In the track, Grande sings worries that she might not love again after losing someone she truly cared for, which is believed to be Miller.
She begins the song by singing: "Will I ever love the same way again? / Will I ever love somebody like the way I did you? / Never thought you'd be so damn hard to replace / […] If I can't have you, is love completely off the table?"
The year after Miller's death, Grande opened up about losing him to Vogue magazine, describing her mourning as "all-consuming."
"By no means was what we had perfect, but, like, f*ck. He was the best person ever, and he didn't deserve the demons he had," she said. "I was the glue for such a long time, and I found myself becoming…less and less sticky. The pieces just started to float away."
Though she's since channeled that pain into music, it's clear that Grande still thinks about Miller regularly as he was and always will be one of her greatest loves.