What Beyoncé's Real Hair Looks Like
Aside from her illustrious and continuously successful career, Beyoncé is known for her signature blond hair. While she has tended to switch things up — from bobs and braids to waist-length hair and curly updos — her mane almost always follows the same hue. Fans know that she tends to wear wigs and hair extensions for extra dramatic effect, but they might be surprised to learn that underneath lies a beautiful head of naturally curly hair.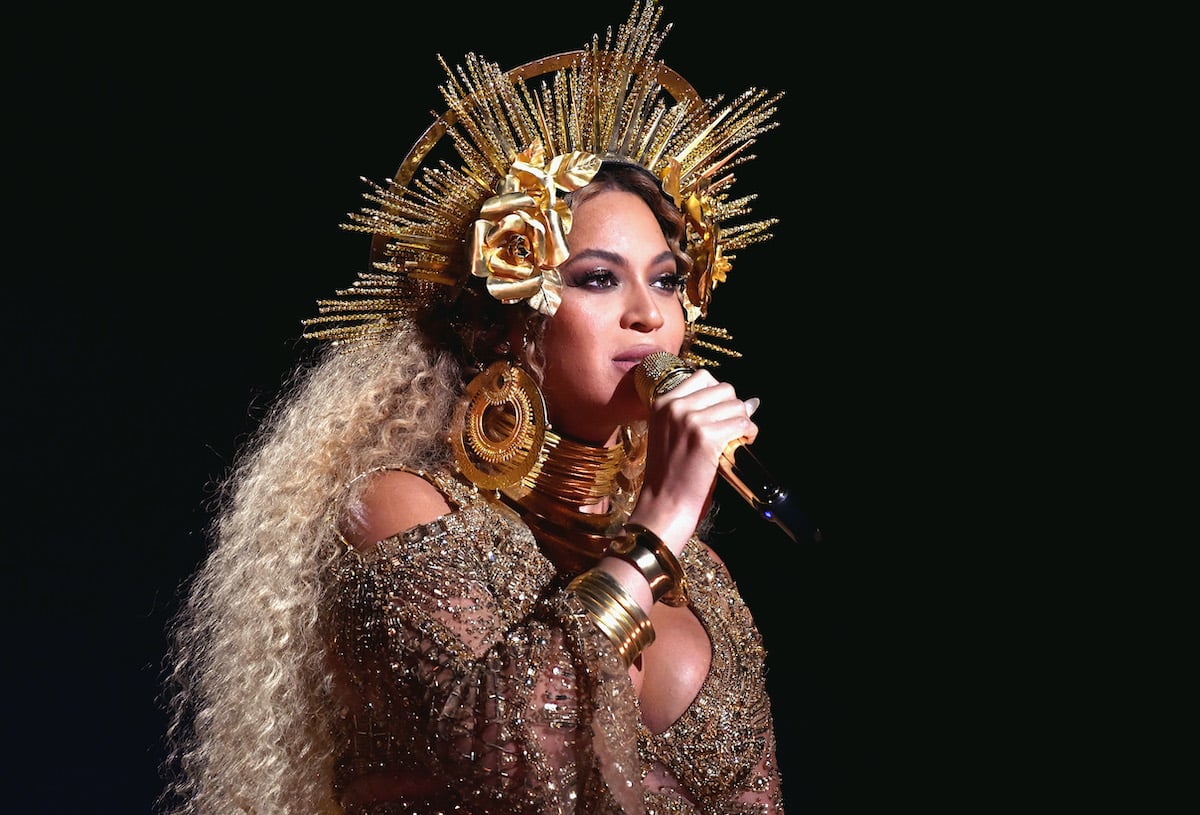 Beyoncé's hair journey, starting with her earlier years
Several childhood photos of Beyoncé show the singer with curly dark brown hair.
By the time she was a teenager breaking out with Destiny's Child, she had seemingly started experimenting with her mane. In the group's very first music video — "No, No, No" from their self-titled debut album that released in 1998 — Beyoncé donned dark-colored, shoulder-length curls with light brown streaks.
For their second effort, 1999's The Writing's on the Wall, Beyoncé went for a bolder look. The visuals for tracks such as "Bug-A-Boo" and "Say My Name" feature the Lemonade signer with long, dark locks and bright blond highlights, marking the beginning of the end of the mostly-brown era.
In the following years, Beyoncé's hair became increasingly lighter and longer before she adopted the style and color pattern fans know and love her for now.
Speaking to E! News in a throwback interview, Beyoncé's hairstylist Kim Kimble said Beyoncé's mom Tina Knowles, a former hairstylist, did her daughter's hair up until Kimble took over in 2003.
Here's what Beyoncé's real hair looks like
Beyoncé rarely — if ever — shares when she's rocking her real hair. But in December 2017, her stylist Neal Farinah revealed that Beyoncé had just worn her real hair when she presented Colin Kaepernick with the Muhammad Ali Legacy Award at Sports Illustrated's yearly Sportsperson of the Year Awards.
"LOVE MY JOB. THIS IS HOW U SLAY YOUR NATURAL CURLY HAIR," Farinah captioned a clip of Beyoncé's speech. Knowles praised her daughter's hair around the same time, sharing on Instagram that she was so happy to see Beyoncé's hair grow back after the singer chopped it off for a pixie cut in 2013.
Weaves are nice, but Beyoncé prefers to wear her real hair
Beyoncé previously told Allure that natural looks are actually her favorite. "In real life, I like natural curls as opposed to 'I just put a curling iron through my hair'—almost bedhead," she explained. "Not too perfect. I love when my color grows out a little bit and the tips of my hair look sun-kissed."
She went on to show off the true length of her natural mane in 2019 when her mom posted a video showing it straightened. The "Sorry" singer was heard complaining about how "annoying" her mom was as Knowles combed through her hair and gushed over the length.
Beyoncé has continued to switch between her real hair and more textured weaves in the years that have followed. She most recently appeared to rock over 40 hairstyles, including a few natural ones, in her new film Black Is King, which can be found on Disney+.