What 'BH90210's' Jennie Garth Said About Her Fight With Shannen Doherty
Jennie Garth and Tori Spelling of Beverly Hills 90210 fame have been busy promoting the premiere of the long-awaited reboot, BH90210. The series reunites most of the original cast members, including Shannen Doherty, who was often rumored to be at odds with Garth during their time on the original show. Garth recently spoke of one altercation between the two that got a bit out of hand.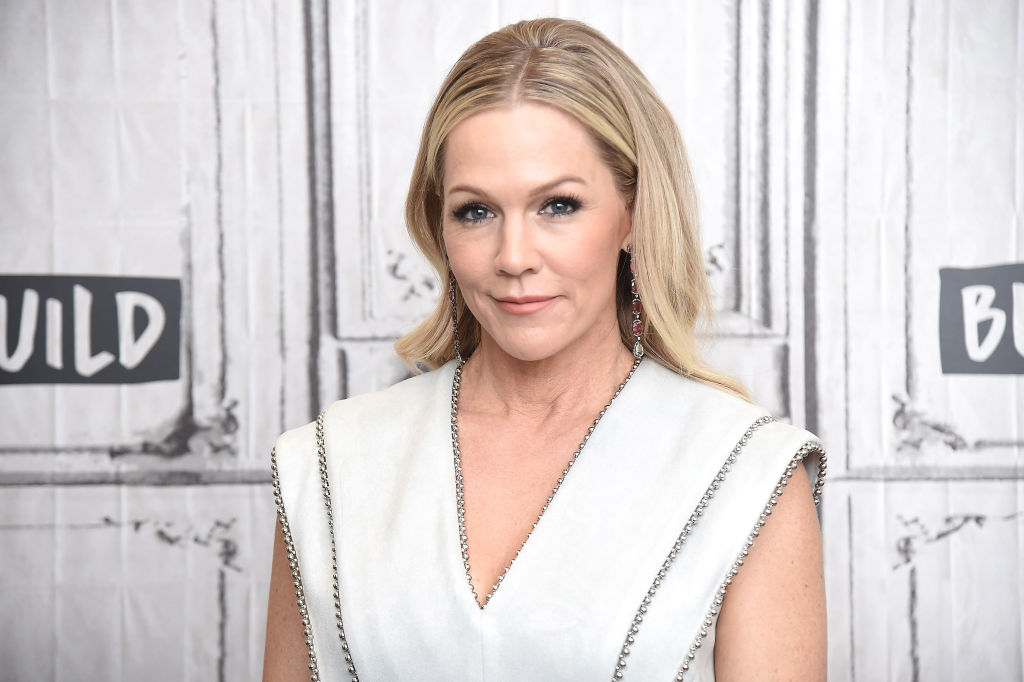 A tense relationship
Many of the stars from the iconic series went on to pen their autobiographies, chronicling their time on the Fox series and the dramas that took place off camera. In her 2014 book "Deep Thoughts From a Hollywood Blonde," Garth shared that she had a different teenage experience than most kids her age while on the iconic show. "That was 10 years of my life, a big part of my formative years," Garth wrote on her time on Beverly Hills 90210. "This was something instead of high school, instead of college, we went to the set every day."
The actress also addressed the rumors about her contentious relationship with Doherty, but saw that much of their disputes stemmed from their similarities.  "We were locked in this sound stage for 14-16 hours every day," she wrote. "There were times when we loved each other and there were times when we wanted to claw each other's eyes out … It was more of just young girls finding their way and finding their individual voices. Shannen and I are both Aries women, we're both very strong, independent women, so we butt heads a lot. Now, as grown women, we happen to get along as well."
In 2008, Doherty and Garth were interviewed by Entertainment Weekly, where Doherty shared her perspective on her stint on the show. "The best thing that ever could have happened to me was I got off 90210 when I did. It let me find a little bit of peace and discover who I was as a person," Doherty said. "Not the person who the press made me out to be because I'd had a few bad experiences in my personal life, and I was struggling to figure out a bad husband or a bad boyfriend and I was doing it under the spotlight, so I wasn't reacting well to any of it. I really wasn't. And I know that."
Coming to blows … almost
Garth was recently on Andy Cohen's Watch What Happens Live, and revealed that she and Doherty once had an argument where punches were close to being thrown. "We were young and so stupid … I can only remember one incident, and that's when we took it outside … I'm a midwestern girl and I spent some time in Glendale, Arizona, and that makes me tough," Garth said, as reported by People. She went on to say that they were stopped by security before either was able to land a punch.
The actress added that Spelling was often the one trying to make peace. "[Tori] was the peacekeeper, that's true, because she loved both of us," Garth told Cohen.  She also referenced Spelling's efforts in her book. "Poor Tori, the youngest of the three of us was, inevitably, often caught in the middle and she was always trying to smooth things over," Garth wrote, "trying to get Shan and me off each other's backs and get along, but her efforts usually failed."
Older and wiser
Garth shared that with time and maturity, the two now have a good relationship. When Doherty revealed she had breast cancer in 2015, Garth publicly expressed her support. "To my soul sister [Shannen Doherty] strongest lady i've ever known," she wrote on Instagram. "then and now. i used to be threatened by your spirit, now i'm in awe of it. you've taught me a lot about speaking my mind and not being afraid of my power. i'm so grateful that young me got to be friends with you. but especially 'old' me! the best is yet to come on this crazy journey!! love you!"
Garth said some of the past off-screen conflicts will be referenced on BH90210. "You know, you have to embrace everything, even the bad things. So, I think we were all on board to look at people's perceptions of us and flip it and take the power back," she said, as reported by People.
While making the rounds with Spelling to promote the premier, Garth continues to share her excitement at Doherty's presence on the show. "We're so happy that she's back," Garth said, according to Today.
Spelling echoed her sentiments, saying of Doherty, "She's such an integral part of the show and the history of 90210 … It wouldn't be the same without her."
BH90210 premieres on Fox Network on August 7!