What Brought 'Sons of Anarchy' Star Charlie Hunnam and Chris Hemsworth Together in Australia
'Avengers: Endgame' star Chris Hemsworth and 'Sons of Anarchy' star Charlie Hunnam were spotted together over the weekend, so what brought the Hollywood stars together?
After playing one of the toughest characters in the history of television, Sons of Anarchy star Charlie Hunnam has grown accustomed to the fight scene. And that's exactly what brought him to Australia over the weekend. The Sons of Anarchy star was spotted in Melbourne on Saturday where he joined his fellow celebrity, Chris Hemsworth, at UFC 243.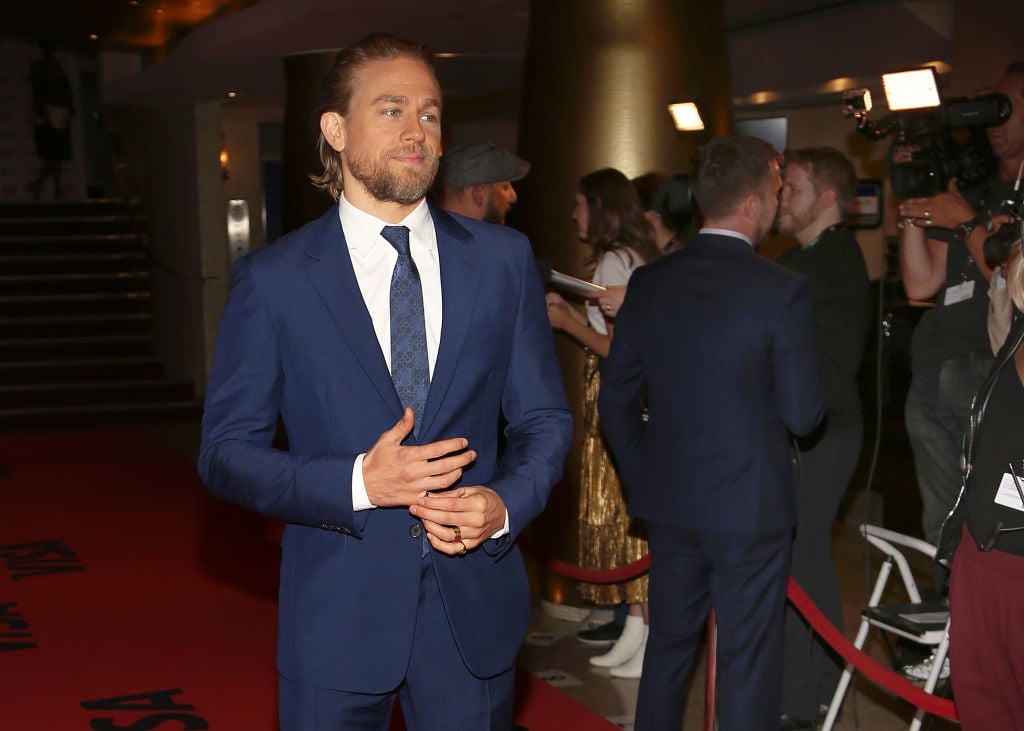 Charlie Hunnam spotted at ringside
This weekend, Hunnam enjoyed the matches at the UFC event and seemed very interested in what was going on inside the octagon. Hunnam was one of several celebrities in the crowd, including Hemsworth and his wife, Elsa Pataky.
According to the Daily Mail, Hunnam rocked a casual look for the fights, including a pair of dark jeans, a black beanie, and a striped jacket. He also donned his usual scruffy beard and wasn't sitting far from Hemsworth and Pataky.
The UFC appearance comes as Hunnam has been busy filming a number of new projects. This includes his upcoming movie with Matthew McConaughey called The Gentlemen. The actor, who rose to prominence playing Jax Teller on Sons of Anarchy, is also slated to return to the world of television.
Hunnam is set to play the lead in a new show from Apple called Shantaram. The series is an adaption of a book by Gregory David Robert, which centers on an escaped convict who starts a new life in India's underworld.
The Sons of Anarchy star has not commented on his upcoming projects, but we could not be more excited about seeing him back in action.
Inside Charlie Hunnam's next project
While Hunnam has been keeping busy, Guy Ritchie recently opened up about The Gentleman, revealing exactly what fans can expect when the movie premieres this January.
The movie, which stars Hunnam, McConaughey, Michelle Dockery, Hugh Grant, Colin Farrell, and Henry Golding, is about an American who built an impressive marijuana business in the heart of London.
The drama kicks into high gear after the American reveals his plans to get out of the weed business, starting a chain of events that includes bribery, violence, and a good deal of blackmail.
Ritchie, who worked with Charlie Hunnam on King Arthur: Legend of the Sword and his coming off another blockbuster in Aladdin, hopes that The Gentleman is a return to his roots.
But because he filmed Aladdin and The Gentleman at the same time, it was difficult going between movies that are completely different. Based on his interview, however, it sounds like he nailed it.
The Gentleman is due in theaters on January 24.
Chris Hemsworth and Pataky enjoy UFC bout
Hunnam, of course, was not the only celebrity at UFC 243. Hemsworth and his wife, Pataky, also enjoyed the fights ringside in what turned out to be a unique date for the couple.
The Avengers: Endgame star and Pataky, who have been married for close to a decade, flew to Melbourne from their home in Byron Bay. They also scored the best seats in the house and were nothing but smiles throughout the event.
Pataky looked like her usual gorgeous self in a black top and gold accessories. Chris Hemsworth, meanwhile, went with a more casual look and donned a white t-shirt and black hat.
The couple moved back to Australia in 2014 because they wanted to get out of the bright lights of Hollywood. So far, the two love being back in Australia, mainly because they can be themselves without worrying about being in the spotlight.
In a recent interview, the Thor star opened up about making the big move and admitted that it was the right decision for his family.
"Moving back to Australia was a very good decision for us," Hemsworth shared. "There I can be with people and talk about things that have nothing to do with the film business."
Hemsworth also has a busy filming schedule ahead of him. Apart from a cameo in the upcoming Jay and Silent Bob Reboot, Hemsworth will be prepping for his return as Thor in Marvel's Thor: Love and Thunder, which is set to open in theaters in 2021.
Now if only Chris Hemsworth can stay out of his brother, Liam Hemsworth's, drama with Miley Cyrus then everything would be perfect. Unfortunately, that is easier said than done.