What Charlie Hunnam And The Rest Of The 'Sons Of Anarchy' Cast Are Up To Today
It has been a long five years since Sons of Anarchy ended its epic run on FX. Although Kurt Sutter and company are hard at work on the show's spin-off, Mayans MC, most of the original cast members have moved on to other projects. Here is a quick look at what your favorite SOA stars …
It has been a long five years since Sons of Anarchy ended its epic run on FX. Although Kurt Sutter and company are hard at work on the show's spin-off, Mayans MC, most of the original cast members have moved on to other projects. Here is a quick look at what your favorite SOA stars are up to these days.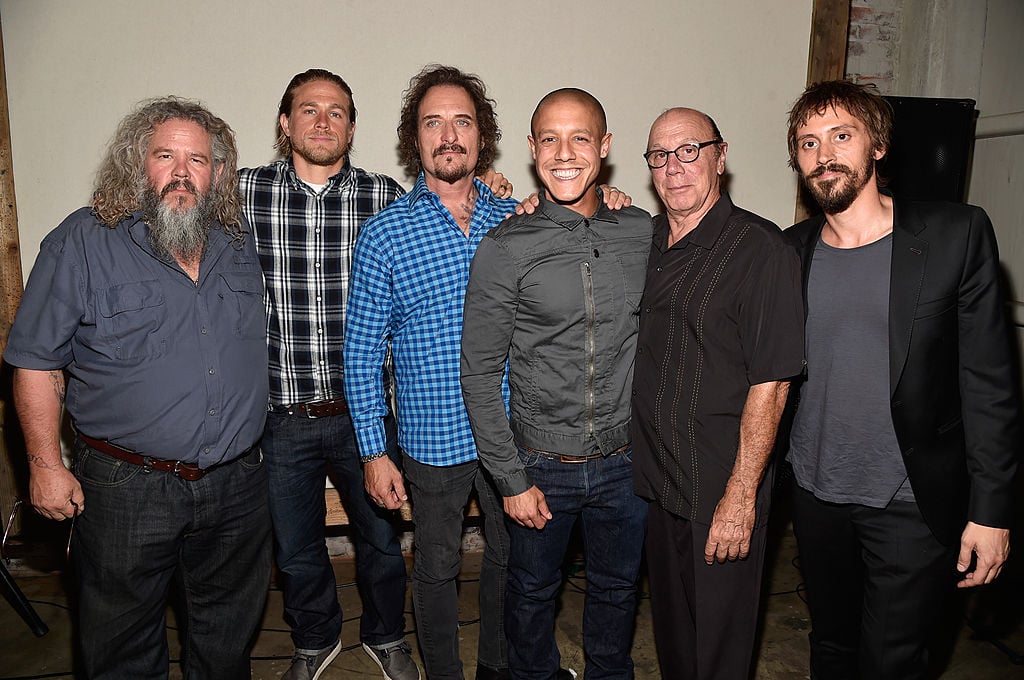 Charlie Hunnam
Charlie Hunnam's character was the driving force on the show throughout all seven seasons. He might not be riding around on his Dyna as Jax Teller anymore, but Hunnam has been plenty busy since the conclusion of SOA. With roles in King Arthur: Legend of the Sword, Papillon, and Triple Frontier, Hunnam has successfully made the transition to the big screens.
When he isn't acting, Hunnam occasionally makes appearances at comic-cons around the world. According to Mix 95.7,  Hunnam is scheduled to lead a Kundalini yoga class at the upcoming Motor City Comic Con with his former SOA co-star Ryan Hurst.
Ryan Hurst
Speaking of Hurst, the actor portrayed Jax's best friend until his character was killed off in Season 5. Since leaving SOA, Hurst has been a part of several TV shows. This includes an appearance in Bates Motel and The Walking Dead. Lucky fans, of course, can also see him at Motor City Comic Con in May.
Katey Sagal
Sagal portrayed Jax's loyal mother, Gemma Morrow, who was frequently compared to as Lady Macbeth. After SOA wrapped in 2014, Sagal worked on Sutter's short-lived series, The Bastard Executioner. She also made guest appearances on Mayans MC, The Connors, and Shameless.
Ron Perlman
Perlman did a great job playing the lead antagonist in SOA, Clay Morrow. The actor has kept a busy schedule over the past five years, including roles in Hand of God and StarUp. He has also done voice-over work for several video games, including Monster Hunter and Fallout 76.
As noted by Pop Culture, Perlman is getting ready to appear on the ABC comedy Splitting Up Together in the Season 2 finale. Perlman is playing the part of Martin's (Oliver Hudson) dad, Brock, who is looking to reconnect with his son after years away from the family.
Kim Coates
Coates' character, Tig Trager, was a fan favorite on the show, despite the fact that his actions often had disastrous results. Like most of the actors on this list, Coates has been very active since the end of the series. His most notable roles have been in television shows like Bad Blood and Ghost Wars, and an appearance in the film Cold Brook.
Emilio Rivera
According to Screen Rant, Rivera was one of the few cast members to get a chance to reprise his role on Mayans MC. The actor played a big part in Season 1 as Marcus Alvarez, the president of the Mayans. He also had a part in the movie, Venom, and is slated to work on Rob Zombie's upcoming film, 3 From Hell.
Maggie Siff
Siff was instrumental in SOA as Jax's faithful wife, Tara Knowles, who met a tragic end after being murdered by her own mother-in-law. Over the past few years, the actress has played a role in the hit television show, Billions. She also had a part in the movie, One Percent More Humid.
Tommy Flanagan
Like Hunnam, Flanagan has moved onto the big screens since the end of SOA. Flanagan, who played Chibs Telford on the biker drama, had a small role in Guardians of the Galaxy Vol. 2. He also appeared with Hunnam on Papillon and is set to star in the new series, Wu Assassins.
Theo Rossi
Rossi enjoyed the spotlight on SOA as Juan "Juice" Ortiz and has used his experience to land a big role in a Netflix produced superhero drama, Luke Cage. He is also set to play a part in the upcoming movie, Ghosts of War, a horror film set during World War II.