What Did Andy Cohen's Dog Trainer Say About Fan's Opinions About Wacha?
What Did Andy Cohen's Dog Trainer Say About Fan's Opinions About Wacha?
With doggy drama being front and center on The Real Housewives of Beverly Hills it was only fitting that Andy Cohen's dog trainer, Brandon McMillan bartended during Watch What Happens Live.
Cohen said he didn't think the dog drama was going anywhere. So, he brought in his dog trainer to tend bar. McMillan, who has worked with Cohen's dog, Wacha for four years is also the star of the Emmy-award winning show Lucky Dog.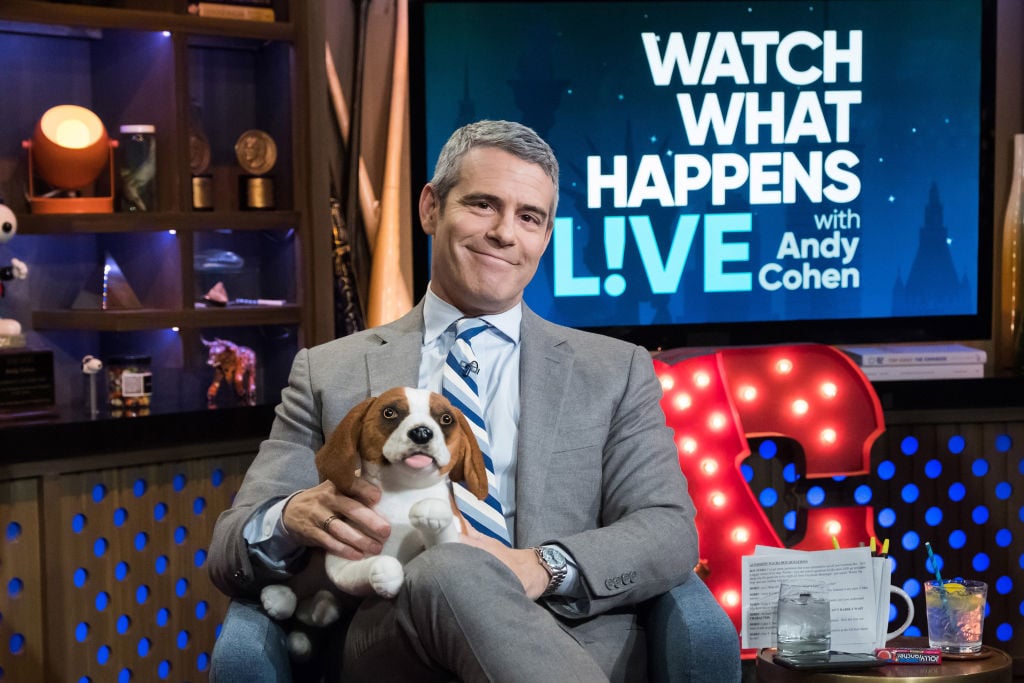 "Brandon spent a little time with Wacha today," Cohen said. "Wacha walked out of the elevator, saw Brandon and turned right around. But then he jumped all over him and licked him. We all do when we see Brandon." Cohen later asked McMillian his opinion about fans' reactions to how Wacha interacts with his new baby Benjamin.
Cohen has had his own doggy drama
Although nothing like what is happening on RHOBH, Cohen has had to deal with his own dog drama. Shortly after Benjamin was born, Cohen shared several sweet snaps of Wacha with the baby or near the child. He also posted a hilarious video of Wacha after he had his way with one of Benjamin's toys. Cohen is giggling as Wacha looks completely exhausted.
Fans responded strongly to both the videos and the images. Many warned Cohen to be careful with Wacha around the baby. One fan wrote this after Cohen posted a family Valentine's Day picture. "Love the pictures of the happy trio…just be careful…I know your dog is gentle but after going to the ER after being bitten in the face by a dog ( one I adopted from a shelter that must of been abused) I will always remember what the doctor told me…animals are animals."
Cohen was inundated with direct messages after he posted a video of an exhausted Wacha in post baby-toy destruction. He took to this Instagram story to tell people to chill out and that Wacha and the baby were fine and safe.
This is what the dog trainer had to say
One WWHL, Cohen said, "I posted a picture of Wacha and the baby and everyone was losing their minds that they shouldn't be together." He turned to McMillan and asked, "Do you have anything that you could say to anyone about that?"
McMillian had plenty to say about the topic. "I know that dog very well," he asserted. "I've seen him with your baby. My professional opinion, Wacha is very safe with your kid, so everybody out there who suddenly became a dog trainer on the internet, please shut the hell up."
Of course, fans still share their opinions. A few fans suggested Cohen purchase a waist leash for walking Wacha after Cohen posted an afternoon walk with Benjamin and the pup. Also, his Instagram continues to produce lots of advice from fans. In a recent nose to nose picture of Wacha and Benjamin, one fan wrote, "No Andy, Please Realize, Dogs and Animals Carry Real Nasty Germs from their Mouths, and its a Myth when Ppl say their Mouths Are Clean. Consider the fact that dogs lick their own Privates and they Lick their Own Behinds After they Poop. That's Germs Galore. Espescially to a Newborn…"
Check out The Cheat Sheet on Facebook!