What Did BTS Members Do Before They Became Famous?
K-pop fans know the members of BTS really well, but do you know what these global stars did before they hit fame?
K-pop sensation BTS is one of the most popular boy bands in the world, and they've amassed the following (and the riches) to place them squarely in superstardom. While some fans may debate which of the seven members is the most talented, each has garnered his own fanbase and accomplishments since joining the band. 
Together, this group has already made music history. They're the first K-pop band to top U.S. album charts, and their worldwide fame is only set to grow. It's time to learn a little more about each of the members and how they got their start on the music scene. 
BTS members are social media masters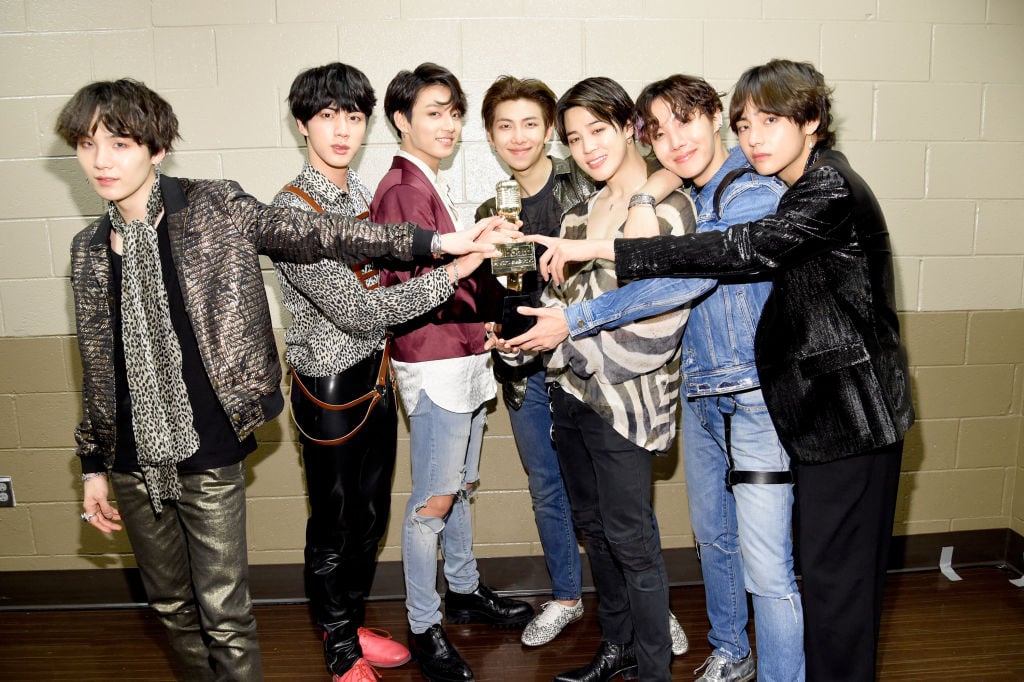 The band formed in 2013 in Seoul, South Korea, and they became megastars on a global scale in 2017 and 2018 when they leveraged their huge fanbase to take over social media. In fact, the group set Guinness World Records for most-viewed YouTube video for their song "Boy with Luv." 
They are incredibly active on social media and use their huge following to promote their tours, songs, and personas around the world. Billboard honored them with the title of "most tweeted celebrities" for both 2017 and 2018. 
Three BTS members were underground artists
Before they became members of BTS, all seven stars had big dreams of making it in creative careers. Whether it was through enrollment in art academies or participation in the underworld art scene, all of them were honing their skills before BTS made its way to the world stage. The first three members were active on the underground art scene before coming together to form the early stages of BTS.
Before he was RM (Rap Monster), Kim Nam-joon was an underground rapper known as Runch Randa. He's now recognized as the leader of BTS. 
RM wasn't the only member with an underground rap career. BTS member Suga's real name is Min Yoon-gi, and he went by the stage name Gloss on the underground rap scene. He was also a music producer before becoming the second member of BTS. 
J-Hope, whose real name is Jung Ho-seok, was also on the underground scene, but he wasn't a rapper—he was a dancer. He joined as the third member of BTS, and he, RM, and Suga trained together for years while other members were recruited. J-Hope, helped by his successful solo career, is also the richest member of the group. 
Four remaining BTS members were actively pursuing the arts
Once the three initial members were practicing together, Big Hit Entertainment was looking for other talented members to complete the group. They recruited the remaining four members from a variety of schools and talent shows as they pursued careers in the arts. 
Jin, whose real name is Kim Seok-jin, was studying film and animation at Konkuk University. He had planned to become an actor but accepted Big Entertainment's recruitment offer to join BTS instead. 
Jungkook, or Jeon Jung-kook, participated in the reality show Superstar K when he was just 14 years old and blew everyone away with his talented vocal performance. After the performance, he was actively recruited by multiple agencies, but he ultimately chose to work with Big Hit. 
V, whose real name is Kim Tae-hyung, is a talented saxophone player who completed six months of training at a dance academy before joining the group. 
Jimin, or Park Ji-min, auditioned for Big Hit on the suggestion of his teacher at Busan High School of Arts. Joining the group made him the seventh and final member of BTS. 
Before they were famous, the members of BTS were all actively working on careers in the entertainment industry. Some of them were honing their skills on the underground scene while others were actively pursuing formal training. When Big Hit Entertainment brought them all together, their combination of experiences and talents took off in a big way.