What Did Carrie Underwood Do Before Becoming Famous?
Carrie Underwood won American Idol nearly 15 years ago, becoming arguably one of only two long-term superstars the show has produced, the other being Kelly Clarkson.
She's the top country artist of all-time on the Recording Industry Association of America's Digital Singles ranking and the highest certified country album artist to debut in the 21st century.
She's come a long way, literally and figuratively, from her native Muskogee, Oklahoma, but she almost got a record deal nine years before Idol, when she was only 14. Here's the story of how Carrie Underwood didn't make it at the time – and that was probably for the better.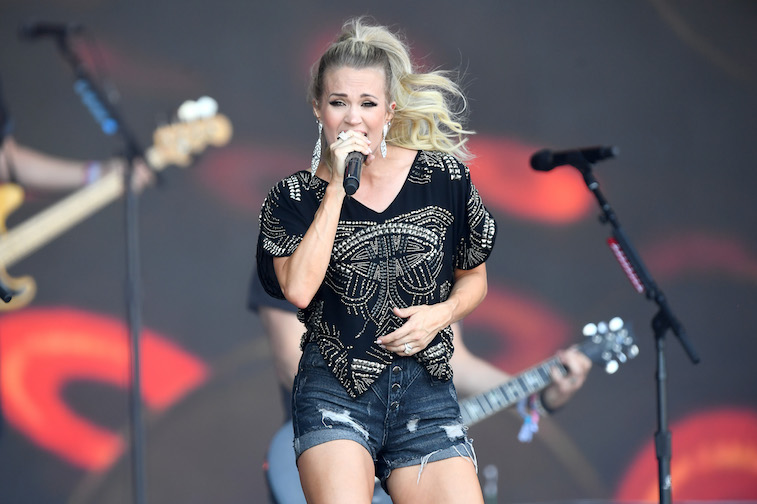 The contract Carrie Underwood didn't get
When Underwood was a child, she performed at Robbins Memorial Talent Show, and sang at her local First Free Will Baptist Church. She also sang for local events in Checotah, Oklahoma, including Old Settler's Day and the Lion's Club. It was clear her voice was going to take her beyond the state where the corn was as high as an elephant's eye.
She had many admirers with performances like this one at the Oklahoma/Arkansas State Fair, and one of those admirers got her an audition at Capitol Records. A contract was prepared, but in a story all too familiar in the music business, there was a management change at the label, and the contract was canceled.
That must have been extremely disappointing at the time, but show business has many sad stories about people who hit it big young, have their 15 minutes of fame and are eventually relegated to "Whatever Happened To" stories.
Underwood said, "After high school, I pretty much gave up on the dream of singing. I had reached a point in my life where I had to be practical and prepare for my future in the 'real world.'"
The real world has a surprise for Underwood – and vice versa
There's every indication that Underwood probably would have been a success even if she hadn't become famous. In 2004, she graduated magna cum laude from Northeastern State University, with an eye toward becoming a reporter. She worked as a page for Oklahoma State Representative Bobby Frame and held various odd jobs waiting tables, working at a zoo and at a veterinary clinic.
Despite her previous decision to forego singing, Underwood decided to give it one more shot, auditioning for Idol in St. Louis with Bonnie Raitt's "I Can't Make You Love Me." Underwood dominated the show throughout the season. When she sang Heart's "Alone," the famously caustic Simon Cowell told her, "I will make a prediction. Not only will you win this show, you will sell more records than any previous Idol winner."
He turned out to be correct on both counts. Her 16.7 million albums sold puts her at the top of the Idol class, with Clarkson a close second at 14.3 million and Chris Daughtry third at 7.4 million albums.
Underwood is worth many millions
Celebrity Net Worth places Underwood's fortune at $85 million on the strength of hits including "Inside Your Heaven," "Jesus Take the Wheel," "Before He Cheats" and "Something in the Water." She's won seven Grammys, with Rolling Stone calling her "the female vocalist of her generation of any genre."
Life has a funny way of coming full circle. Underwood's contract off of Idol was with Arista Nashville, but in 2017 she signed a new deal with none other than Capitol Records Nashville, where he deal had fallen through years earlier.
"I honestly think it's a lot better that nothing came out of it now, because I wouldn't have been ready then. Everything has a way of working out," she said.
.