What Did Jennifer Lopez Sing at Joe Biden's Inauguration?
Jennifer Lopez performed at President Joe Biden's inauguration on Jan. 20, joining fellow singer Lady Gaga to welcome the new presidency on a national stage. If you're wondering what Jennifer Lopez did sing during her performance, read on to find out.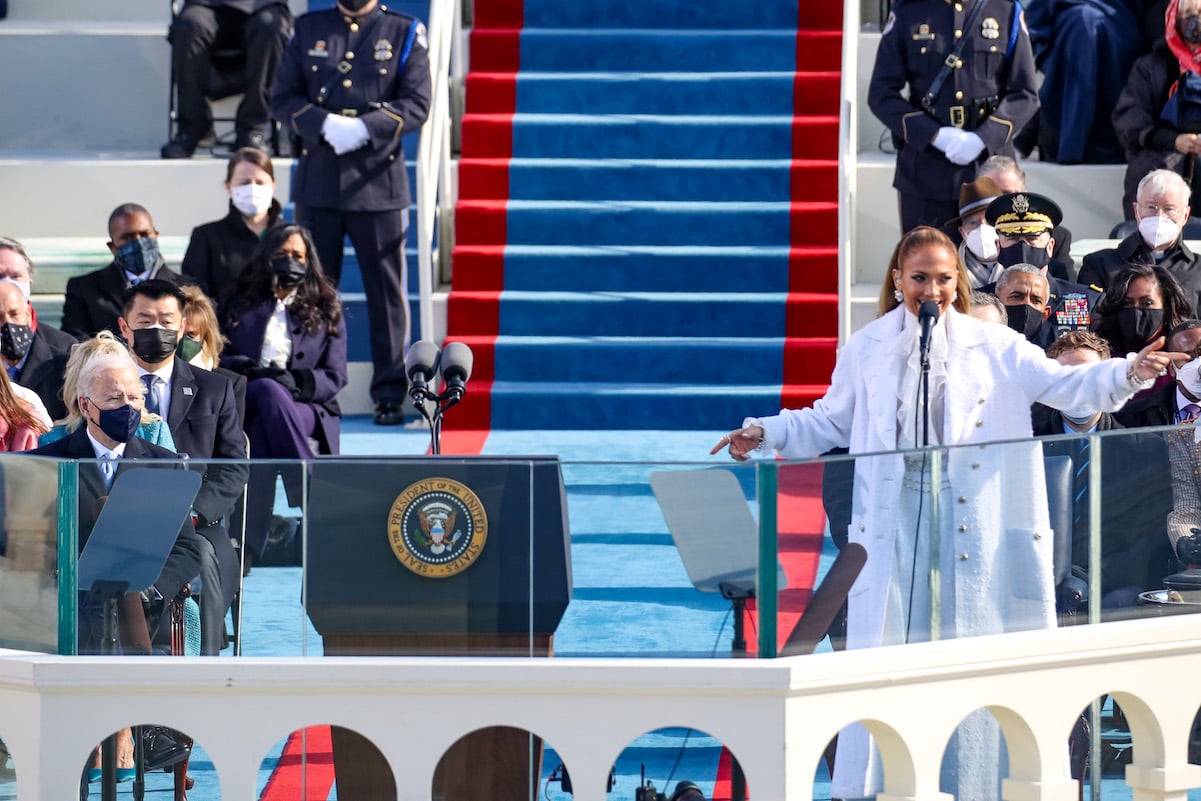 Who else performed at the inauguration
Lopez joined other singers Lady Gaga and Garth Brooks to perform. Gaga sang the national anthem, "The Star-Spangled Banner," while Brooks performed "Amazing Grace."
Amanda Gorman recited a poem — the youngest poet to perform at an inauguration for the United States of America at 22 years old, per CBS News.
What Jennifer Lopez sang at the inauguration
Lopez performed a medley of: "This Land is Your Land;" "America the Beautiful;" and sang a line from her own song, "Let's Get Loud."
Before Lopez sang "Let's Get Loud," she said a line in Spanish: "Una nacion, bajo Dios, indivisible, con libertad y justicia para todos," per someone who translated the line on Twitter. The English translation for what Lopez said was: "One nation under God, indivisible, with liberty and justice for all," from the United States Pledge of Allegiance.
People of Latin descent were especially touched by J.Lo's Spanish statement.
"As a Latina seeing Justice Sonia Sotomayor swear in [Kamala Harris] and then this moment with [J.Lo] was everything to me," a fan commented.
Another fan said: "[Lopez] speaking in Spanish during her performance and singing 'Let's Get Loud' is so powerful. The Latinx community is 60 million strong in the U.S. and it's time to use that power — let's get loud."
One person felt the lyrics of Lopez's performance resonate: "I'm crying now! 'This land was made for you and me!' It has a whole new meaning to it!"
And others simply wrote about appreciating the two women singers.
"Lady Gaga and Jennifer Lopez have such class," one fan wrote on Twitter following the singers' performances. "They sang beautifully."
Other recent performances by Jennifer Lopez
Before President Joe Biden's inauguration, Lopez most recently performed at Dick Clark's New Year's Rockin' Eve With Ryan Seacrest 2021 on Dec. 31, 2020.
"2020 is almost over," Lopez said in the middle of her set. "We made it. You know, I think about the beginning of this year. Being on one of the biggest performances of my life with thousands of people," she said, referencing her Super Bowl Halftime show with Shakira in February 2020.
"But tonight we're doing things a little differently and that's OK," Lopez continued. "This year teaches us — if it taught us anything, it taught us to be grateful for what we do have and to cherish every moment. We lost too many. Too many. To take one moment for granted. So tonight, we're gonna live. We're gonna love and we're gonna dance again and we're gonna keep on dreaming."
Prior to her New Year's Eve performance, Lopez was one of the last performers to do a big live show before the coronavirus pandemic hit the United States in March 2020. We can't wait to hopefully see Lopez on stage again sometime soon.
RELATED: Will Jennifer Lopez and Lady Gaga Get Paid for Performing at Joe Biden's Inauguration?