What Did Joe Rogan Do Before He Was Famous?
You can basically frame comedian Joe Rogan's interesting career trajectory into three phases. If you're old enough to remember when he was strictly a standup comedian, you probably remember listening to his comedy albums in the '90s and 2000s while subsequently watching his work in sitcoms.
Those of you old enough to remember when he hosted NBC's Fear Factor will likely recall how stunning it was such an edgy show could make it onto mainstream TV.
Then you have his more recent career title: World-class podcast host. Only those who can remember back a decade will know him strictly for his Joe Rogan Experience, which is a radio show now on SiriusXM.
If you find his podcast interesting, take a minute to look back to his early career to see how his views and comedic style were shaped.
Rogan's comedy career goes back more than 30 years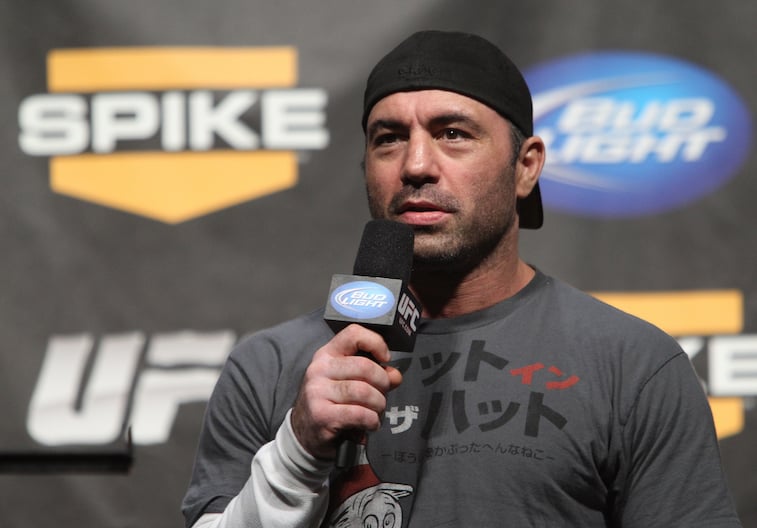 You have to go back to 1988 to see the very beginnings of Joe Rogan's career in comedy. Being a comedian wasn't his first aspiration, though. He was an expert in martial arts and began to compete in kickboxing competitions.
Due to injuries, he decided not to pursue kickboxing any longer. Comedy was more his second career choice, if ultimately a smart move. His career flourished as a result of pursuing standup in all the legendary comedy clubs.
It took a while for his career to reach a point where he could support himself. After starting in Boston-area comedy clubs in the late 1980s, Rogan landed an agent and managed to find himself playing many top clubs throughout America.
Not until 1994 did he finally have a chance to start acting on TV, including becoming a cast member in a near-classic sitcom.
Going into the world of TV and making standup comedy albums
You might scratch your head hearing a blue comedian like Rogan ended up signing a deal with Disney in 1994. At the time, the Mouse House was looking to nurture some side content for adults on TV. One of the first projects Rogan landed with this deal was a sitcom about baseball called Hardball on Fox.
The show wasn't a hit, but Rogan soon found himself a regular on the legendary NBC sitcom NewsRadio. His role of Joe Garrelli isn't as well-remembered as the ones played by Dave Foley or Phil Hartman. Even so, he nurtured a relationship with NBC that would pay off in perpetuity when he landed Fear Factor years later.
Before this happened and after NewsRadio ended, he continued his standup comedy duties by releasing popular live albums for Warner Bros. Plus, he began doing interviewing and promotion for mixed martial arts company Ultimate Fighting Championship.
The dare of 'Fear Factor'
How Rogan managed to convince NBC to take on Fear Factor is still a surreal scenario. He almost turned it down because he thought he'd have to constantly battle with NBC censors.
It ended up running six seasons in its initial run, plus an additional revival season in 2011-12. Some might say it kicked off more extreme competitive reality shows. This genre has begun to wane recently in favor of more positive-minded reality fare, so the influence wasn't permanent.
If one generation knew Rogan from more extreme programming, another gen eventually discovered how insightful he could be with something as simple as a podcast.
'The Joe Rogan Experience' is truly an experience
Rogan managed to do many other things during and after his Fear Factor years. Most of this involved moving away from acting and just being a comical host.
By 2009, he figured being himself was more of an appeal to his fans. Starting a podcast was a mere hobby with his comedy partner, Brian Redban. They realized Rogan had enough interesting insight into discussing world affairs that he could turn this into a real show.
The podcast ended up in iTunes' Top 100 a year later. Since then, The Joe Rogan Experience is considered one of the most popular and influential podcasts going today. Political candidates even go on the show now as a way to reach a large demographic. Discussions on the show are always frank while still being far-reaching and thoughtful.
Never discount a comedian not being relevant enough to be a serious talk show host, something we've discovered more than once with other comedians of note.