What Did Kate Middleton Tell Prince George About Prince Harry and Meghan Markle's Exit From the Royal Family
It has only been a few weeks since Prince Harry and Meghan Markle announced their stunning exit from the royal family, and Kate Middleton is reportedly having a difficult time adjusting to the changes. Kate had a busy schedule to begin with and has been forced to take on more responsibilities now that Harry and Meghan are out of the mix. While Megxit has clearly had a direct impact on Kate's life, what did she tell her children about Harry and Meghan's decision?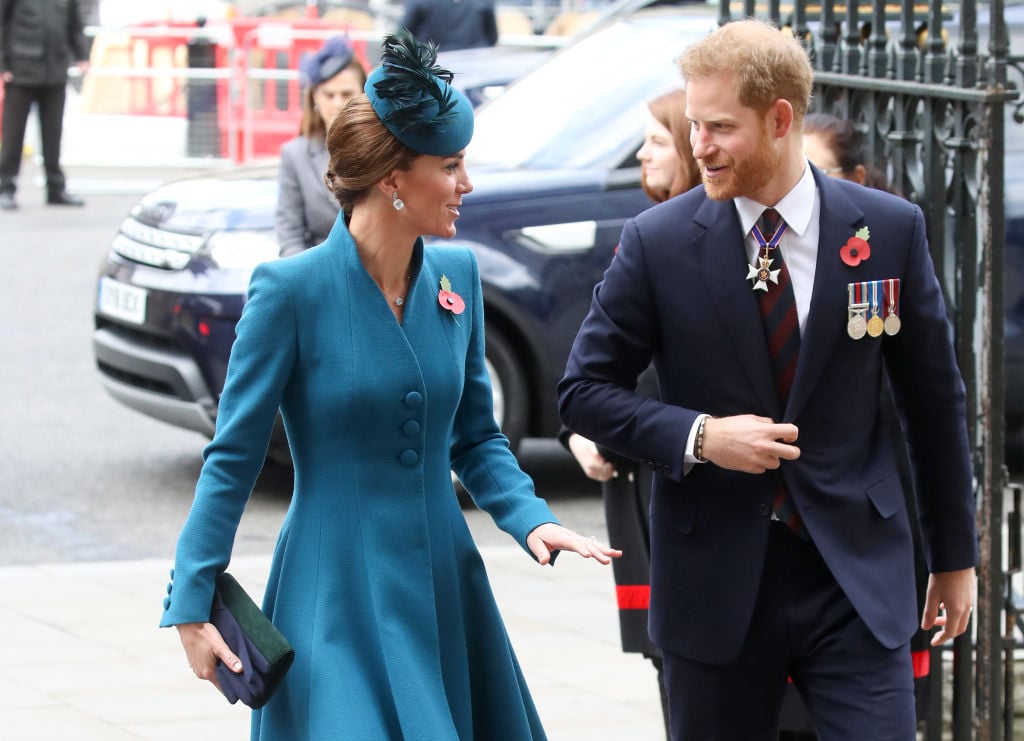 How did Kate Middleton react to Megxit?
Meghan and Harry's decision to step down as senior members of the royal family has rocked the monarchy to its core. While the Duke and Duchess of Sussex look to live a quieter life with their son, Archie Harrison, in Canada, the rest of the royals are going to have to pick up the slack.
Kate has become accustomed to a busy schedule over the years, but sources claim that she is having a tough time adjusting to her new responsibilities.
According to She Knows, Kate Middleton has been suffering from anxiety in the wake of Megxit. The added stress has also made it difficult for the Duchess of Cambridge to sleep, which has only added more issues to her plate.
"Kate's in a panic and has been having bouts of anxiety," the source stated. "She barely has time to rest, and when she does try to sleep, her mind is constantly racing."
The insider added that Kate is now working over 18 hours a day. Her busy work schedule has also added stress to her children – Prince George, Princess Charlotte, and Prince Louis. With Kate expected to keep up the work, she is reportedly worried about finding time for her kids.
Middleton misses Prince Harry
To add even more anxiety to her life, Kate also misses Harry. The two shared a close bond and the idea that she will not see him for most of the year is contributing to her sleepless nights.
When she was first dating Prince William, Kate and Harry grew close. Harry liked Kate so much that he even gave William their mother, Princess Diana's, old engagement ring when he proposed.
But Kate's relationship with Harry changed once he started dating Meghan. There were a lot of rumors about a growing feud between the couples, and a source now says that Kate is worried that she will never be close to Harry again.
"She misses him and fears she'll never be close to him again," the insider dished.
The source noted that Kate Middleton's relationship with Meghan is practically non-existent at this point. The Duchess of Cambridge is getting plenty of support from her husband, which is helping her deal with the drama.
When will Archie Harrison return to the UK?
Since his birth in May of 2019, Meghan and Harry have gone to great lengths to keep their son, Archie Harrison, out of the spotlight.
Archie has only appeared in public a handful of times, and the couple carefully curates any photos they release of him on social media.
The family of three is currently living in a temporary home on Vancouver Island. Sources claim that they are looking to buy a home in Canada, where they will spend part of the year.
Meghan has not commented about when she will return to the UK with Archie. More than likely, the Sussexes will come home for important family events, such as Trooping the Colour, royal weddings, and the holidays.
When they do return to England, there is a good chance that Archie will get to spend some quality time with his cousins, George, Charlotte, and Louis, though we cannot say for sure.
What has Kate Middleton told her kids about Megxit?
At this point, it is unclear how much Kate has talked about Meghan and Harry's decision with her children. But considering how they will see Archie less frequently, Kate is bound to tell them something about Megxit.
After all, it will only be a matter of time before Kate's children start asking questions about their aunt and uncle. They are not old enough to read about Megxit in the press, but there is a good chance that Kate wants them to hear it from her first.
The royals have not said anything about Kate Middleton's struggles in the wake of Prince Harry and Meghan Markle's shocking departure.