What Did Super Bowl Fans Think of Jennifer Lopez and Shakira's Halftime Performance?
At the recent Super Bowl, Jennifer Lopez and Shakira served us life as the halftime performers, Both Latina artists brought the house down with throwbacks to their famous pop hits. Meanwhile, in the show design, many fans saw political messages in the football game's mid-point performance. Overall, what did viewers of Super Bowl LIV think of the halftime show?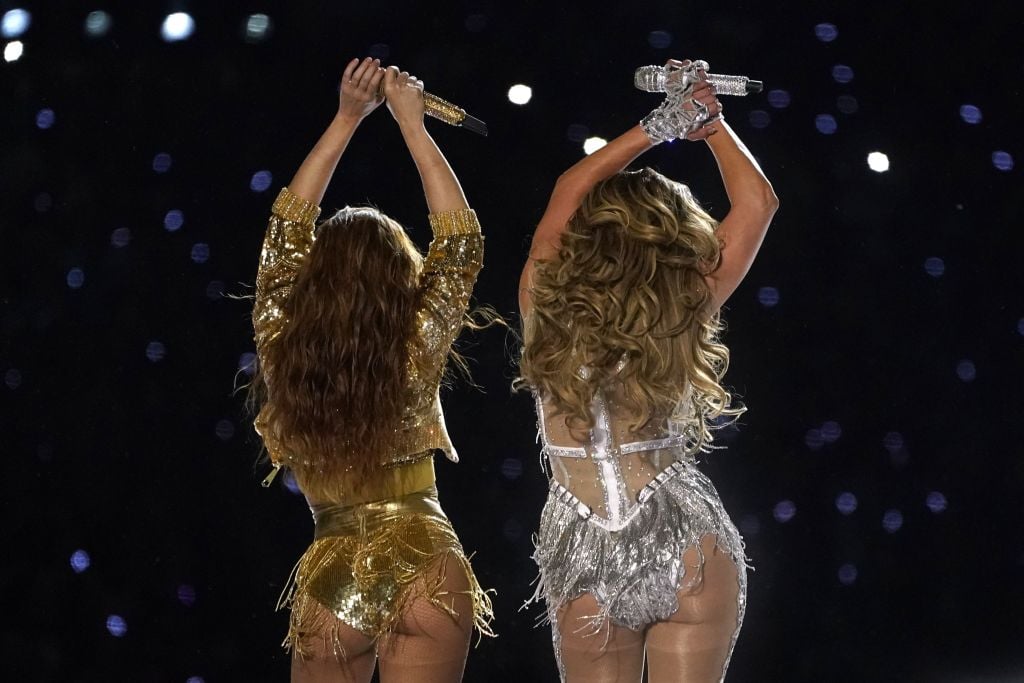 What Twitter had to say after the Super Bowl 54 halftime show with Shakira and J.Lo
"Best Super Bowl half time show ever," GOP politician Jeb Bush tweeted.
Overall, the initial reaction on Twitter on Feb. 2, 2020, was positive. The show was full of spectacle (dancers in shiny costumes, poles, children singing etc.), and it's hard to argue, at the very least, that it wasn't entertaining. But from there, viewers started to split hairs.
Many (especially Puerto Ricans), saluted Lopez for singing "Born in the U.S.A." wearing a coat of the Puerto Rican flag. While Lopez was singing, viewers noticed that some of the children performers were strewn across the field, caged in little pods of light. Some on Twitter argued this was meant to represent the migrant children, separated from their parents in Border Patrol camps. Considering the performance was fiercely and proudly Latina, and President Trump began his campaign calling Mexicans "rapists," a lot of fans saw this Super Bowl show as a protest against Trump's border policies and racist attitudes.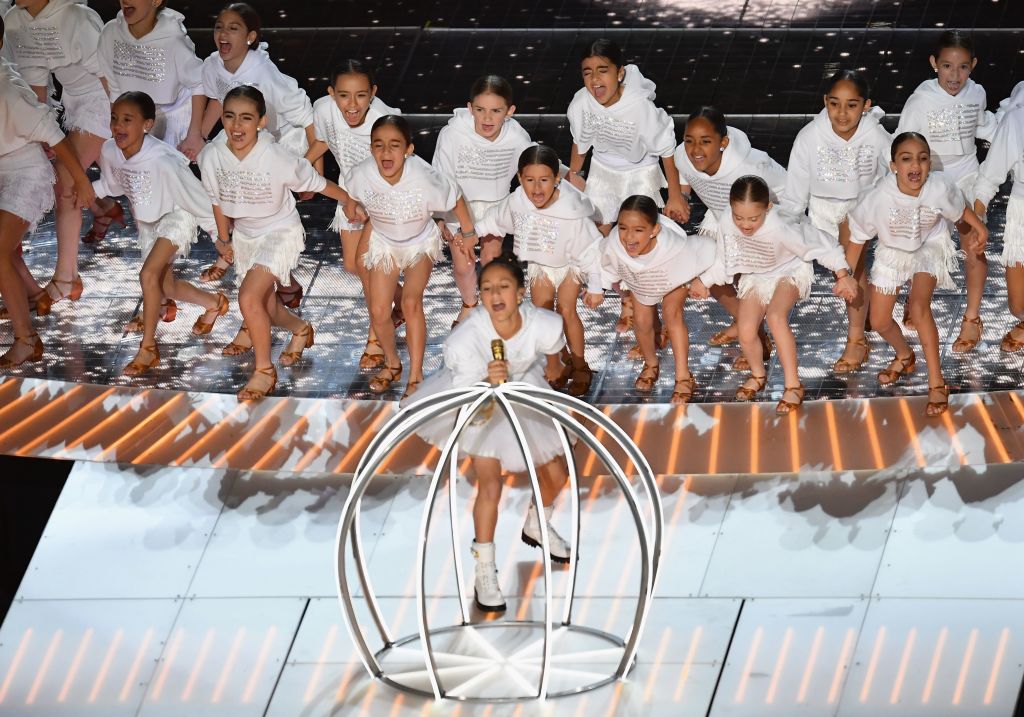 Latina artistry was represented on Super Bowl Sunday
"OH. MY. GOD. THAT. HALFTIME. PERFORMANCE!!" one Tweeter wrote. "LATINAS REPRESENT!!! Show em how it is DONE what freaking inspirational queens." Many Latinx people were inspired and proud to see Shakira and Lopez do their thing on the Super Bowl stage.
"I literally cried," one tweeter wrote. "I cried because I felt empowered by these LATINA QUEENS. I cried because I saw two women who have been role models to me since I was young. I am Latina and I am proud. Thank you @JLo and @shakira for your electric performance."
Some tweeters found the halftime performance inappropriate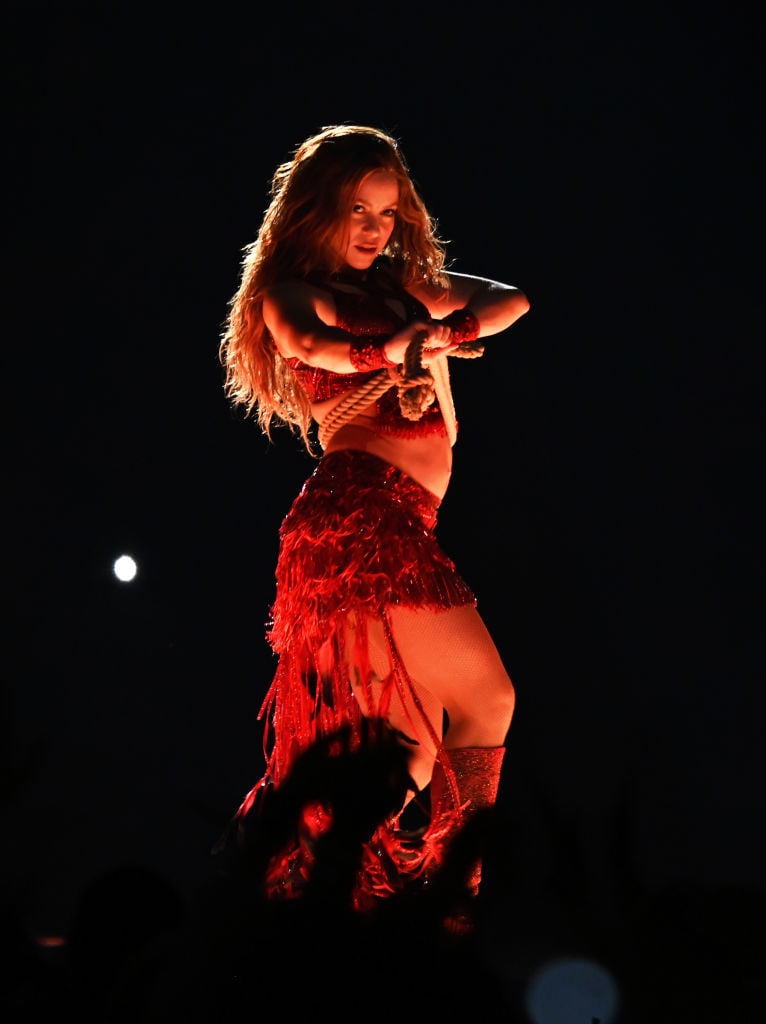 Not everyone agreed, though, on the "inspirational" angle. One review found it "FILTHY," while others waxed poetic about the long-term effect on impressionable teens.
As if quite recently, Adam Levine didn't roam around on the very same stage completely shirtless, and no one seemed to care. As if, up until the point of the infamous costume malfunction, that Justin Timberlake and Janet Jackson performance was just a little church play about the power of morality!
However, the negative reaction to the Super Bowl is especially interesting in light of the fact that most music videos and big pop artist performances, for the most part, look a lot it. But as often is the case in these videos, a male artist is using female bodies (the dancers) for sexual objectification; in the case of the Super Bowl, these two Latina artists with their very diverse dance crews were having a celebration. They looked like they were having the time of their lives, first of all; and they were celebrating their culture. It's also fascinating to note the critical reaction to the two women's fun-loving, upbeat performances. It goes to show how mainstream media has done a great job of making certain dance moves, some of which originate in African and tribal dance, inherently "sexy." It's all in the way you consume it, we suppose.
The Hill reported, in fact, that Shakira (who is Colombian and Lebanese) "incorporated the Champeta — a dance from her hometown of Barranquilla, Colombia — belly-dancing and Arab instruments (the mijwiz and derbeke) into her performance."
The Super Bowl halftime show as a vehicle for discussion
The line between objectification and empowerment is tricky, but it's something that we're all able to understand. (We just never thought the Super Bowl halftime show would be the vehicle with which to discuss it).
However, we can still find common ground today. For example, let's talk about how not fair it is that Lopez looks that bangin' at age 50.
"In a divided nation the one thing we can all agree on is J. Lo deserves an Oscar nom just for looking like this at 50," someone wrote on Twitter.
If all else fails, money talks; Shakira now has four songs streaming top ten on iTunes. So, it doesn't really matter, at the end of the day, if randoms on Twitter clutched their pearls at the Super Bowl halftime. Shakira and Lopez will be laughing all the way to the bank, anyway.