What Did Whoopi Goldberg Win Her Grammy, Tony, and Emmy Awards for?
If you want to know what a durable career in show-business looks like, glance at the credits of Whoopi Goldberg. Since she got her start in the early 1980s, she's racked up 177 acting credits and 30 producer credits. She's also written shows, directed documentaries, and hosted the Academy Awards.
In the early '90s, Whoopi was one of the highest-paid actresses in Hollywood after winning a Best Supporting Actress Oscar for Ghost. Her appearances in films like The Player and Sister Act made her an even bigger star.
But when she won her Oscar, she had already landed a major show-business award, a Grammy, for her Broadway show. Later, she would add a Tony Award and multiple daytime Emmys. (If you add it all up, she's an E-G-O-T winner.)
Here's what Whoopi won all those awards for over the years.
Whoopi won a Grammy for her 1986 Broadway show.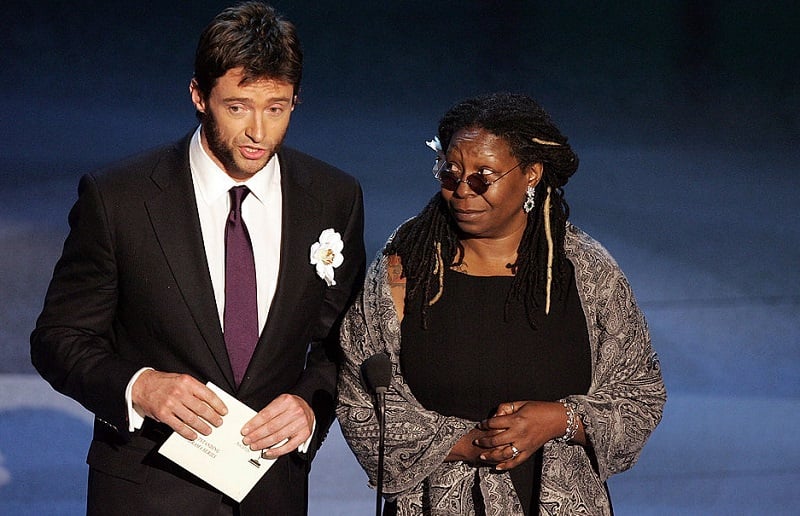 Before she worked in movies, Whoopi was knocking out crowds off-Broadway. In a Vanity Fair profile from 1984, Janet Coleman described the buzz 20 minutes before the curtain rose at her sold-out shows at a theater workshop.
She also quoted a rave review from the New York Times. "Not simply a stand-up comedian but a satirist with a cutting edge and an actress with a wry attitude toward life and public performance," Mel Gussow raved in the paper of record.
Famed director Mike Nichols called her "a true artist" and helped get The Spook Show to Broadway. Alice Walker, who'd just won the Pulitzer, saw the show and chatted with Whoopi about getting her in the film version of The Color Purple. (Whoopi did, and received her first Oscar nod for it.)
After landing on Broadway, Whoopi did a recording of performances and released it as a record. In 1986, she got her first Grammy nomination and won the award. A second Grammy nod followed in '89 for a performance featuring another character from the show (Fontaine).
Whoopi's Tony and Emmys came from 2002-09.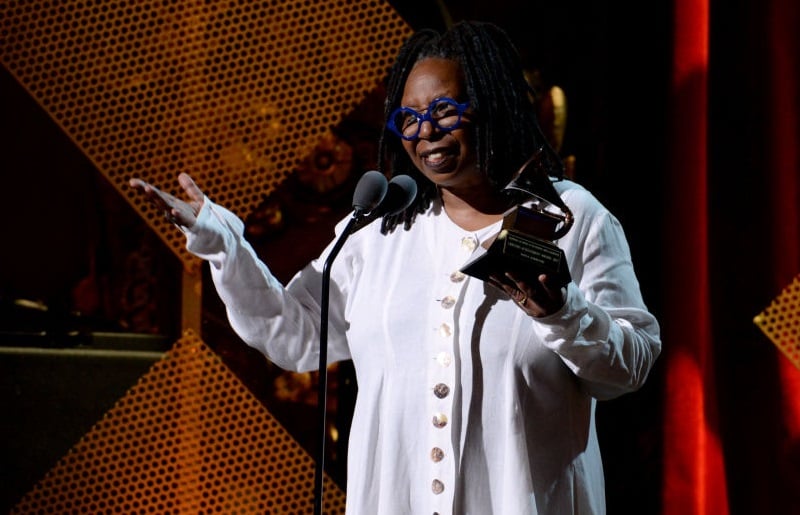 With an Oscar and Grammy under her belt, Whoopi got more into producing in the late '90s. In 2002, her work bringing Thoroughly Modern Millie to Broadway earned her a Tony Award nomination. She won that year. (Whoopi received another nod for producing Sister Act in 2011.)
Around this time, Whoopi became ubiquitous on TV when she began producing and starring in Hollywood Squares. She'd already received several daytime Emmy nominations, and she got four more for Hollywood Squares (1999-2002).
In '02, another Emmy nod for Beyond Tara: The Extraordinary Life of Hattie McDaniel led to Whoopi's first win. Once she started on The View a few years later, Emmy nominations became almost routine. She's nominated again in 2019, which makes a total of nine for her work on the ABC show.
Of those nine nominations, Whoopi won once (2009) with Joy Behar, Barbara Walters, and Elisabeth Hasselbeck sharing the honor. These days, she might be the one indispensable cast member on The View. But she's definitely the most decorated when it comes to show-biz accolades.
Check out The Cheat Sheet on Facebook!