What Do Queen Elizabeth, Prince Charles, Prince William, And Prince Harry's Names Mean?
The royal family typically digs into the past when naming their children. From Prince Harry to Queen Elizabeth, the family seldom departs from ancestral names. Fresh off Harry and Meghan Markle's newest addition to the royal family, Archie Harrison Mountbatten-Windsor, here are the meanings behind some of the family's most popular names.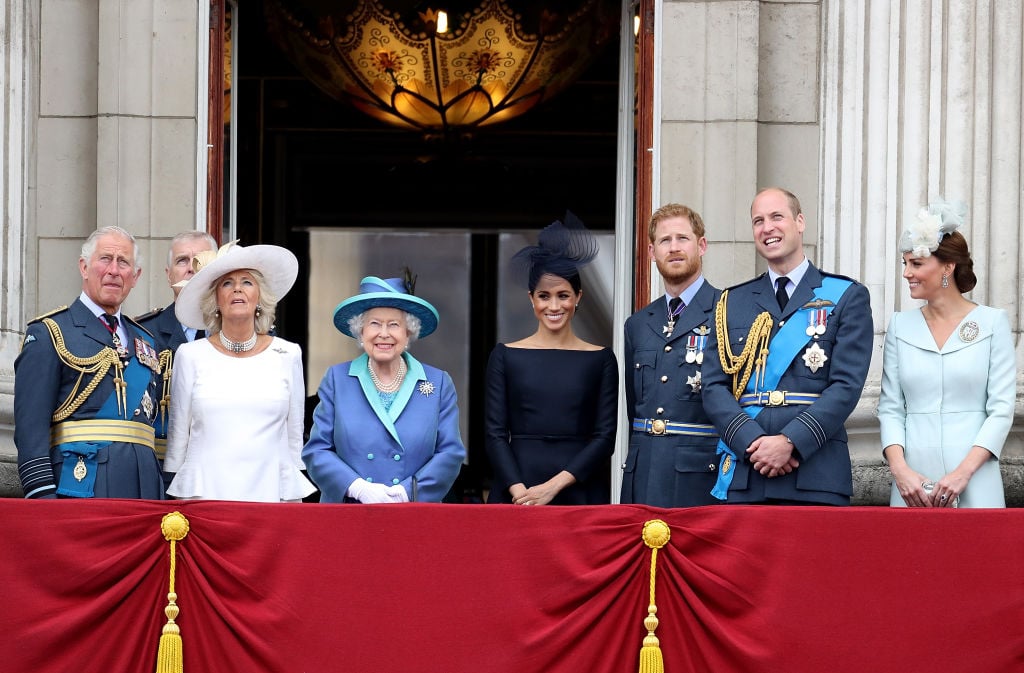 Queen Elizabeth II
Most people know her as Queen Elizabeth, but Her Majesty's full name is actually Queen Elizabeth Alexandra Mary. All of Elizabeth's names can be traced back in British royal history. She took her first name from her mother, Elizabeth Bowes-Lyon, also known as the Queen Mother.
Her first name, meanwhile, has been in the family for generations, and Mary is connected to two members of Elizabeth's family: her aunt and grandmother. Elizabeth continued the tradition of naming her children after members of the family, including her oldest son Prince Charles.
Prince Charles
Upon his birth, Queen Elizabeth and Prince Philip named their oldest child Charles Philip Arthur George. Charles is not related to anyone specific in the royal family as it has been a part of their lineage for centuries.
In fact, the first mention of Charles in the historical record is way back in the 1600s. Charles' last two names, Arthur and George, are also commonly found in the records of the royal family. In this case, George was most likely taken from Queen Elizabeth's father, who was named King George.
Considering how Charles is first in line to the throne, it makes sense that he was given at least one kingly moniker. Lastly, and perhaps most obvious, Charles' second name, Philip, is from his own dad, Prince Philip.
Prince William
Queen Elizabeth's first-born grandson, Prince William's names can be traced to recent members of the royal family. He actually shares more than one name with his father. His full name, for the record, is William Arthur Philip Louis. Arthur comes from his father and is also commonly used in the history of the royal family.
The Duke of Cambridge's other name, Philip, is related to his grandfather, Prince Philip. William's final name, Louis, is connected to his grandfather's uncle, Louis Mountbatten, who tragically passed away in 1979.
William shares three children — George, Charlotte, and Louis — with his wife, Kate Middleton, all of whom have names linked to the royal family's rich history.
Prince Harry
While the public knows him as Prince Harry, his actual name is Prince Henry Charles Albert David. Henry can be traced to Queen Elizabeth's uncle, while Charles was inspired by his own father. Harry's third name, Albert, is related to King George VI.
As royal watchers may know, King George VI's first name was Albert before he inherited the crown. Finally, David is a name that has been used throughout the history of the royal family and is directly connected to the patron saint of Wales.
Archie Harrison Mountbatten-Windsor
When Prince Harry and Meghan Markle welcomed their first earlier this month – and Queen Elizabeth's eighth great-grandchild – they followed royal tradition when it came to naming their son, Archie Harrison Mountbatten-Windsor. But there is one royal tradition they opted not to follow.
According to Us Magazine, the couple chose to omit a royal title for baby Archie, which is why he is not being referred to as Prince Archie. The Duke and Duchess of Sussex made the decision so that Archie could enjoy a semi-normal existence and not be confined to a life in the shadow of the monarchy.
"As we expected, Harry and Meghan [have] forgone a courtesy title for their child," Omid Scobie, an expert on the royal family, explained. "All part of giving him as normal a life as possible."
Like his predecessors, Archie's name has deep connections to various members of the royal family. Archie is the name of an ancestor of Harry's late mother, Princess Diana, named Archibald Campbell, who was Scotland's 9th Earl of Argyll.
Harrison, meanwhile, is taken from his father and simply means the son of Harry.
Lastly, Mountbatten is the name of Queen Elizabeth's husband Philip's uncle, who also lent his name to Prince William. Interestingly, William's two sons, Prince Louis and Prince George, are also named after Mountbatten, who was obviously an important figure in both William and Harry's lives.