What Does 'Law & Order: SVU' Actor Chris Meloni Do Now That Elliot Stabler Isn't On the Show?
For years, Elliot Stabler played a key role on Law & Order: Special Victims Unit. But after the show's 12th season, Stabler, played by Chris Meloni, said his final farewell and didn't return to the show for season 13. But what is Meloni up to now that he isn't working with the SVU cast anymore?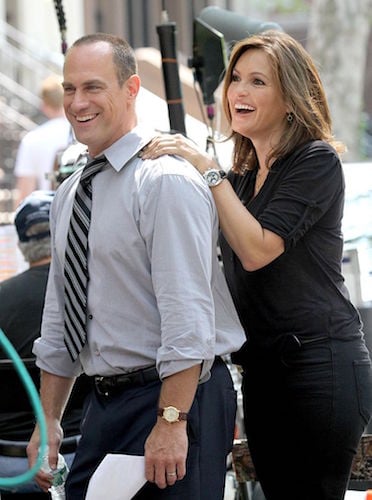 Meloni played Detective Olivia Benson's partner, Elliot Stabler, for more than a decade
When SVU premiered in 1999, it was centered around Detective Olivia Benson, played by Mariska Hargitay, and Meloni's character, Elliot Stabler, who was Benson's partner on the police force. The two worked together to solve sex crimes, and throughout the series, they built an incredibly close relationship. Fans of the show often hoped the two would end up together, but the romantic aspect of the relationship never really got off the ground. While Benson was technically the show's main character, Stabler was still an integral part of the show, too.
Meloni left the series after problems with negotiating a contract
Before the 13th season began filming, it was time for Meloni to renegotiate his contract. However, Meloni and the show's creators couldn't come to an agreement, which led him to pull out of the series entirely. It was announced that Meloni would not be returning for season 13, which meant the producers had to quickly introduce someone else to the precinct. Fans were saddened to learn Stabler and Benson would no longer be working together, but with Benson still the show's lead, the producers knew they could make it work. They brought in a new character, Detective Nick Amaro, to fill Stabler's role, and fans had mixed feelings about him.
Meloni has since landed a lead role on 'Surviving Jack' and 'Happy' plus other recurring roles
After he parted ways with SVU, Meloni flew under the radar for about a year, besides making small appearances here and there. Meloni had a recurring role on the series True Blood in 2012. He then landed the lead role in the series Surviving Jack, which premiered on Fox in March 2014. However, the series didn't resonate with viewers and was canceled after its first season. Since then, Meloni made small appearances on shows here and there; he landed a recurring role on the television series Wet Hot American Summer in 2015 as well as a recurring role on Underground in 2016 and 2017. He currently stars on Syfy's Happy!.
In 2019, he joined the cast of 'The Handmaid's Tale'
Meloni recently landed a recurring role on The Handmaid's Tale, as was announced in 2019. He'll join the cast of the third season alongside Elizabeth Reaser, who also just joined. The show's third season will premiere on Hulu later this year. Although none of Meloni's roles have seemed to match the effect he had while on SVU, his acting career has continued to bring him success. Realistically, though, Meloni will always be remembered as Elliot Stabler, unless he lands a role in a show that grows larger than SVU, which is unlikely.
Check out The Cheat Sheet on Facebook!