What Does the 'M' In M. Night Shyamalan Stand For?
M. Night Shyamalan has made some of the most iconic horror movies and he has one of the most recognizable names in Hollywood, but the name we know him by isn't his actual name.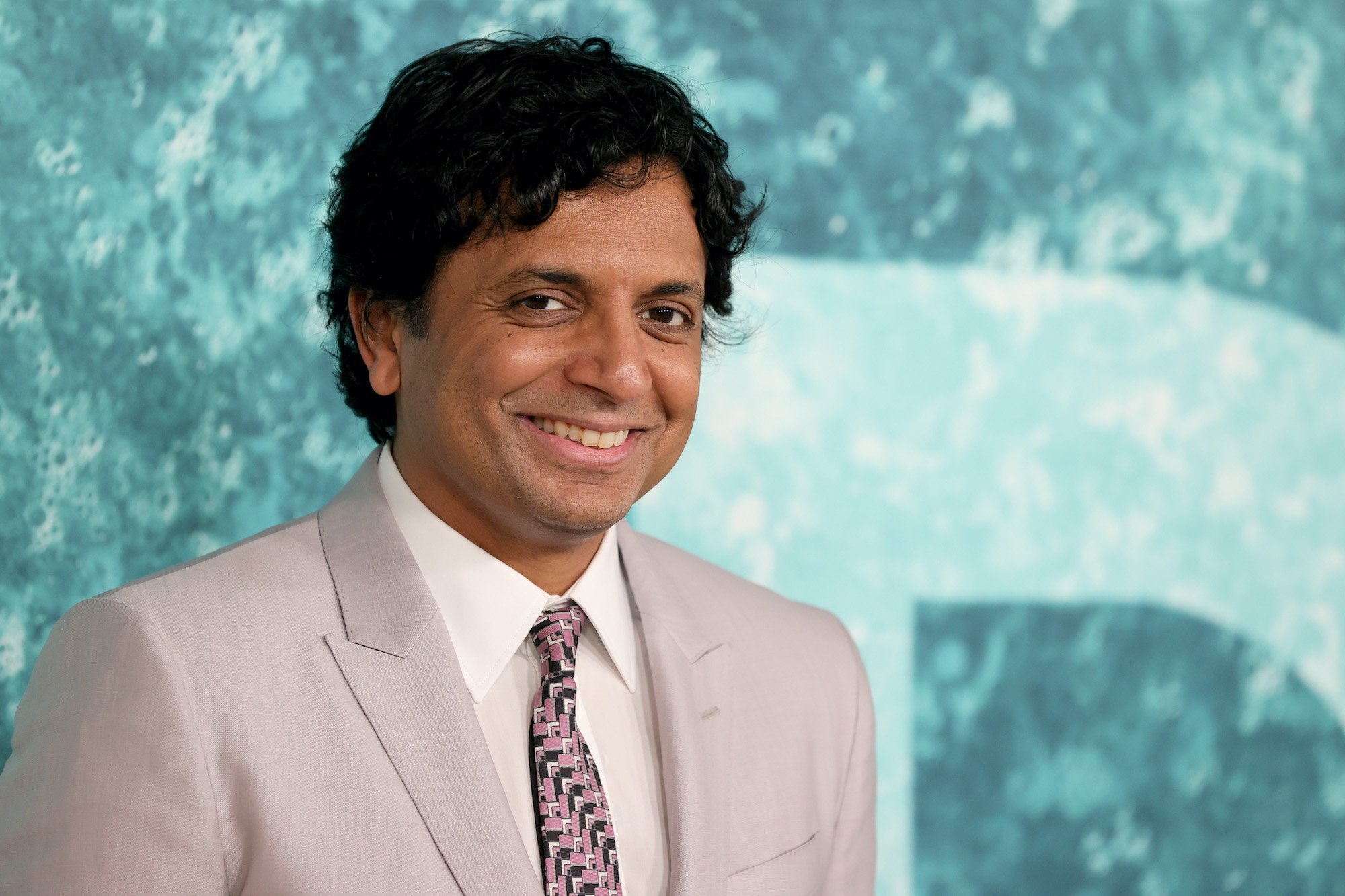 The director, one of just a few Indian-born directors in Hollywood, knew that his birth name wouldn't be an easy sell to American audiences. Thus, he adopted an Americanized version that paid tribute to his roots and looked good on a poster. 
The real M. Night Shyamalan
Manoj Nelliyattu Shyamalan was born in India in 1970, but his family moved to a Philadelphia suburb at an early age. While American audiences may have difficulty saying his Indian name, it's quite common in his native land of India. He spoke about the origins of the name we know him for with Wired:
"[It] is a very common name in India. It's not quite as common as Michael or something here, but it's pretty common. Everyone would mangle it in school. They'd call me mango or a million things. And so it kind of abbreviated to M eventually."  
Shyamalan developed an interest in American culture, specifically movies, from an early age. According to Fandango, he got his first camera at 17 after a lifelong interest in filmmaking. Rather than using his given name, however, he shortened it to M in an attempt to both keep its origins there and offset any chance at mispronunciation.    
However, his skills got him where he is, and just a few short years after getting his first camera. He tried his hands at directing his first feature-length movie. 
Shyamalan's prayer
Shyamalan has humble roots in the film industry. According to IMDb, he went to NYU's famous film school, but Hollywood has infamously shunned Indian directors and performers for as long as moving pictures have been around. However, Shyamalan had the passion, drive, and unique vision to let himself be heard loud and clear. He spoke about his first filmmaking experience in the same video:
"It's a feature called Praying With Anger and we shot it in India. I was 21 years old, and we kind of did it the kind of classic way, you know, friends and family, and borrowed, and did everything we could. And there was one moment that I remember where I was really down, and I was, you know, didn't know what I was doing."   
Shyamalan adored the work of Steven Spielberg. Going into his first movie, however, he was afraid that he'd never stack up. When one of the Indian workers on the set called him Spielberg as a compliment, however, Shyamalan credits it with opening his eyes to his true potential.  
"It's just words of encouragement, but it felt like he had ordained me to be something special or something 'cause he used the word, Steven Spielberg.'" Shyamalan said. That confidence paid off.
While Shyamalan is far from universally acclaimed, his work holds a special place in the hearts of many film fans. From The Sixth Sense to his latest, Old, Shyamalan has a loyal fan base who will go with him through good and bad. However, he's more than just a filmmaker. Shyamalan also uses his fame for good, as well. 
Shyamalan at home
Shyamalan opens up about his personal life when asked. Still, he also respects his family's privacy. According to The Famous People, he married his wife, Bhavna Vaswani, in 1992, and they've gone strong ever since.
Now, with three grown children, Vaswani spends her time away from hope promoting her husband's philanthropic M. Night Shyamalan Foundation, which supports community organizations worldwide. 
Shyamalan's name, as we know it, is a professional one. Underneath it all is a human being, who is unabashedly proud of his Indian heritage and how he made his name in an industry that doesn't always give people like him a chance. He might be M. Night Shyamalan on-screen and behind cameras, but once he gets home, Manoj is just another father raising his kids when not going to work.