What Does Spike Lee Do for a Living and Does He Own the Knicks?
Spike Lee is constantly seen sitting court-side at New York Knicks games, so does Lee have any ownership stake in the team?
When it comes to the NBA, there are fans and then there are super fans. Teams in larger markets tend to have more fans, and no superfan is more dedicated than Spike Lee. Lee can regularly be observed sitting courtside at New York Knicks games through the good times and the mostly bad times.
But for the uninitiated, this may raise some questions. It may cause them to think that because of his consistently great seats, he's the owner of the team. Let's take a closer look at what Spike Lee does for a living and determine whether he owns the New York Knicks. 
Who is Spike Lee?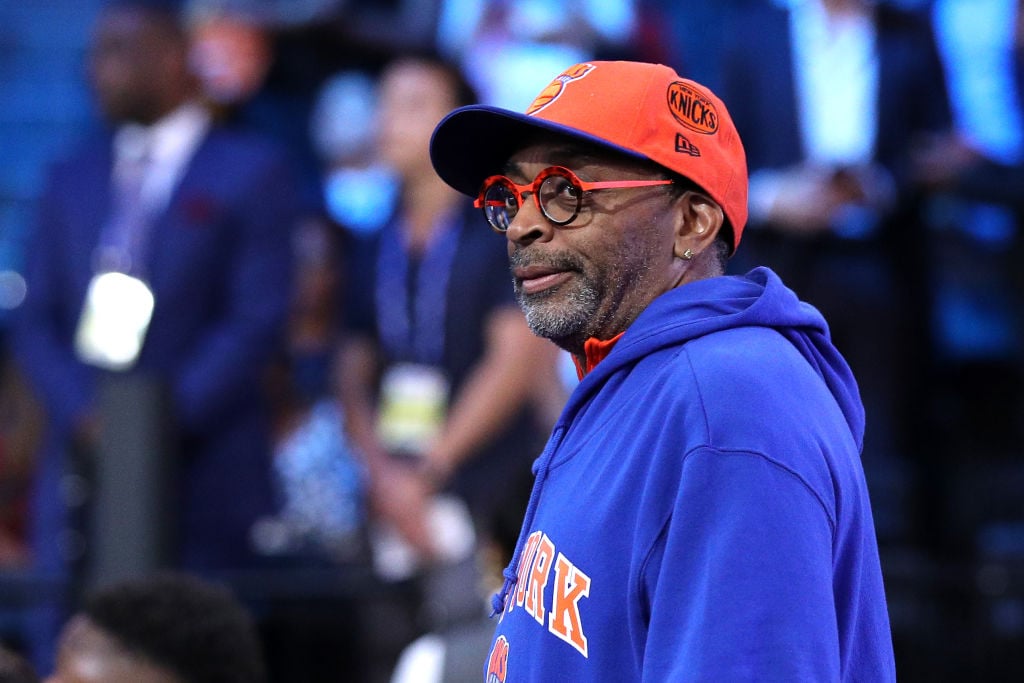 According to Biography.com, Spike Lee is a critically acclaimed movie director. Lee has been making films since he was 20 years old.
His first professional feature film, She's Gotta Have It, became one of the biggest moneymakers of 1986. He's known for his unique and compelling takes on racial politics in America.
Other classic films of Lee's include Do The Right Thing, Jungle Fever, Malcolm X, He Got Game, and BlacKKKlansmen. Lee won his first Academy Award in 2019 for Best Adapted Screenplay of BlacKKKlansmen. 
Lee is also a successful pitchman for several high-profile brands. In the '90s, he starred alongside Michael Jordan in his Air Jordan commercials. More recently, he can be seen in Capital One ads with Charles Barkley and Samuel L. Jackson. 
Spike Lee's history sitting courtside at Madison Square Garden
Fans can often see Lee talking with star players both for other teams and for the Knicks (when they had stars). His most famous interaction came over 20 years ago with a former member of the Indiana Pacers, Reggie Miller. 
It was the 1995 Eastern Conference playoffs. The Pacers were playing the New York Knicks. Lee and Miller trash-talked each other throughout the game, but it was Miller who had the last laugh.
He'd score eight points in nine seconds to lead the Pacers over the Knicks on their home floor. The nail in the coffin for the Knicks was Miller's final taunt: he placed his hands over his throat in a "choking" symbol directed at Lee. The Pacers defeated the Knicks in seven games, though they went on to lose the Eastern Conference Finals to the Orlando Magic. 
Lee and Miller have since buried the hatchet and are now on friendly terms. According to USA Today, Miller even invited Lee to Indiana for a courtside seat after he had a spat with the Knicks organization. 
So what is Lee's "official" role with the Knicks if he has any? 
Does Spike Lee own the Knicks? 
Despite his wonderful courtside seats, Lee does not own the Knicks. That honor belongs to the much-maligned James Dolan. Knicks fans have made no secret about their disdain for the current ownership regime as the Knicks have faced nearly two decades of futility.
It's not since the days of Patrick Ewing, Latrell Sprewell, and Allan Houston that the Knicks have been relevant in NBA circles. Many fans chalk that up to poor leadership. 
As far as Lee is concerned, he's a dedicated fan with amazing seats. He's so much more than that to the fan base, however. Much like Jack Nicholson and the Los Angeles Lakers, Lee is ingrained as part of the team's DNA.
It's why his run-in with the team this season was so off-putting to its fans. The team gave Lee grief for using an inappropriate entrance even though he'd used it for over 20 years, greatly bothering the influential director and Knicks fan. 
Here's an idea for the Knicks: after multiple decades of being a laughingstock, do whatever it takes to keep your most loyal fans (like Lee) coming to games.