What Floyd Mayweather Has To Say About His 2014 Fight With T.I. Over Tiny
T.I. famously tried to fight Floyd Mayweather over allegations that Mayweather had an affair with his wife, Tiny. Mayweather recently said T.I. was in the wrong.
It's no secret that Tiny and T.I. have had their share of ups and downs. The two have split up on several occasions due to T.I.'s admitted indiscretions. Tiny decided to give her husband a taste of his own medicine once by flirting with the heavyweight champion, Floyd Mayweather.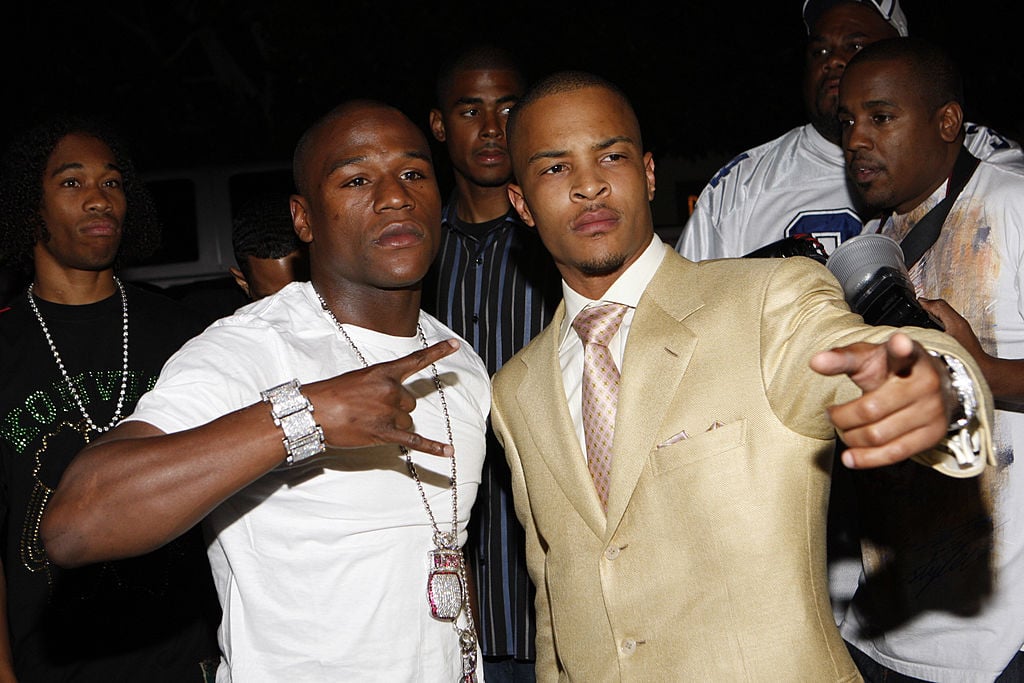 Things did not end well and the two ended up in an almost physical altercation that was caught on camera. They eventually split before moving past it but Mayweather has spoken for the first time in years about the situation – saying that T.I. was in the wrong. 
T.I. spotted trying to fight Floyd Mayweather after rumors surface that he had an affair with wife, Tiny
During one of T.I. and Tiny's splits, she found herself in Mayweather's company and the talk around the blogosphere was that the two were getting pretty cozy. 
T.I. caught up with the famous boxer in a Fat Burger restaurant on the Las Vegas strip and chaos almost immediately broke out. Witnesses claimed that T.I. charged at Mayweather after exchanging a few words. Both of their entourages had to break up the fight.
Mayweather spoke with MTV News shortly after their run-in and explained what happened from his perspective. 
Mayweather said T.I. approached him after seeing the picture of Tiny with Mayweather on Instagram, to which Mayweather responded, "I was basically like, 'Listen. I'm letting you know I ain't got…me and your wife don't have nothing…if you think so.'"
"I been knowing Tiny before T.I.," Mayweather explained. "I've never slept with her, I never kissed her, never touched her in no inappropriate way. Her friend Shekinah wanted to come to the [May 4th] fight, she brought Tiny with her. … After that, I guess she put a picture up on Instagram of her at the fight so I guess he [T.I.] was feeling some type of way."
During their altercation, Mayweather called Tiny out of her name and when speaking to MTV News, he made it known that he was sorry for that comment. He claimed things got heated and during their exchange, it was something he said to upset T.I. further. 
What Tiny had to say about her and Floyd Mayweather
Tiny and T.I. had a hard time reconciling after the public fallout from her presumed affair, despite T.I.'s multiple affairs throughout their marriage. At one point, Tiny moved out of their marital home and into her own, which was documented on their VH1 reality show Family Hustle. T.I. accused her of embarrassing him with "someone he was at odds with" and thought it would be best they split. Tiny filed for divorce in 2017.
While separated, Tiny focused on revitalizing her singing career and reunited with her group Xscape. She and T.I. tried to work on repairing things as they lived separately and according to Tiny, her moving out of their home was the best thing she'd done in their marriage. She also noted that her friendship with Mayweather also got her husband's attention but denied they were ever romantic.
She admitted that she and Mayweather had a flirty relationship and that she enjoyed his attention at a time when T.I. was not attentive to her. She says things ended at flirting and that T.I.'s reaction put a permanent end to any potential suitors. 
"That was really a buzzkill for me because everybody was like, 'I ain't talking to her. This man done swung on the heavyweight champion," she revealed on Kandi Koated Nights. "No! Tell her to stay away!' But I didn't really cheat. I didn't have any sex. He flirted with me. I think that was fine. Everybody needs a little attention, especially if she ain't getting it. If you ain't giving it she's gonna go get it somewhere else."
Floyd Mayweather reveals what he now thinks about T.I. after their altercation
Tiny tried her best to ignore the mayhem in the aftermath of her brief time with Mayweather but the boxer didn't appear to want to let things go. The two ran into one another at the BET Awards in 2015 and she avoided him on the red carpet. 
She's since reconciled with T.I. and called off their divorce, with the two vowing to commit to one another fully. Mayweather has also moved on but spoke about the entire ordeal, speaking to Drink Champs.
"My thing is this – I just tell men like this – if you feel like your woman is a trophy, she should be at home on a shelf period…trophies sit on a shelf," Mayweather said as a dig to the couple. "A lot of times a man get mad at a man when a man should be checking his better half. You don't ever see me trip – like I said before, I'm a king, I eat a feast every day."
Mayweather insisted that nothing romantic ever happened between him and Tiny but that regardless, T.I. should have never approached him in the manner he did. Instead, he claims T.I. should have handled things privately between him and Tiny.
T.I. caught wind of Mayweather's comments and clapped back on social media, sharing a photo that read, "Money can't hide da sucka in you," and captioned the photo, "At all…by no means…point blank."
If history is any indicator, this isn't the end of the back and forth between these two.