What Happened to Aaliyah's Posthumous Album?
A lot of music fans rejoiced when it was announced that there was a posthumous Aaliyah album in the works. The singer's sudden death in 2001 had left a huge void in their hearts and a new album seemed like something that could finally provide a little more closure. But unfortunately, it never came to fruition. What happened to Aaliyah's posthumous album? Find out more about the singer's life, death, and posthumous album, below.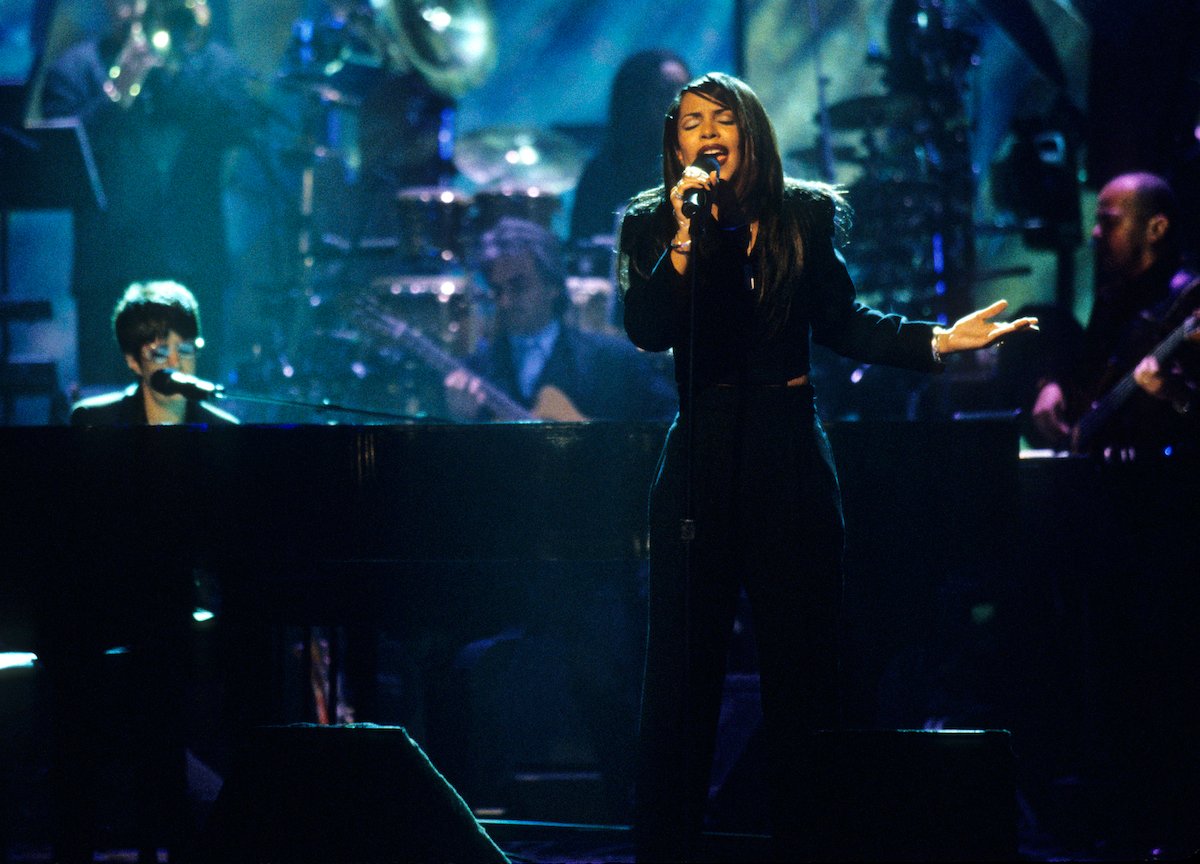 Looking back at Aaliyah's life and death
Hailing from Detroit, Michigan, Aaliyah got her start when her uncle Barry Hankerson signed her to his label Blackground Records and inked a deal with Jive Records to distribute her first album, Age Ain't Nothing but a Number (1994). Produced and largely written by R&B titan R. Kelly, the album was a massive success upon its release. It featured hits such as "Back & Forth" and "At Your Best (You Are Love)" and went on to earn platinum certification.
Aaliyah followed up with 1996's One in a Million — an album with more hot and sophisticated tracks like One in a Million and 4 Page Letter. The project was also a big hit, drawing favorable reviews and double platinum certification.
RELATED: The Real Reason You Can't Stream Aaliyah's Music
The next few years saw Aaliyah dabble in the movie industry with roles in films such as Romeo Must Die and Queen of the Damned before returning to the music world in 2001 with her self-titled third and final album. Like its predecessors, Aaliyah was a big success, earning praise from fans and critics alike and boosting her star even more.
Sadly, Aaliyah died just weeks after its July 7 release, on Aug. 25, 2001. She had been flying to Florida from the Bahamas, where she had just finished shooting the video for "Rock the Boat" from the Aaliyah album, when the plane crashed, killing the 22-year-old and eight others. Later, it was revealed that the aircraft had been hundreds of pounds over its weight limit.
A posthumous Aaliyah album was announced after her death
Talks of a posthumous album emerged in 2012 when Aaliyah's former producer Jeffery "J. Dub" Walker teased in a now-deleted tweet that a previously-recorded song called "Steady Ground" would appear on an upcoming Aaliyah album (via The Huffington Post).
Aaliyah's brother Rashad Haughton reportedly refuted the claim with a statement shared on his Twitter that said, "No official album [is] being released and supported by the Haughton family." But then reports emerged that an album was indeed coming out, with Drake attached as executive producer.
Shortly after, in August 2012, Drake and his producer Noah "40″ Shebib dropped the first song from the project, titled, "Enough Said." After its release, Blackground Records told Billboard that fans could expect the full album by the end of the year, complete with 16 unreleased songs.
While many fans were thrilled about new Aaliyah tunes, many people didn't seem to like Drake's involvement in the album. Among them included some of Aaliyah's closest collaborators, including Timbaland, Missy Elliott, Ginuwine, and DMX.
And eventually, the posthumous Aaliyah album was scrapped
By the following year, the album had been scrapped. When asked about the status of the project in a 2013 interview with hip hop journalist Elliott Wilson, Drake said it wasn't happening. He didn't share an exact reason but suggested that the negative publicity it received may have been a factor, among other things.
"I think the press got out of hand. They maybe just had a different vision for it or something. I'm not sure," he explained around the 8:20 mark. "It was sounding great to me. But whatever they end up doing with it, I wish them the best of luck. I think there might be a record on there with me and her. I'm not sure. But it was great. It sounded really good."
Noah "40″ Shebib offered more insight on the reason the album was canceled
Shebib elaborated on the canceled album in a 2014 interview with Vibe, saying it fell apart due to negative press. He also noted that only he was initially approached to do the album but that Drake asked to join in due to his love for the late singer.
"Aaliyah's label Blackground – the Hankersons, her uncle and cousin – came to me and said if she was around, she'd want you to do this project," Shebib explained. "I've been obsessed with Aaliyah forever, and I know Drake has his relationship with her. But that opportunity was mine. Drake said, 'Can I do it with you?' And I was like, 'Of course, we'll do it together.'"
Shebib explained that in addition to the backlash they received over Drake's involvement, he also walked away due to a complaint from one of Aaliyah's family members.
"[Aaliyah's] mother saying, 'I don't want this out,' was enough for me. I walked away very quickly," he continued.
Though it's not the outcome many people had hoped for, the good news is that Aaliyah left behind a timeless collection of tunes that can be found on the Internet now.
RELATED: Aaliyah's Former Makeup Artist Suggests She Checked Isaiah Washington on the Set of 'Romeo Must Die' for Allegedly Being Homophobic