What Happened With Raven Symoné and Her Ex-Girlfriend, AzMarie Livingston?
Raven Symoné is a married woman! After years of keeping her love life under wraps, and publicly opting to not identify as LGBTQ, the former Cosby Show kid announced on her social media that she married her girlfriend, Miranda Maday. Prior to her marriage to Maday, Symoné was in a longtime relationship with model, AzMarie Livingston, before they split in 2015.
Who is AzMarie Livington?
Born Ashley Marie Livingston, she was raised in California primarily by her mother. She previously described her father as "a very proud, extremely flamboyant, homosexual" who maintained a close friendship with her mother and was an active parent.
She attended the University of Wisconsin-Whitewater before dropping out to pursue her career in modeling. She booked work as runway model in LA, New York City, and internationally in a string of fashion shows, including walking in London Fashion Week and appearing on BET's Rip The Runway. 
Her claim to fame was during her time on America's Next Top Model: British Invasion. She was the judges favorite for her distinctive tattoos and an androgynous look. She initially did well in the competition before being eliminated during the sixth episode, placing ninth in the overall competition.
After the show, she branched out into acting, previously appearing in the 2009 drama Precious and having guest roles on a variety of television shows, including DTLA and a recurring role on the FOX music drama Empire.
She later released music with her debut EP HipPopMelodicPoetry in 2014. 
Raven Symoné and AzMarie Livington dated for three years before their split
Livingston and Symoné were close friends long before they began dating. Rumors started swirling that they were an item in 2012. But as Livington was openly living her life as a lesbian, Symoné preferred to not be labeled.
"I don't need language. I don't need a categorizing statement for it. I don't want to be labeled gay. I want to be labeled a human who loves humans. I'm tired of being labeled," she told Oprah Winfrey during a 2014 interview on  Where Are They Now?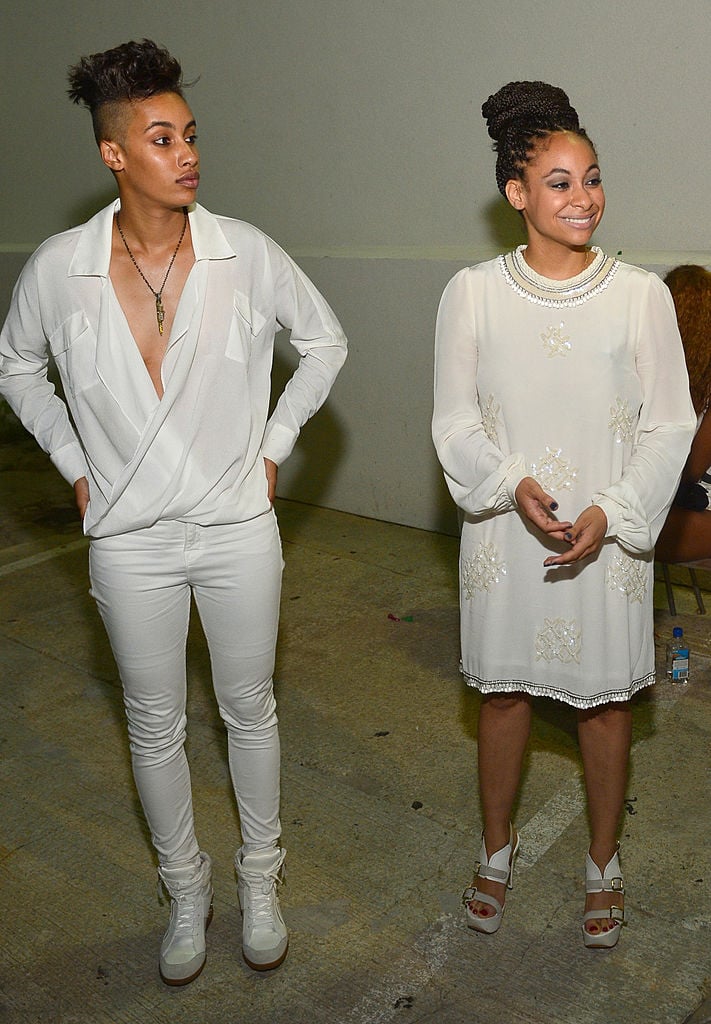 "I'm in an amazing, happy relationship with my partner, a woman. On the other side, my mother and people in my family, they've taught me to keep my personal life to myself as much as possible, but I am proud to be who I am and what I am," she continued.
Symoné and Livington appeared together on a number of red carpets and shared photos of the two of them together on their social media pages. Livingston even spoke of the advice she received from Symoné when she landed a role on Empire.
"I always have great advice from Raven. She definitely teaches me how to be poised, how to respond, how to intake everything that's happening on-set and off-set, and make it work for me personally and in my work," she told Hollywood Today in 2015. Symoné was by Livington's side at the Empire premiere the same year.
Related: Raven-Symoné Hasn't Spent Any Money Made From Her Time On 'The Cosby Show' – What She's Worth Today
At the time of Livington's run on Empire, Symoné gushed about her partner's role. "My partner is in a show that people are going ape crazy for," Symoné told E! News. "I'm proud of her." Symoné also had a guest role on the show.
After three years together, Livingston and Symoné split. Us Weekly exclusively reported, with sources alleging that it could have been due to Symoné being unfaithful.