What Inspired Christopher Gattelli's Choreography When Working on 'Schmigadoon!'?
Lovers of musical theater rejoice! Apple TV+ has debuted a doozy of a musical comedy series called Schmigadoon! co-created by Cinco Paul and Ken Daurio and directed by Barry Sonnenfeld.
The six-part production features a star-studded cast and high-stepping chorus singing hilarious and irreverent songs that are inspired by the musical theater classics of the 1940s and 50s.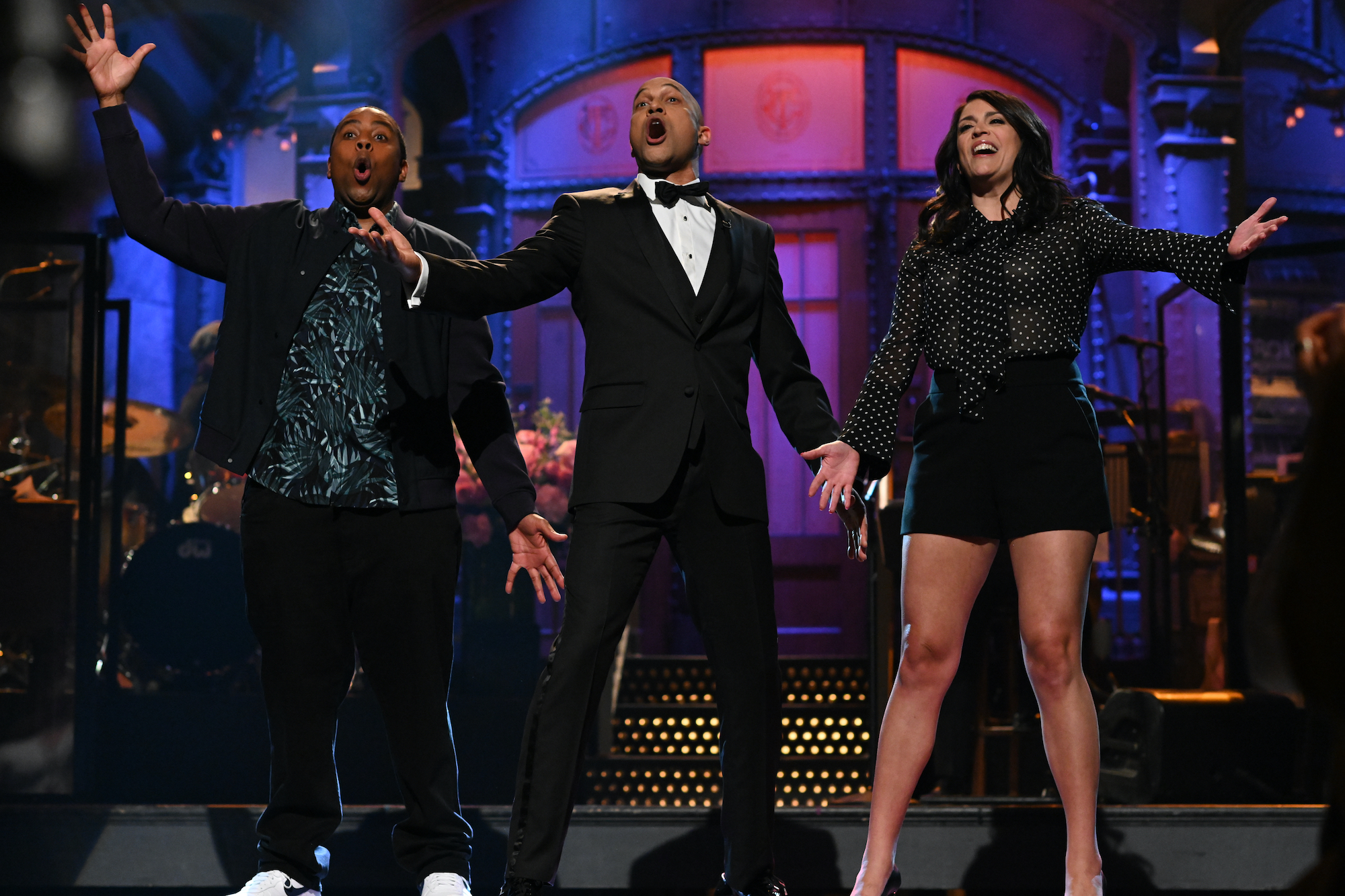 Emmy winner Keegan-Michael Key (Key & Peele) and Emmy Award nominee Cecily Strong (Saturday Night Live) star as a couple whose rocky relationship is thrown for a loop when they find themselves lost in a magical town in the woods that seems to be permanently stuck in a musical.
Cue a never-ending stream of laugh-out-loud lyrics, nostalgic sets and costumes, and talented dance routines whose steps are inspired by a Hollywood era gone by.
Choreographer Gattelli pays homage to dance geniuses of the past
In an interview with Dance Spirit, Gattelli gushes about the opportunity to pay tribute to the greatest choreographers of all time. "I would get to reference all of my heroes in my work," he says of this dream project.
Those heroes include a list of talented choreographers from the 1940s and beyond, including Jerome Robbins, Onna White, Agnes de Mille, and Robert Alton.
Robert Alton was an American dancer and Broadway choreographer best known for his work on Show Boat (1951) and White Christmas (1954). Many choreographers are inspired by Broadway legends, and Gattelli explains how Alton's White Christmas specifically inspired some of the moves he used in the dancing show-stopper "With All of Your Heart,"
"One moment where I paid homage to White Christmas was at the end … where Ariana DeBose finishes her dance break and then does a backbend and layout towards the camera, similar to how Vera-Ellen flies down a flight of stairs at the end of the White Christmas number in the film."
Working with a star-studded cast during a global pandemic was also inspiring
RELATED: 'Schmigadoon!' Star Kristin Chenoweth Says 18 Page Song Was Way Harder Than 'Wicked'
Gattelli didn't stop there. The screen version of the 1962 classic The Music Man was choreographed by another of his heroes, the incomparable Onna White. Her dance routines are in classic movie musicals like Bye Bye Birdie (1963) and Oliver! (1968) have been highly celebrated, but there's something about The Music Man that makes it prime spoof material.
Says Gattelli, "there's a tribute to Onna White from her The Music Man choreography in a number called 'Corn Pudding.'" Gattelli goes on to explain how he tackled "Tribulation" with the help of the cast, saying,
"the biggest challenge, but also the greatest reward, was working on Kristin Chenoweth's big number, 'Tribulation.' The Music Man was my first musical and I'm such a big fan, so I knew I wanted to incorporate elements from that show into the piece. I also had an idea to make it a one-shot take, because I knew if anyone could do it, it would be Kristin. And she did—that first day on set, she did it with the entire company, marching band and all, in one take. The studio went wild, because it was a huge feat."
How many musical theater references are there in 'Schmigadoon!'?
Writer Cinco Paul and choreographer Christopher Gattelli certainly managed to sneak in plenty more nods to famous Broadway references throughout Schmigadoon!—almost too many to count. The opening number features a whirling showcase of choreography inspired by the athletic dancing from the film Seven Brides for Seven Brothers (1954).
Star Cecily Strong and actor Danny Bailey recreate the iconic bench scene from Rodgers & Hammerstein's Carousel (1954) in the song "You Can't Tame Me." Vulture managed to compile a list of which musicals are referenced in various Schmigadoon! songs, but you'll have to keep watching Apple TV+ to catch them all.
The sixth and final episode airs on Friday, August 13th with what's sure to be a finale chock-full of musical theater goodness. 
RELATED: 'Jane the Virgin' Star Jaime Camil Says Rojelio Wouldn't Approve His 'Schmigadoon' Character