What Is Arnold Schwarzenegger's Relationship Like With Son Joseph Baena?
It seems like only yesterday that the world learned the truth about Arnold Schwarzenegger. In reality, it's been nine years since we found out that Schwarzenegger had a lovechild with his housekeeper of 20 years, Mildred Baena.
Whatever happened with Schwarzenegger's son? Is he treated as part of the family, or an outcast? Keep reading to find out all the details you're dying to know.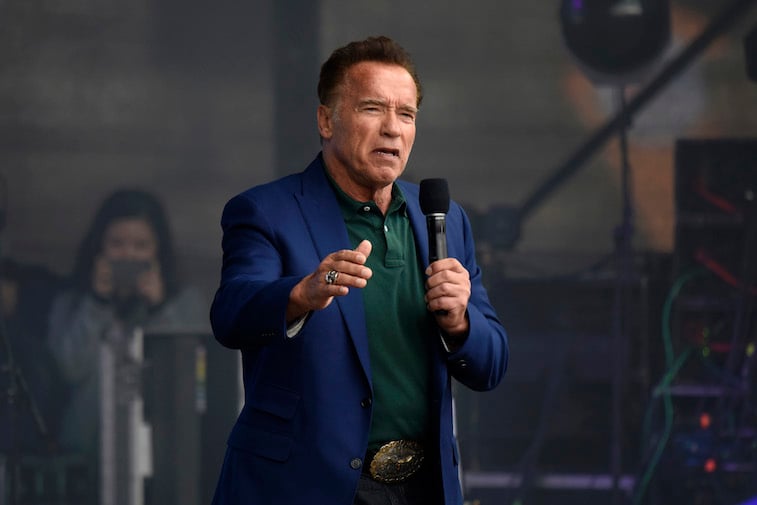 Who is Joseph Baena?
The son of Schwarzenegger, and his housekeeper, Joseph Baena is now 21 years old and just graduated from university. Following in his father's footsteps, Baena embraces fitness.
He regularly competes in bodybuilding competitions and posts photos to Instagram that show off his sculpted physique.
For the last several years, Baena has been attending Pepperdine University, studying business, and indulging in the frat lifestyle, as a member of Alpha Tau Omega.
According to the Daily Mail, Baena gets straight A's and was honored for student philanthropy. He even has a girlfriend, Pepperdine Theta sorority member, Samantha Wix.
Does Arnold Schwarzenegger treat Joseph Baena like a son?
Baena and Schwarzenegger are often photographed together, usually doing physical activities, like working out at the gym, or going for a bike ride. It's obvious the two have a lot in common, including similar looks. In fact, Baena resembles his father almost exactly.
In April of this year, Baena graduated from Pepperdine. Schwarzenegger marked the occasion with a Twitter post, a photo of the two of them outside the graduation ceremony.
Schwarzenegger captioned the post, "Congratulations Joseph! Four years of hard work studying business at Pepperdine and today is your big day! You have earned all of the celebration and I'm so proud of you. I love you!"
In a 2017 Instagram post, Schwarzenegger called Baena "a fantastic son, and a great training partner," in a post recognizing Baena's birthday. "You get stronger and smarter every year and I'm so proud of you. I love you," Schwarzenegger wrote.
Does the rest of the Schwarzenegger family accept Joseph Baena?
Schwarzenegger has four other children, which he shares with ex wife, Maria Shriver. Two daughters, Katherine and Christina Schwarzenegger, and two sons, Patrick and Christopher Schwarzenegger. Baena was born only five days after Schwarzenegger's other son, Christopher, although no one knew they were related at the time.
Although Baena was left out of half-sister Katherine's National Siblings Day post, it appears that he does get along with the rest of the family. Baena showed he wasn't offended by the snub, by liking Katherine's post.
This isn't the first time he's interacted with Katherine on social media. When she announced her engagement to actor, Chris Pratt, Baena commented a simple, "Congratulations!"
Although the news of Baena's parentage broke up the Schwarzenegger family, it's unlikely that his half-siblings hold Baena responsible. When Baena was growing up, before his family link became known, he was often invited to be a part of holiday celebrations with the Schwarzenegger family.
Now that Schwarzenegger publically accepts him, it's likely that tradition continues, after all, Schwarzenegger's ex-wife, Shriver, is no longer in the picture. It's likely that Schwarzenegger spends the holidays with all of his children.
Because of Schwarzenegger's reputation, many have questioned whether the star may have other children that have yet to be recognized. According to the Daily Mail, Schwarzeneger's biographer, Ian Halperin, claims to have interviewed no fewer than six women who claim to have given birth to a child fathered by Schwarzenegger.
So far, he has not recognized any other children as his own, but time will tell.