What is Booger McFarland's Net Worth and How He Makes His Money
If you have a favorite NFL team and make sure to catch every single game, it's inevitable that you'll listen to broadcaster Booger McFarland a couple of times throughout the season.
The ESPN Monday Night Football announcer is known for his blunt descriptions of what's happening on the field, as well as his colorful bloopers. He's been known to disagree with calls from the officials, as well as explain what he thinks different signals from quarterbacks mean, all taken from his experience playing himself.
Did his career as a player set him up for his career as an announcer?
Booger McFarland's early career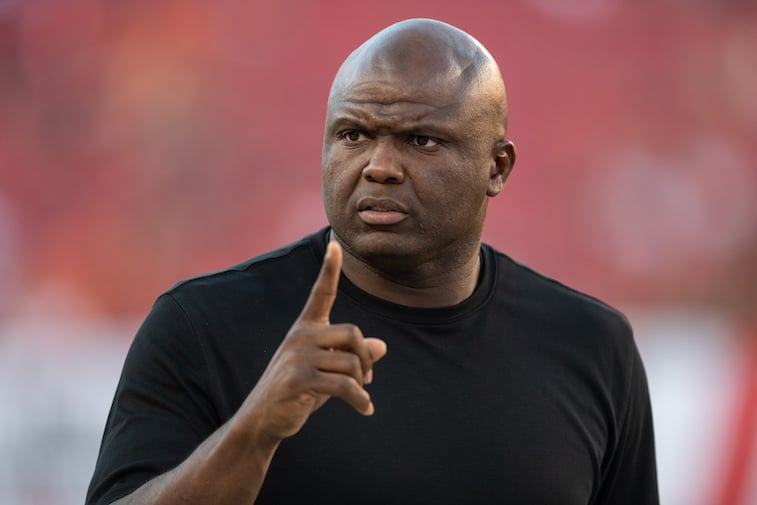 Anthony "Booger" McFarland got his nickname as a child and says that it just happened to stick throughout the years. He played college football for Louisiana State University as a defensive tackle from 1995 to 1998. He started every game during his freshman year, quickly becoming a fan favorite with 73 tackles during the season.
He helped bring LSU a win in the Independence Bowl that year, as well as the Peach Bowl in 1996 and the Independence Bowl again in 1997.
His senior year, LSU didn't do as well as they had the previous three years, but McFarland was named defensive co-captain, earned first-team All-SEC and All-America honors, and played in the 1999 Senior Bowl. He graduated in 1999 with a bachelor's degree in Business Management.
Booger McFarland's professional career
McFarland was drafted by the Tampa Bay Buccaneers as their 15th overall pick in the 1999 draft and he would go on to spend eight seasons with them as a defensive tackle.
During his career in Tampa, McFarland had 352 tackles and 20 sacks. He helped bring about a victory in Super Bowl XXXVII against the Oakland Raiders.
In October 2006, McFarland was traded to the Indianapolis Colts, where he was reunited with head coach Tony Dungy, whom he played under in his first three years with Tampa Bay.
The Colts went on to win Super Bowl XLI against the Chicago Bears, during which McFarland had one sack. He was out after that season, having suffered a knee injury during training camp, but he still has two Super Bowl rings to proudly show off from his time playing in the NFL.
Booger McFarland's broadcasting career
Taking his football knowledge to the next level, McFarland joined the SEC Network in 2014 as a football analyst and was a part-time contributor to ESPN's morning show Mike & Mike.
In 2017, McFarland moved to ESPN to cover college football as an in-studio analyst. In 2018, he was brought on as a part of ESPN's Monday Night Football team as an announcer, and that's where he currently holds down his fort.
What is Booger McFarland's net worth?
Following a prolific, if a tad short, career, McFarland landed one of the best possible gigs for a former player still hoping to remain in the NFL's greater circle as an MNF announcer for ESPN.
But what does this all mean for his pocketbook? Booger McFarland has a net worth of roughly $2 million. This includes his properties as well as his income. For someone as recognizable in the NFL community as McFarland is, that amount is hardly surprising.
McFarland married his wife, Tammie, in 2008 and they have two children together. Having helped bring about two Super Bowl victories for his former teams, it makes sense that he felt the urge to continue his football career in announcing.
And whether fans agree with his takes every game or not, he's still there to make us all understand the game a little more than we did before.