What Is Cardi B's Ethnic Background?
Cardi B has worked hard to get to where she is today. The "Bodak Yellow" superstar is worth an estimated $4 million, and given that she's only at the beginning of her career, that number is likely to climb. 
But Cardi had to spend money to make money. She worked as a stripper to save up enough to make her demo tapes, and took career risks that really paid off. Still, she credits where she's from for giving her the material she needed to have a successful hip-hop career.
Cardi B is proud of her roots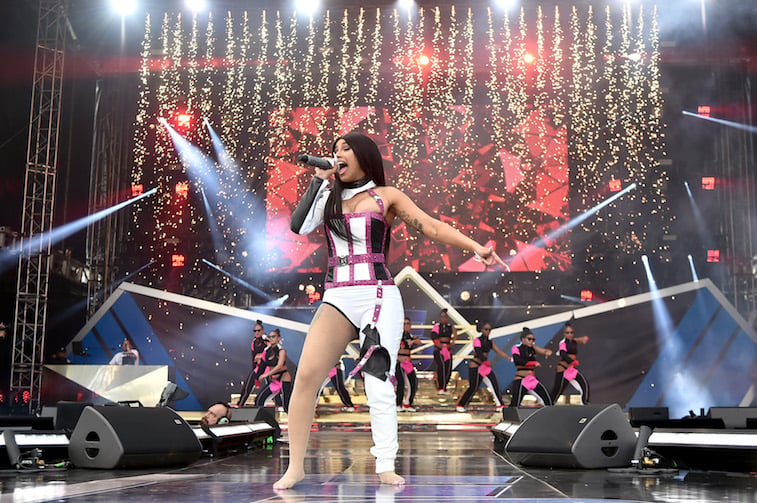 The former Love & Hip-hop star was born in the South Bronx. She says her experience in her neighborhood inspires her music. "I wouldn't be able to rap about the things that I rap about now [if I hadn't grown up there]."
Cardi isn't the only star to be proud of her Bronx roots. Jennifer Lopez is the original Bronx superstar, and she and Cardi know each other. J. Lo convinced Cardi to join her latest movie, Hustlers. 
Apparently Jenny from the Block told Cardi "You have to be in this movie. You know this world. You could teach us."
Lopez was referring to Cardi's experience as a stripper, but being from the South Bronx probably informed Cardi's performance as well. 
Even though Cardi has enough cash to live almost anywhere, she's still a city girl at heart. She shows off expensive cars on her Instagram, she doesn't have a driver's license. "How do you expect me to know how to drive when I've taken the train my whole life?" 
The South Bronx is a diverse neighborhood, and Cardi's multicultural experiences undoubtedly contributed to her eclectic style. Cardi herself comes from a diverse background as well. 
Cardi B is Trinidadian and Dominican
Cardi's mom comes from Trinidad, and her dad is from the Dominican Republic. Family is very important in both Trinidadian and Dominican cultures. The importance of family in Cardi's life is obvious. 
She often talks about spending time in her grandmother's South Bronx apartment growing up. Even now, Cardi is still there often, despite her fame.
Plus, Cardi doesn't trust anyone but family with her daughter. Baby Kulture could have nannies and babysitters. Cardi has enough money to be able to afford high-end childcare, and before her daughter was born she thought she would be relying heavily on hired help.
Once her baby was born, however, she changed her mind. Cardi has a hard time leaving Kulture with anyone but her mother or sister.
Hennessy Carolina, Cardi B's sister, is Instagram famous
Cardi B isn't the only one in her family to make it big. Although her sister, Hennessy Carolina, isn't as famous as Cardi, she's doing well for herself. She has around 5 million followers on Instagram, and she's achieved influencer status. She focuses on fashion and makeup and has modeled in the past as well. 
Hennessy is responsible for Cardi's name. Born Belcalis Almanzar, Cardi is not much older than her younger sister. When Hennessy came along, Belcalis was nicknamed Bacardi, a liquor name to go along with her sister's. Bacardi got shortened to Cardi B. 
Cardi explained the whole thing to Jimmy Fallon. "My sister's name is Hennessy. So everyone used to call me Bacardi, and I started calling myself Bacardi." The rest is history.
Considering how important family is to Cardi, it's no surprise she and Hennessy are close. Cardi has posted about Hennessy doing her makeup before. Every time Cardi gives her sister a shout out on social media, Hennessey's followers probably spike. After all, even though Hennessy's 5 million followers is impressive, it's nothing compared to Cardi, who boasts 50 million Instagram followers.