What Is AMC's 'Dispatches From Elsewhere' About?
'Dispatches From Elsewhere' is an AMC anthology series created by and starring Jason Segel. Find out what 'Dispatches From Elsewhere' is about.
Dispatches From Elsewhere is a new AMC show created by and starring actor Jason Segel. The series was filmed in Philadelphia throughout the summer of 2019. Read on to find out more about what to expect from the 10-episode anthology series, Dispatches From Elsewhere.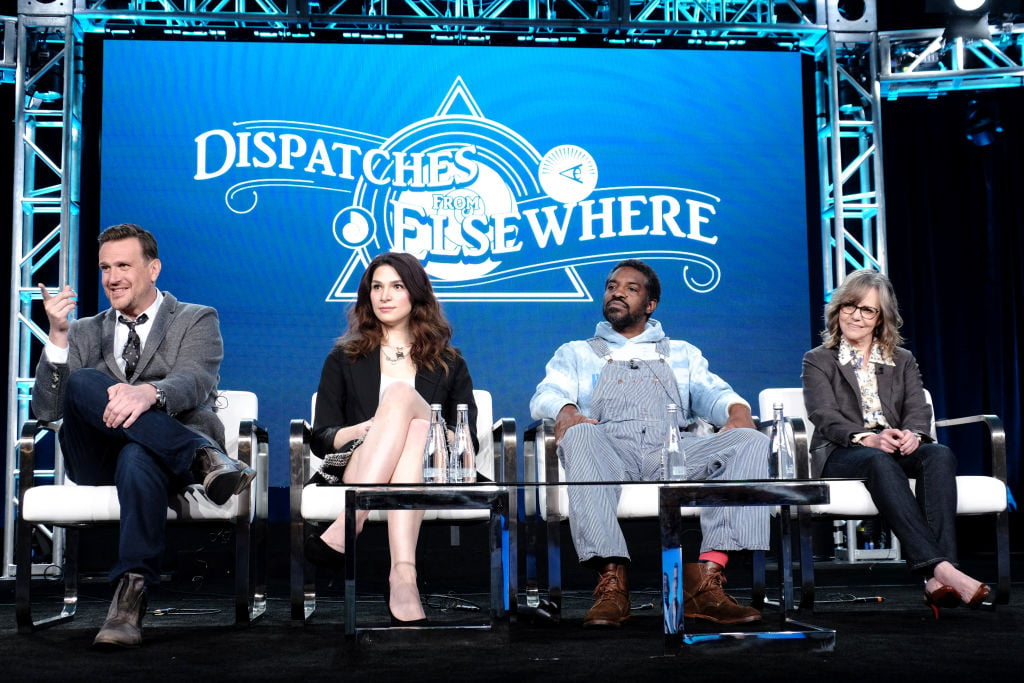 Where did the idea for 'Dispatches From Elsewhere' come from? 
A 2013 feature-length documentary titled The Institute inspired the show Dispatches From Elsewhere. Through the intrigue of counter-culture, religious elements, and street art, more than 10,000 people were lead to the real-life Jejune Institute and inducted into a game created by Oakland-based artist Jeff Hull. What started as an immersive art installation quickly turned into a social experiment, with most players participating in Hull's game without ever understanding why.
'Dispatches From Elsewhere' plot 
Each hour-long episode of Dispatches From Elsewhere will follow the story of four characters who struggle to find what's missing in their lives. United by chance, these misfits will try to solve a puzzle that has been hidden in plain sight by a secret agency. 
In the trailer for Dispatches From Elsewhere, we discover the main characters Peter, Fredwynn, Simone, and Janice are playing a game that has been manufactured by the Jejune Institute. Described as "purveyors of nonchalance and a myriad of innovative products designed to fill the void," the Jejune Institute seems to be offering each character a way for them to fulfill whatever they feel has been missing. As "Agents of Nonchalance," it is each player's goal to find someone named Clara. Full of hope and purpose, these characters work to find the carefully laid out clues that will allow them to solve Clara's mystery disappearance.
Despite being given very little to go on, the mystery and exclusivity of the game maintain these character's intrigue. It seems that every piece of the puzzle, or "Dispatches from Elsewhere," will bring them closer to the answers they seek. 
Much like Netflix's second season of The OA, wherein the characters find themselves inside a malicious metaphorical labyrinth, the Jejune Institute's game begins as seemingly good fun but soon unravels into a more profound mystery. Eventually, Fredwynn starts to unravel and begins to believe they're all part of a government conspiracy, calling the game is "a distraction" from what's really going on. Each episode of the series will reveal more clues as to whether they're all part of an innocent game or something more sinister. 
What is Jason Segel from? 
Segel is best known for his roles in comedic series like Freaks and Geeks and How I Met Your Mother. He has also starred in several comedy films, including Slackers, Knocked Up, Forgetting Sarah Marshall, and I Love You, Man. Segel plays the role of Peter in Dispatches From Elsewhere. 
Who else stars in 'Dispatches From Elsewhere?' 
The series also stars Academy Award-winner Sally Field, who plays Janice. Field is best known for her work in films like Forrest Gump, Steel Magnolias, and Mrs. Doubtfire. Academy Award nominee Richard E. Grant is also part of the Dispatches From Elsewhere cast, known for Gosford Park and Can You Ever Forgive Me? André Benjamin, better known as André 3000 of OutKast, also stars in the series alongside Eve Lindley, known for her work on All We Had and After Yang. 
Fans will have to tune in to find out whether these characters meet by chance or by design and discover a world that pulls them away from the distraction that is everyday life. Dispatches From Elsewhere will have a two-night premiere, with the first episode airing Mar. 1 and another new episode will air on Mar. 2.