What Is Dr. Dre's Net Worth?
Dr. Dre is one of the most influential rappers of all time. His songs are iconic. What is his net worth an dhow does he make his money?
Dr. Dre is among the most influential hip-hop artists in the world. The rapper, who's been releasing hits since the 1980s, vowed in 2014 he'd become the world's first billionaire in hip-hop. How close is he and what is his net worth in 2020?
Dr. Dre's early years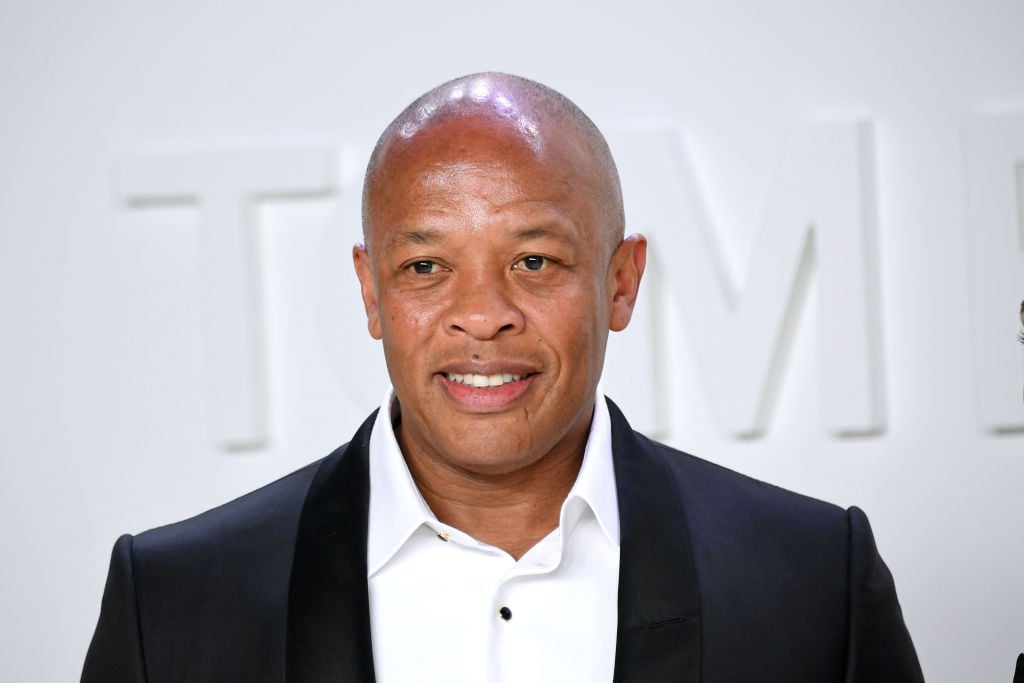 The hip hop mogul, Dr. Dre, may have the legal name, Andre Romelle Young, but "Dre" is synonymous with massive success in the industry. The Compton, California native has many ties in the world of music, such as stepbrother and rapper, Warren G.
When Dr. Dre was 16 years old, he and Cassandra Joy Greene had a baby boy, Curtis, whom Greene raised. Curtis didn't meet Dr. Dre for 20 years.
In the 1980s, Dr.Dre started with World Class Wreckin' Cru, then as a member of the rap group, N.W.A., with Ice Cube and Easy-E, as well as DJ Yella and MC Ren. Their rise to fame was documented in the 2015 film Straight Outta Compton. Despite lack of radio play, concert tours, and the Federal Bureau of Investigation sending Ruthless Records a warning letter in response to some of the content, the group soared.
Dre left the group by the early 1990s and released his first solo album, The Chronic, under Suge Knight's Death Row Records. By 1996, Dr. Dre left Death Row Records and founded Aftermath Records — a division of Interscope — and launched prominent rappers like Eminem, Snoop Dogg, and more.
Dr. Dre's rise to fame
Despite the fact that Dr. Dre is rarely seen out and about, the hip hop icon still managed to rise to a level of fame many attempt but never succeed. Dre's name has appeared on many "top" lists and for good reason. As the producer for Snoop Dogg's debut, Doggystyle — a quadruple platinum record —Dr. Dre's Dr. Dre Presents the Aftermath, followed by 2001 solidified his name in the music industry.
Once Eminem's talent was released to the world, then 50 Cent, Dr. Dre began racking up Grammy awards as a producer for their work, as well as snagging roles in movies like Set It Off, Training Day, and The Wash.
In 1996, Dr. Dre married Nicole Threatt and they have two children together. However, Dr. Dre's fortune isn't from music alone. The star launched Beats Electronics in 2006 and released Beats by Dr. Dre in 2008, which many celebrities wear and endorse.
By May 2014, Apple bought out Beats Electronics for $3 million. Dre's investments also involve luxury mansions which always sell for a pretty penny.
What is Dr. Dre's net worth?
While Jay-Z remains the first hip hop billionaire, Dr. Dre comes in close after. The producer of albums for The D.O.C., Eminem, 2Pac, 50 Cent, Snoop Dogg, The Game, Kendrick Lamar, Knoc-turn'al, and Xzibit, Dr. Dre's estimated net worth in 2020 is around $820 million.
He makes his money through investments, producing, acting, and more. The amount isn't far from his billionaire goal. By 2021, he could get there.