What Is Former 'NCIS: New Orleans' and 'Daredevil' Star Amy Rutberg up to Now?
Fans of NCIS: New Orleans know Amy Rutberg as "The Angel of Death." The character haunted Dwayne Pride (Scott Bakula) through multiple episodes. Rutberg also starred as Marci Stahl in the Netflix series, Daredevil. The point is, the star takes on a lot of different roles. What is she up to now?
Amy Rutberg has a special relationship with 'NCIS: New Orleans' star Scott Bakula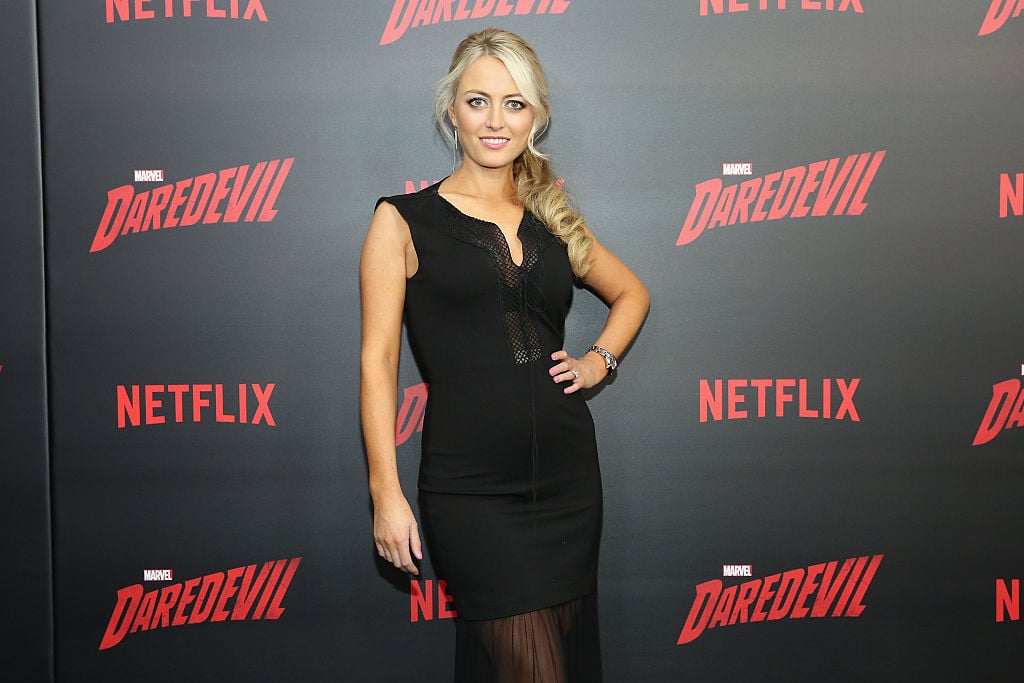 For a six-episode arc on NCIS: New Orleans, Amy Rutberg became Dwayne Pride's (Scott Bakula) right-hand lady. Her character, CIA Agent Megan Sutter, died in season 4 then made a shocking return.
"Because the season finale ended with Pride getting shot, that brought about some very interesting elements for this season premiere," Rutberg previously told Living New Orleans.
"Megan Sutter has become a different character, and she's leading Pride throughout all the life decisions he's made so far as a sort of angel of death."
The angel popped up sporadically throughout the season as a figment of Pride's imagination. She downright tortured him at times.
"It's one of the cooler roles I've played. And I've died on lots of network shows, on The Blacklist, Blindspot, and Elementary. So when I died on 
 my friends and family joked, 'Oh, she's dying again!' So the fact that they brought me back is a pretty special thing for me on a personal level. The joke is, 'They're going to bring her back as a ghost,' and they did," she said.
In real life, Rutberg and Bakula have a kinship only that of a fictional NCIS Supervisory agent and an Angel of Death could have.
The 'Angel of Death' became Rutberg's 'NCIS' legacy
Rutberg explained her character's mission was to force Pride into reevaluating his life choices, which he did. The Angel of Death left NCIS: New Orleans in May 2019. However, Pride isn't anywhere near better off without her torment.
"When my character shows up, probably something bad is going to happen. Because I am the angel of death, but I think it's safe to say that Dwayne Pride is going to be okay," she said.
"We know he shot a lot more episodes after this one, so I think it's safe to say he survives the episode. But whenever I show up, there's trouble brewing."
As the first new episode of 2020 nears, fans are wondering if the man in the red suit will play a similar role.
The cancellation of 'Daredevil' came after three seasons
After three highly-anticipated seasons, Netflix canceled Daredevil. The cast ad crew, including Rutberg, didn't see it coming, leaving them all "heartbroken and surprised."
"Although it's painful for the fans, we feel it best to close this chapter on a high note," a statement read via the Independent.
Rutberg said the decision was "a helluva way to go out!" She added: "I will miss Marci terribly but so proud to have played in your world."
In another interview with Inverse Magazine, Rutberg called out Netflix for pulling the plug on a successful franchise show, emphasizing that MArvel had nothing to do with the decision.
"My contacts at Marvel were very surprised. Any of the rumors that it was a Marvel decision are wrong, I think it was purely a Netflix decision," she said. "That comes from personal conversations with people high up at Marvel. They were surprised."
She continued: "We had heard rumors we would start production as early as February 2019. It's a little unusual to be that far ahead in the planning and cancel the show, which makes me think Netflix was laboring over whether or not to cancel it. My guess was it was not an easy decision."
Though cancellations of Iron Fist and Luke Cage came first, many didn't foresee Daredevil following suit ahead of the Disney+ launch.
What is Rutberg up to now?
Rutberg has been acting since the '90s with roles in everything from The Good Wife to regular recurring spots in Blindspot, The Blacklist, Taken, and NCIS: NOLA.
Currently lined up for the actress is the TNT Dramedy-Thriller, Liars Club, in which Rutberg wrote on spec and "drew from personal experience," according to Deadline. She teamed up with NCIS: New Orleans executive producer, Christopher Silber, and actor, writer, Paul Giamatti.
Liars Club is "a show about a woman with a unique skill set and a dark history leading two very different lives," which doesn't sound much different fro the Angel of Death.
Rutberg is gone from NCIS: New Orleans and Daredevil. Luckily for fans, she has plenty of new projects int he works.