What Is Frank Ocean's Real Name? Singer Says He Swapped Name Cause It 'Just Felt Cool'
Frank Ocean is considered one of the most innovative artists of our generation. He got his start in the entertainment industry as a ghostwriter for celebrity sensations such as John Legend, Beyoncé, and Justin Bieber.
The R&B singer-songwriter broke out on his own in 2011, after the successful debut release of a mixtape titled "nostalgia, ULTRA." Now, a decade into a successful recording career, Ocean has won several Grammy Awards, impressing both fans and critics alike.
Doing things on his own terms, the "Thinking Bout You" singer changed his name early on in his career, saying that he did so because it "just felt cool."
Who is Frank Ocean?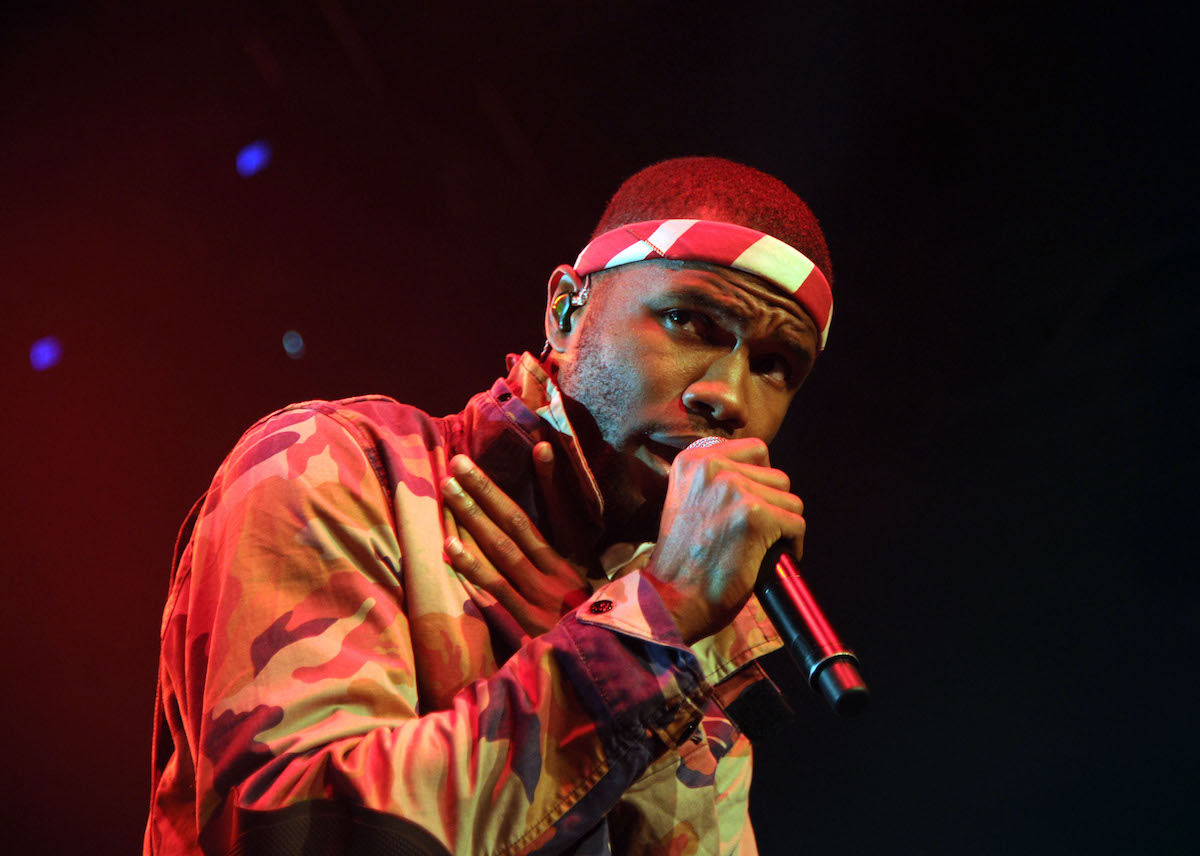 RELATED: Frank Ocean Just Released Two New Songs and Fans are Going Insane
Ocean was raised in Louisiana and planned to attend the University of New Orleans before Hurricane Katrina changed the course of his life.
The recording studio he built in his home got damaged in the storm, and after looters completely destroyed it, he decided to make his move to LA. He intended to stay on the West Coast for only six weeks to do some recording, but that turned into years, and he never looked back.
Ocean originally signed with Def Jam Records but eventually became a prominent member of Odd Future, a hip-hop collective dedicated to promoting his vision. The rapper's subsequent release of the album channel ORANGE won him a Grammy Award in 2013 for Best Progressive R&B Album.
That same year, Ocean won another Grammy Award for Best Melodic Rap Performance in "No Church in the Wild." Written by Jay-Z and Kanye West, the critically acclaimed song featured Ocean's vocals.
In 2016, Ocean released the visual album Endless. His second chart-topping studio album, Blonde, was released next. It wasn't until March 2020 that fans heard from the "Godspeed" artist with the release of new singles "Cayendo" and "Dear April."
The performer's successful career
RELATED: Frank Ocean's Net Worth: How Much Is The Singer, Songwriter, and Rapper Worth Today?
Ocean's highly-anticipated "Little Demon" vinyl was expected to drop in 2021, with fans pre-ordering an unnamed single last year. In December 2020, Ocean announced the release was being canceled "due to the events of this year."
Highsnobiety reported, "it seems Ocean has changed his tune about releasing new music given the taxing year it's been. Alongside political activism and urging people to vote, in August the 'Chanel' singer lost his younger brother in a tragic car crash."
According to Intersect Magazine, "Ocean's Twitter and Instagram have been wiped clean of any traces of existence. All that's left are the almost three million fans waiting for a white flag."
With rumors of an inevitable retirement of the "White Ferrari" singer, Intersect reminded readers that "Frank Ocean is 100% his own artist, from start to end. That is why you love him, and that will never change, even if he retires."
The reason Ocean changed his name
RELATED: The Weeknd and Other Artists Who Refuse to Submit Their Music for Grammy Nominations
In 1960, Frank Sinatra starred alongside Dean Martin and Sammy Davis, Jr. in the original version of the movie Ocean's 11. Inspired by the crooner's Danny Ocean character, the young artist decided to change his name.
Born in New Orleans as Christopher Edwin "Lonny" Breaux, the 33-year-old musician officially changed his name to Christopher Francis Ocean.
He explained to Complex that on his birthday in 2010, he went on LegalZoom to make the change official. The rapper said, "It was the most empowering sh*t I did in 2010, for sure."
When asked about using the performer name of Frank Ocean, he said, "It just felt cool. None of us are our names. If you don't like your name, then change your name."
He happily reported, "I'll be boarding planes as Christopher Francis Ocean."