What Is Halle Berry's Age and How Does She Stay in Shape?
Ohio born model turned actress Halle Berry is a force to be reckoned with. Constantly commended for her toned body and youthful appearance, Berry is the epitome of aging gracefully. There's a reason she was #5 in FHM Magazine's 100 Sexiest Women in the World List!
Her beautiful spirit and impressive acting skills are just two more reasons to love her! She first caused a stir on the big screen as Vivian in Jungle Fever (1991). In 2000 she shook comic fans to the core when she brought Storm to life in X-Men. More recently, she played Ginger in Kingsman: The Golden Circle. Now fans can look forward to seeing her this year in John Wick: Chapter 3. While her roles may have changed drastically throughout the years, there's something that hasn't — her exceptionally good looks.
How does Halle Berry stay looking so young?
Genetics definitely play a factor in Berry's good looks. Her smooth glowing skin is something you only see in edited magazines! In fact, it's so smooth it would give glass skin lovers a run for their money. It's not all genetics though, the eternally youthful celeb also takes great care of her skin.
The once weather wielding star clued fans into a part of what keeps her skin looking so perfect — a mask from Olga Lorencin Skin Care. The mask is a two-step treatment unsurprisingly called "Ageless Facial in a Box." The treatment consists of a plant-based exfoliating brightening cream peel and a mushroom-based hydrating sleep mask. Other well-known ingredients include; ferulic acid, allantoin, and arginine which fight free radicals, decreases inflammation, and improves texture. Olga Lorencin claims that the mask ultimately increases cell turnover resulting in a visible reduction in wrinkles and pores. Considering Berry's enviable skin, it must be working!
What does Berry's diet look like?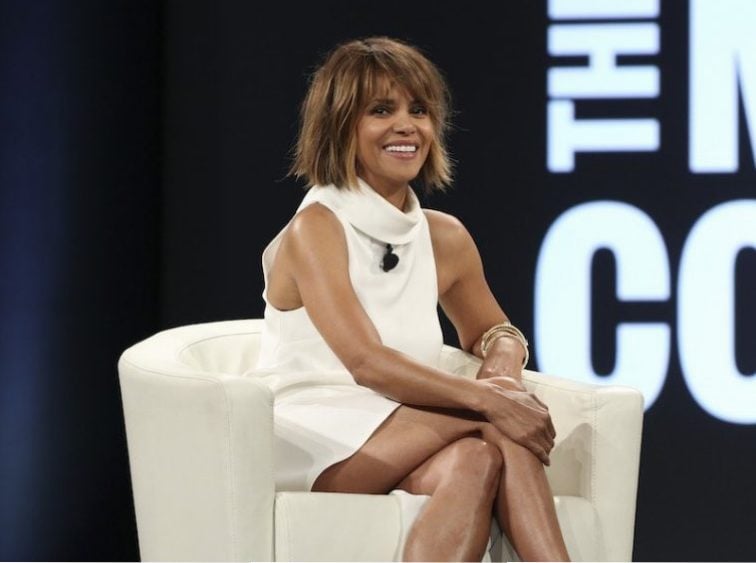 Berry swears by a ketogenic diet. She says it not only keeps her diabetes in check, but it's also the reason behind her slim figure. For those who aren't familiar with keto, the core of the diet is dropping sugar and carbohydrates. Instead of indulging in junk, you go for healthy fats (hello avocado), protein, eggs, nuts, legumes, and of course a ton of veggies.
Some of Berry's fave Keto-approved snacks are prosciutto, zucchini chips, sauerkraut, and cauliflower crust pizza. She also drinks bone broth since it's extremely low in carbs. Another diet trick the beloved star keeps up her sleeve is intermittent fasting. Berry personally fasts in the morning, not taking in her first full meal until around 2:00 PM. While neither fasting or keto are meant to be long term weight loss solutions, Berry has made them both work wonderfully.
What about Berry's fitness routine?
Berry is no stranger to fitness. It's clear just looking at her that she puts effort in at the gym. Despite having the perfect figure, she went to her Instagram late last year to share her 2019 fitness goals.
"Get bad-ass banging abs." Wait…you mean she doesn't already have abs? Guess she's just looking to improve her core!
"Learn a new martial art." Currently, Berry is working on an MMA movie, perhaps that was the inspiration.
"Run more." It never hurts to run more!
"Do Bikram yoga." Berry already loved yoga but she's upping the ante with this more intense variant.
2019 goals aside the red hot star looks to her trainer to help her put together her amazing workouts. He keeps her on track and pushes her when she needs the extra motivation. Peter Lee Thomas says the key is keeping your body guessing by mixing up your routine so Berry does a wide variety of exercises, rarely ever following the same plan twice. Some of the iconic actress' favorite exercises are kickboxing, strength training, and tackling hills in running, hiking, and climbing.
How old is Halle Berry?
The former Bond girl is 52 years old. You read that right, 52! Physically, she basically hasn't aged since the early days of her career. Berry's been on the big screen for almost three decades so there's plenty of proof showing the fan favorite is doing something right. If you're looking for fitness inspo just check out her Instagram every Friday!