What Is Honey Boo Boo Famous For?
Alana Thompson, also widely known as Honey Boo Boo, is one of TLC's biggest stars. Although she is only a teenager, Honey Boo Boo has been famous for several years now and her name is instantly recognizable.
But how exactly did Honey Boo Boo rose to prominence in the first place? What exactly is she famous for? Read on below to find out.
Honey Boo Boo first appeared on 'Toddlers & Tiaras'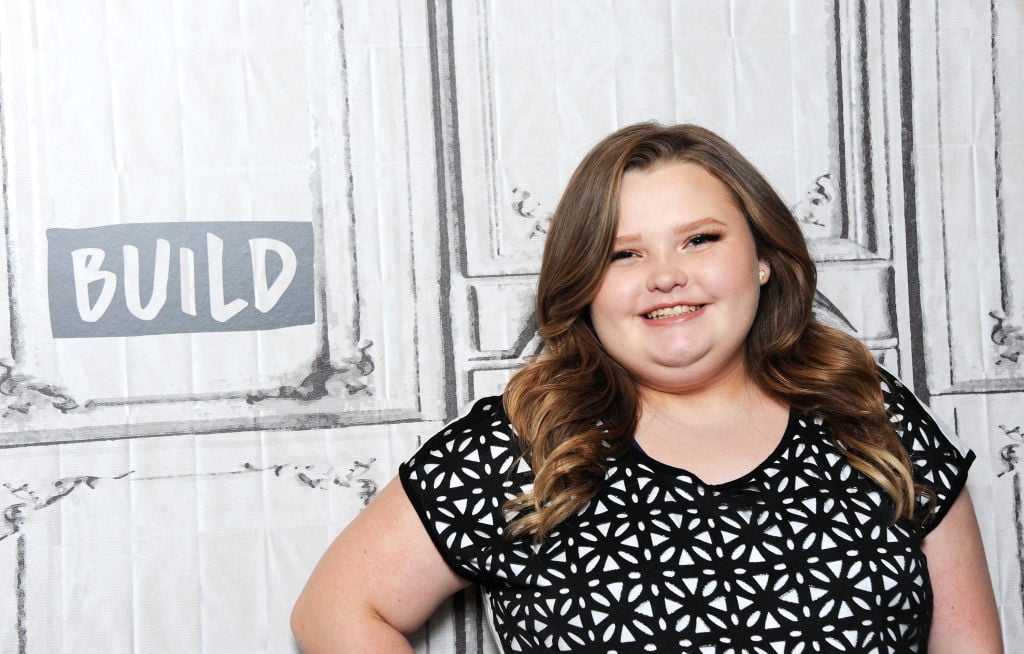 The world was introduced to Honey Boo Boo and her mom, Mama June, on TLC's Toddlers & Tiaras in 2012. Honey Boo Boo was a child pageant star at the time and the cameras followed her as she aimed to take home various prizes. Her funny personality made her stand out from other girls and she became a hit with audiences everywhere.
Honey Boo Boo landed her own TV show in 2012
Honey Boo Boo's popularity on Toddlers & Tiaras allowed her to have her own TV show. In August 2012, Here Comes Honey Boo Boo premiered on TLC. Here Comes Honey Boo Boo allowed people to get to know Mama June more as well as other members of Honey Boo Boo's quirky family, including her father and older sisters.
While the show was one of TLC's biggest hits, it also attracted some criticism. A writer for The Guardian said that Here Comes Honey Boo Boo "encourages its audience to point and snicker at the mother June Thompson's parenting and the entire family's immersion in so-called redneck culture, their obvious poverty and Honey Boo Boo's tremendous belief in the competitiveness of her femininity."
However, the series also received praise for showing that, despite the Thompsons not having a lot of money, they are still a loving family. Additionally, Mama June's diligence and hard work in taking care of her four children did not go unnoticed.
'Here Comes Honey Boo Boo' was canceled after a big controversy
Here Comes Honey Boo Boo lasted for two years before it was canceled by TLC in 2014. The cancellation came after news reports revealed that Mama June was dating a registered sex offender named Mark Anthony McDaniel. McDaniel was convicted of molesting an 8-year-old child in 2004.
Mama June's oldest daughter, Anna "Chickadee" Shannon, later came forward to say that she was the child in question. Since then, the relationship between the two women has been estranged.
Due to the scandal, TLC decided to cancel Here Comes Honey Boo Boo, leaving a whole season unaired, though these episodes did eventually get aired in 2017.
Honey Boo Boo does not live with Mama June anymore
Although Mama June is no longer with McDaniel, she recently moved on to dating someone else who is disliked by her family: a man named Gene Doak. Mama June's new beau reportedly has a history of substance abuse and has also engaged in some very reckless behavior. Notably, he once crashed the family's SUV into Mama June's house.
To make matters worse, in March 2019, Mama June and Doak were arrested for drug possession. Because of Doak, family life has been unstable to Honey Boo Boo, and she does not live with Mama June anymore. Instead, she is currently residing with her older sister, Lauryn "Pumpkin" Shannon. A source told TMZ that Honey Boo Boo wants her mother to break up with Doak and check into rehab.
The arrest of Mama June could cause the 40-year-old matriarch to lose custody of Honey Boo Boo. Honey Boo Boo's father, Mike "Sugar Bear" Thompson, has been fighting to gain full custody of the former child pageant star ever since he and Mama June broke up. It's possible that Mama June's arrest could at least help him gain more visitation rights.