What Is It Like to Be A 'Below Deck' Charter Guest?
Below Deck charter guests appear to be living the good life as chief stew Kate Chastain pours delicious drinks. Or chef Ben Robinson whips up an exquisite four-course meal for 12. Show guests also have the benefit of traveling to glamorous destinations like the Caribbean, Tahiti and Naples, Italy.
But guests are also paying a decent amount of dough for an excursion, plus have to deal with a camera and crew following their every move. Want a peek behind the Bravo curtain to find out what it is really like to be a guest on a Below Deck charter?
Is a 'Below Deck' voyage cheaper?
Renting a superyacht can run from $140,000 a week for a smaller Below Deck vessel to $331,000 a week for the largest yacht, featured on season six. Some season rentals are more expensive than others with summer typically being costlier.
However, guests score a deal if they agree to be on Below Deck. In 2014, Yacht Charter Fleet helped Bravo advertise for guests to appear on season three. Charter guests could cruise the Abacos Islands in the Northern Bahamas aboard a 161 ft luxury charter yacht. Not only could guests flee the winter blahs in the Bahamas, but they could also pay significantly less than the usual charter guest.
"Most charter vacations this season will be 3 days, 2 nights and the charter fee will be $35,000 as opposed to the usual $87,500 for three days or $175,000 per week it costs to hire the yacht," according to Yacht Chater Fleet. "The normal cash gratuity of 15% of the full weekly rate will however be expected on departure." A cruise on a Below Deck Med superyacht might cost $11,000 per person, according to The Forward Cabin.
Does the crew attend to your every whim?
One of my favorite things about this charter that you didn't see was how every time Master Pearson and Lady Tiernan left their stateroom, we'd set up a fun surprise arrangement of their dolls for them to return to. #BelowDeck pic.twitter.com/9DKUtYJf0B

— Kate Chastain (@Kate_Chastain) November 14, 2018
Guests say the world-class service seen on the show is accurate. Linda Jones, who was a guest on Below Deck Med, season one dedicated a blog about her experience. "What's it like? It's like being a queen! The crew rushes to please you and take care of your every wish, they anticipate your desires, and whatever you say goes – it's heaven!"
She revealed that the crew was as awesome as they seemed on the show. "The crew was amazing," she blogged. "We had a great time with them all. We laughed and joked and really appreciated the hard work they did for us. Bobby creating the stunning campfire really impressed us. He must have worked a long time to get it all so perfect!" She added, "Bryan was very professional taking us on a ride in the tender and Tiffany packed cold drinks even though we didn't ask for it. They anticipate your every want and it is very impressive!"
Recent guest Torrie Jasuwan and her family were the first charter guests to bring small children on the show. The interior crew went that extra mile to make sure the experience was exceptional for both the adults and the children. "One of my favorite things about this charter that you didn't see was how every time Master Pearson and Lady Tiernan left their stateroom, we'd set up a fun surprise arrangement of their dolls for them to return to," Chastain posted to Twitter. Jasuwan responded, "They loved the yacht fairy and still talk about her/him!"
Is the food really that good?
Jones raved about Chef Ben Robinson's food in her blog. "Ben's food is better than you think from watching the show. The salmon truly was the best I'd EVER had, and I've had a LOT of salmon being from Seattle!" Robinson's food tasted as good as it looked on the show. "Chef Ben produced a delicious BBQ and we loved it. Everything he made was not just delicious, but the best we'd ever had!"
"Chef Ben was a nice surprise to have as our chef," Jones adds. "His cooking was delicious and his interpretation of our likes and dislikes was right on track. He went above and beyond to make us feel special and to create something unique and original. It was all presented beautifully, fresh and to die for!"
Current Below Deck chef Adrian Martin is crushing it too. He consistently nails it for every meal on the show and has a dedicated fan in Captain Lee Rosbach and other crew members.
Do guests see the drama?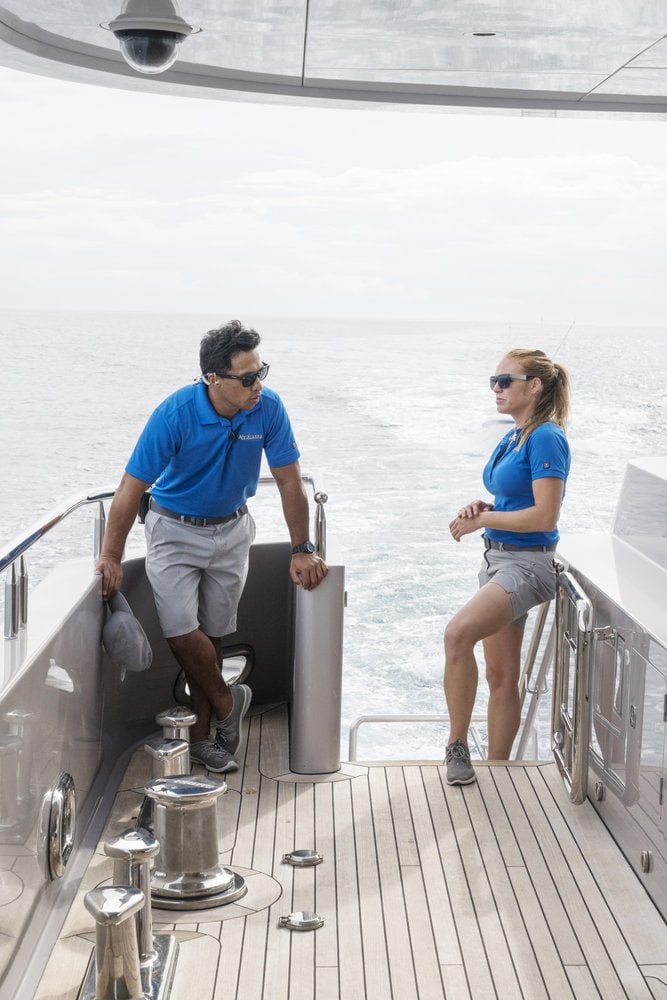 In Jones' podcast, she says she and her friends didn't realize there was another deckhand named Danny because he was ill. She adds she didn't know about any of the charter romances either. And the entire crew was extremely professional. But when they finally watched the show they were shocked. "We had no idea of the fights, of romantic interests, the relationships," she says.
But what happens when guests are involved in the drama? In a recent episode of Below Deck, third stew, Caroline Bedol accidentally drops several champagne flutes and glass covers the floor. She radios the crew that glass was on the floor but no one hears her warning. One of Jasuwan's children steps on the glass and cuts his foot.
Drama happens
One of Jasuwan's Twitter followers asked how she could "let" her son step on the glass, to which she wrote, "My son and I did not hear anyone mention broken glass, my daughter was walking with a friend. Obviously I would never drag my child through glass." She could also tell how terrible Bedol felt too." I felt bad that she was so upset. Accidents happen, I know how guilty I'd feel if I were in her position."
She also raved about how comforting Rosbach was to her son while he was dealing with a painful situation. "What they didn't show is [Rosbach] running to my injured child, consoling him and being the best Grandpa in the world! We love you @capthlr !!!!"
But she took issue when bosun Chandler Brooks allowed a member of her party to slip on a rock and sustain an injury. "An apology would have been nice! He set her on a slippery surface and didn't hold her until she was stable. Either way he could've shown more concern."  She adds, "The entire crew was magical…then there was Chandler."
Check out The Cheat Sheet on Facebook!