What Is 'Jackass' Star Steve-O's Net Worth and Is He Still Friends With Johnny Knoxville?
'Jackass' stuntman Steve-O taped himself to a billboard to promote a new comedy special. What is Steve-O's net worth and how does he make his money?
It's been a while since Jackass star Steve-O (aka Stephen Gilchrist Glover) was a part of trending celebrity news for another stunt. On Aug. 13, the comedian taped himself to a billboard to promote his new comedy special, Gnarly. What is Steve-O's net worth, how does the danger-obsessed comedian make his money, and are he and Jackass creator Johnny Knoxville still friends?
Steve-O's interesting rise to fame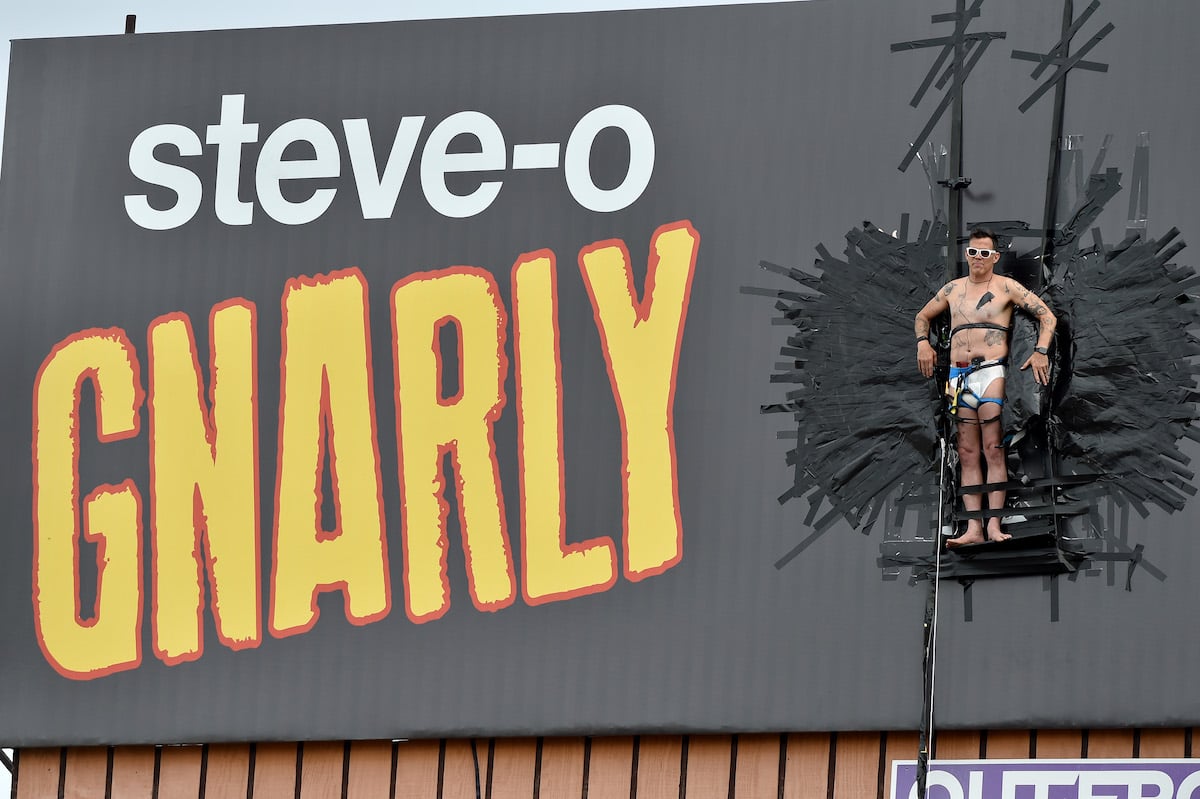 One of Jackass's biggest stars is a Wimbledon, London native who got his start in the most unlikely places. Through multiple childhood moves (at least six), Steve-O first attempted a "normal" shot at college life.
He attended the University of Miami and the University of New Mexico. But, Steve-O soon found traditional schooling wasn't his path. He eventually joined and graduated from Ringling Brothers and Barnum and Baily Circus Clown College but didn't' make the cut.
This led to other clown work in a flea market where he began filming his own stunts. He sent the videos to various outlets. Enter the Jackass franchise where Steve-O made a name for himself performing stunts and working alongside Johnny Knoxville and Bam Margera.
So far, there are five movies based on the MTV series and a spin-off, Jackass Presents: Bad Grandpa. Another Jackass film is set for 2021.
Aside from his presence on Jackass, Steve-O continued putting his own material out and toured to promote the projects. Many of Steve-O's performances include stunts performed live on stage and nearly all of them are controversial.
In 2002, Steve-O stapled his scrotum to his leg during a show and was arrested for obscenity along with second-degree battery charges. In 2003, he swallowed a cannabis-filled condom on camera and regurgitated it on stage in Sweden. He was arrested but the footage stayed on his film, Steve-O: Out on Bail.
There are many more examples of the work Steve-O does to stay in the limelight. Some, as stated by Steve-O, came as a result of drug and alcohol use. He posted to his social media pages celebrating 10 years of sobriety in 2018.
Now, the Jackass star uploads videos to his YouTube page and has millions of subscribers. He's also an author of the bestselling autobiography, Professional Idiot: A Memoir.
The downward spiral and how Steve-O made it to the other side
With over 10 years of sobriety, Steve-O managed to turn his life around — with a little help from his friends. He opened up about his experiences via In Depth with Graham Bensinger.
In the interview, he recalled his mother would offer him "just a little booze" to help calm him during flights and was also allowed alcohol on New Year's Eve. Then began his dangerous relationship with drug-use.
"My favorites were Ketamine, cocaine, nitrous oxide, PCP, of course marijuana, alcohol. Oh, I loved Xanax so much, and Valium," he said.
"Never got too into meth, but I never turned it down. Had some pretty terrible experiences on magic mushrooms. Had a lot of great experience on LSD. Like, random, weird stuff. I huffed video head cleaner. There was this weird episode where I was drinking aluminum cleaner…and that would bring about some pretty disturbing incidents."
Things only worsened from there with Steve-O eventually landing in jail multiple times, in rehab, and the psychiatric ward. However, he managed to turn things around, thanks to a caring crew.
"Hard to believe it's been an entire decade since I've had a drink or a drug," he posted in honor of his 10-years of sobriety mark in 2018. "I just can't put into words how grateful I am for @realjknoxville and the rest of the guys who locked me up in a psychiatric ward on March 9, 2008, where this journey began. Thank you, dudes, I love you." 
Knoxville previously spoke out about his friendship with Steve-O — particularly witnessing the downward spiral.
"We'd all had our eye on Steve-O because he'd gotten to a really bad point in doing all kinds of crazy drugs," he said via E! News. "But [when Steve-O's] e-mails kind of hinted at suicide, I got 10 of our closest friends — big guys– and went to his house and said, 'Steve-O, you know, we're here to take you into the rehab, or actually 5150 medical hold,' and he goes, 'No dude, I ain't going.'"
He continued: "I said, 'Steve-O, if you don't go I've instructed the guys to knock you out and then we'll take you.' He's like, 'OK dude, I'll go.'"
In another interview, Knoxville said the two have been friends since the late 1990s.
"Me and all his other friends — the Jackass guys — have been there the entire time," Knoxville told MTV. "We were there before he got into show business before he was on Jackass, and we were there when he completely, absolutely spun out of control and almost lost his life."
Knoxville and the Jackass crew helped Steve-O through a lot. And with another Jackass movie in the works, they're still up to their old shenanigans. Only this time, they'll do it sober.
Steve-O's net worth
Considering all the adventures Steve-O gets himself into, it's clear why he's worth a pretty penny. According to Celebrity Net Worth, the stuntman is worth an estimated $2.5 million.
He makes his money through the Jackass franchise as well as his own video projects, stand-up comedy tours, authorship, and cameos in other projects.
How to get help: In the U.S., contact the Substance Abuse and Mental Health Services Administration helpline at 1-800-662-4357.