What Is Jimmy Kimmel's Net Worth?
Finding out the net worth of a celebrity can be like closing your eyes and throwing a dart. Depending on whom and when you ask, the answers can vary widely. Celebrities typically don't discuss their finances with anybody except their agents and their families.
With late night host Jimmy Kimmel, though, the results are fairly consistent. He's not the highest paid of the late night guys, but he pulls down anywhere between $35 million and $45 million. And that number has only been boosted by his two Oscar hosting stints — although maybe not by as much as you think.
How much is Jimmy Kimmel worth?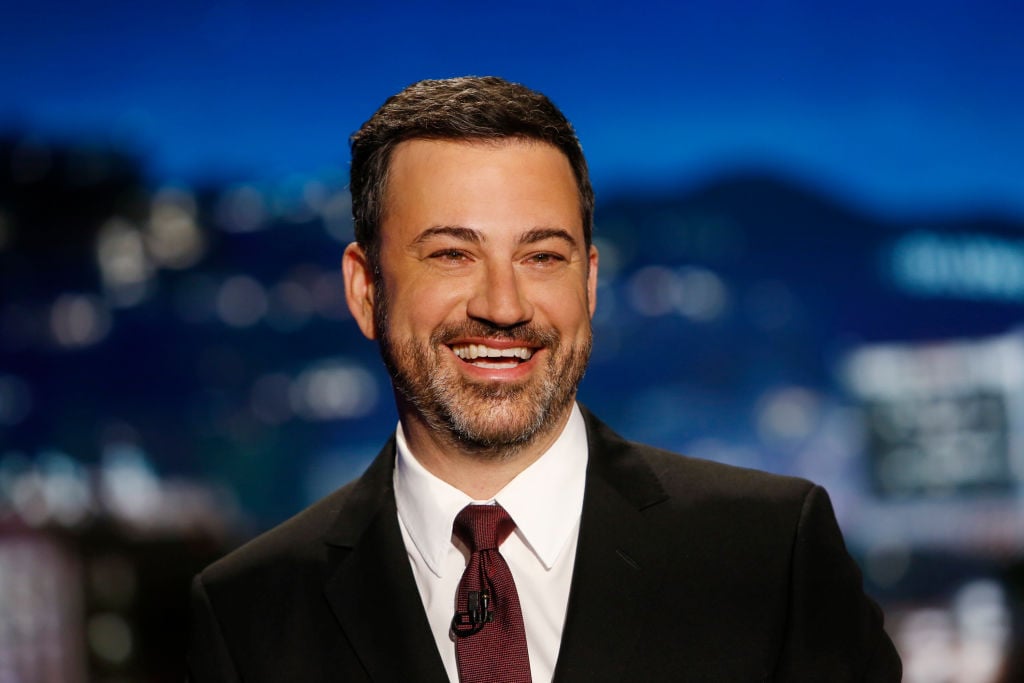 The site Celebrity Net Worth pegs Kimmel's fortune at $45 million, with an annual salary of $15 million for his show Jimmy Kimmel Live — his net worth is up from $35 million a year ago. The Richest still has him at $35 million. ThoughtCo likewise estimates him at $35 million.
The Richest states that Kimmel's annual salary has risen considerably, from $1.75 million in 2003 to $6 million in 2009, so if you figure a triple increase every six years, $15 million is a reasonable guess.
This is what we mean by the dart. The thing is, no matter where the dart lands, the figure is still pretty impressive.
How rich is Jimmy Kimmel compared to other late night hosts?
Per ThoughtCo, Kimmel's salary places him third in the late night group, behind Conan O'Brien with $85 million and Stephen Colbert's $45 million. He's tied with Chelsea Handler at $35 million, but ahead of Jimmy Fallon's $25 million, Carson Daly's $15 million, and the $10 million trio: Seth Meyers, James Corden, and Chris Hardwick. We also ranked Kimmel's net worth among late-night hosts, where he comes in lower on the scale.
And when it comes to comedians overall, The Richest notes that Kimmel's $35 million pales in comparison to the likes of Jerry Seinfeld with $920 million, his partner Larry David at $800 million, and Simpsons creator Matt Groening at $500 million. Clearly, you do better if you create a long-running TV series that isn't a talk show.
One might think that Kimmel's Oscar hosting gigs would boost his number, especially considering he hosted in back-to-back years in 2017 and 2018. The first of those climaxed in the infamous "envelopegate" when La La Land was announced as the Best Picture, even though Moonlight actually won.
However, per Town & Country, his Oscar salary was a mere $15,000. We don't know if that's why he declined to host a third time, even though his talk show theater is literally across the street from the Dolby Theater where the Oscars are held. After Kevin Hart came and went, the Academy decided not to have a host at all and the ratings actually climbed for the first time in years. That makes it likely that neither Kimmel nor anyone else will come back in the near future.
How Jimmy Kimmel climbed the ladder
Kimmel first gained attention when he was hired by KROQ-FM in Los Angeles, where he had a regular guest spot on the popular "Kevin and Bean Show" on the station for five years, and then moved to television in the late 90s. Comedy Central gave him two gigs: one opposite Ben Stein on the game show, Win Ben Stein's Money from 1997 to 2001, and he also co-hosted The Man Show with Adam Carolla.
He began hosting his own show, Jimmy Kimmel Live in 2003, although the show is somewhat ironically titled because it hasn't been live since 2004 when they were unable to bleep a barrage of curses from actor Thomas Jane. Among its most famous regular segments are an ongoing "feud" with Matt Damon and Mean Tweets, which is probably how Kimmel would respond to being asked for his net worth.