What Is Julie Andrews Doing Now?
Julie Andrews is one of the most notable actresses of the 20th century. She has starred in numerous iconic films and is widely praised for both her acting as well as singing skills.
Despite being a Hollywood legend, Andrews does not appear in many films and TV shows these days, which has got many fans wondering: what is the actress up to now? Is she still acting and does she have any roles coming soon in the future?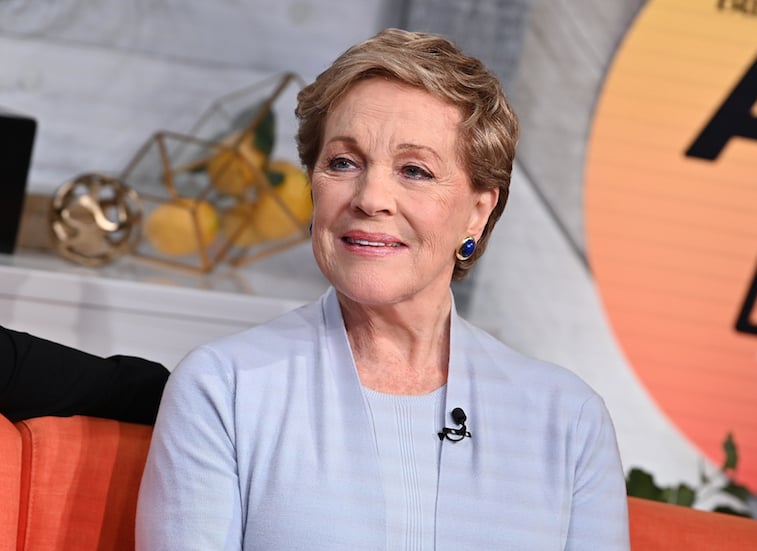 Julie Andrews rose to fame in the 1960s
Andrews started out her acting career by starring in theater plays in both the U.K. (her home country) and the U.S. She gained a bit of notoriety for playing Eliza Doolittle in My Fair Lady and Queen Guinevere in Camelot.
International success came for Andrews in 1963 when she appeared in the Disney musical film, Mary Poppins, as the famous magical nanny. The movie became one of the most successful Disney hits ever and instantly made Andrews a household name. She won an Academy Award as well as a Golden Globe for her work in Mary Poppins.
Afterward, Andrews began acting more in Hollywood. In 1965, she had yet another successful film — The Sound of Music. The movie became the most successful one of the year and is also one of the most iconic films in American history.
Throughout the 1960s and 1970s, Andrews landed roles in other popular movies as well, such as Hawaii (1966), Torn Curtain (1966), Thoroughly Modern Millie (1967), and 10 (1979).
She got the chance to host her own TV shows as well. For example, from 1972 to 1973, she had a program on ABC called The Julie Andrews Hour.
Julie Andrews also had notable roles in the 2000s
Although Andrews is 84 years old now and much of her work was in the mid-20th century, many younger people are also familiar with some of her films since she had famous roles in the 21st century as well.
In the early 2000's, Andrews appeared in The Princess Diaries (2001) and The Princess 2: Royal Engagement (2004) as the Queen of Genovia.
She has also lent her voice to popular movies such as the Shrek franchise, Despicable Me (2010), and Aquaman (2018).
What is Julie Andrews doing these days?
Andrews may not be appearing in blockbuster hits at the same frequency as she did back when, but that does not mean that she has retired from acting altogether. In fact, Andrews actually has something coming up for fans to be excited about.
Andrews has been chosen to be the voice for Lady Whistledown in Shonda Rhimes' new show Bridgerton. Based on a series of novels by Julia Quinn, the show follows the wealthy Bridgerton family in London's Regency era. Lady Whistledown is a gossip columnist whose face won't be seen by viewers. Rather she will serve as a narrator for the show.
Bridgerton is set to premiere on Netflix with eight episodes in 2020.
Andrews also recently released a new memoir called Home Work: A Memoir of My Hollywood Years. This memoir, which was co-written by her daughter, Emma Walton Hamilton, includes a lot of stories about her experiences in the early days of her career. The book serves as a sequel to her 2008 release, Home: A Memoir of My Early Years.
According to Amazon, Home Work talks about "her personal story of adjusting to a new and often daunting world, dealing with the demands of unimaginable success, being a new mother, the end of her first marriage, embracing two stepchildren, adopting two more children, and falling in love with the brilliant and mercurial Blake Edwards."