What Is Katy Perry's Real Hair Color?
Katy Perry is a pop music icon. It's hard to imagine the star struggled for years before getting her big break. But Perry has become among the most beloved music celebrities thanks to her strong voice, quirky personality, and creative style. 
Perry never fails to wow audiences with her outrageous costumes, innovative sets, and engaging shows. One important part of her image is her hair. She regularly changes its color or experiments with fun wigs (like glittering numbers composed entirely of sparkling gems). So, few people probably know what her natural hair color looks like.
Katy Perry: The early years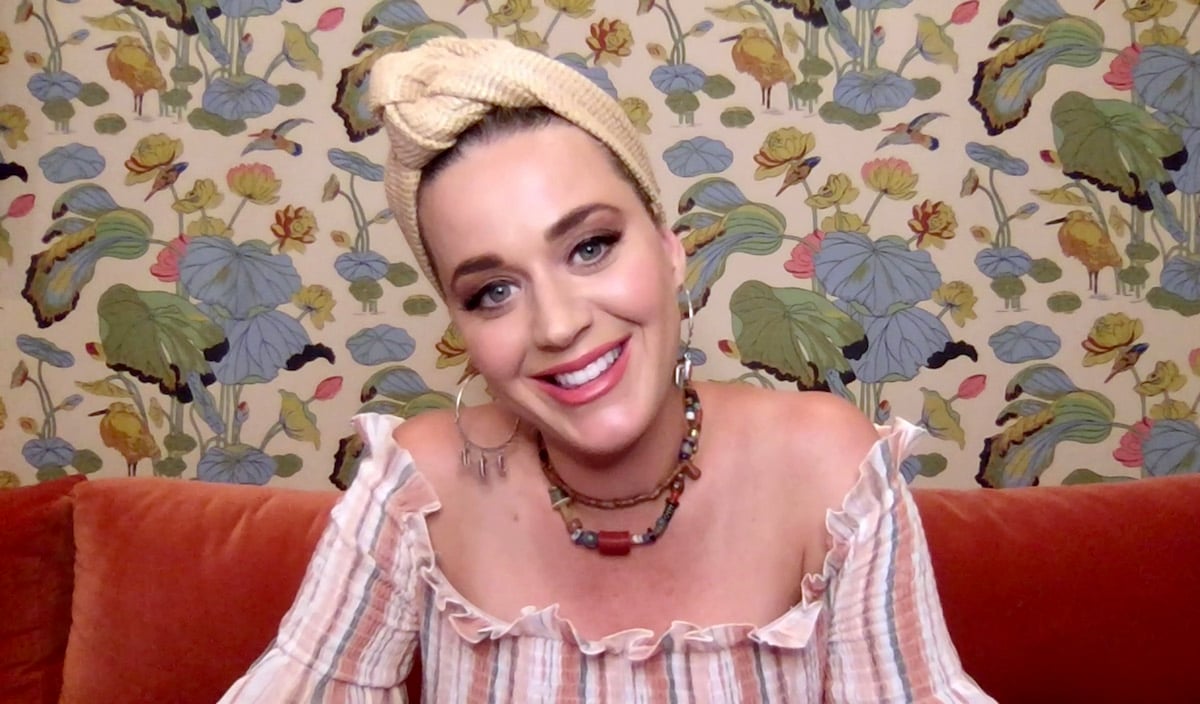 Katy Perry was born and raised in Santa Barbara, California, Biography reports. She's the middle of three children, with an older sister and a younger brother. Perry's family was very conservative: She wasn't allowed to listen to rock or pop music or watch cable TV. 
Perry always had a passion for music and began taking singing lessons when she was 9 years old. By the time she was 13, she had begun to rebel against her parents' strict rules. She learned to play the guitar and pierced her own nose. Her friends introduced her to different kinds of music. Soon, bands like Queen became a huge influence on the young singer. 
Pursuing a music career became a dream of Katy's. Because her parents approved of only gospel music, they agreed to take her to Nashville to record a gospel album. Perry and her mother made several trips, and eventually, she finished her first album. The self-titled record — Katy Hudson, after her real name, Katheryn Elizabeth Hudson — sold 100 copies before the label went bankrupt. 
But Perry was determined to follow her dream. She moved to Los Angeles when she was 17 years old. She began working with producer and songwriter Glen Ballard. At first, the two had no luck finding a record company. Perry spent tough years on her own, sometimes having to sell her clothes to make rent. 
Katy Perry finally gets her big break
In 2007, after three failed record deals, Katy Perry signed with Capitol Records. Her first album, One of the Boys, produced several chart-topping singles in 2008. "I Kissed a Girl" and "Hot N' Cold" sent Perry's album to the Billboard Top 10. 
In addition to boasting musical talent, Perry proved her performing chops. Her theatrical nature and bubbly personality combined to create a unique stage presence that captivated audiences. In an interview with Esquire, she described her style as "Lucille Ball meets Bob Mackie." 
In 2010, she released her next album, Teenage Dream. By this time, she had amassed quite a fan base. Her new album had five number-one singles, making Perry the only other artist besides Michael Jackson to have accomplished this feat. Teenage Dream also earned seven Grammy nominations. 
Three years later, the pop genius released Prism, another chart-topper. "Roar" and "Dark Horse" quickly topped the charts, breaking new records for Perry. She surpassed Mariah Carey for most total weeks with a number-one hit. In 2017, Witness became Perry's third number one album.
Although it debuted high on the charts, Witness didn't perform as well as Perry's other albums. In 2019, she collaborated with German DJ and songwriter Zedd on the song "365." She also worked with Daddy Yankee and Snow on a remix of "Con Calma." And in 2020, she released "Never Really Over," the first single from her latest album, Smile. 
The Super Bowl, 'American Idol,' and that hair!
Katy Perry has plenty of other things going on to keep her busy between albums. In 2015, she headlined the Super Bowl halftime show. She rode in on a mechanical golden lion and then delivered a stunning performance. She set new records once again, with her halftime show being the most-watched in Super Bowl history. 
In 2018, Perry became a judge for the popular singing competition American Idol. Along with Luke Bryan and Lionel Richie, Perry delivered sage advice to hopeful singers. But Perry's quirkiness didn't impress everyone. Some viewers criticized her behavior after she fell on stage while dancing and when she kissed one of the contestants. 
Throughout the years, Perry's looks have remained front and center. The star is well known for her outrageous costumes, extravagant makeup, and wild hair. Followers have become accustomed to seeing the singer trade glossy raven locks for bright pink or blue and, most recently, platinum blond. It makes us wonder: What's her natural hair color? 
You might be surprised to learn that black isn't Perry's real hair color. The star admits to dying her locks darker for years. Her natural color is dirty blond. She wasn't a huge fan of it, calling it "dishwater squirrel brown" in a Glamour interview.
Whatever color she chooses, she totally rocks it.