What Is Kelly Ripa's 'LIVE With Kelly and Ryan' Salary?
Kelly Ripa is known for her bubbly personality and small demeanor. But don't let appearances fool you, Ripa has worked hard to become one of the most powerful women in media. With almost 30 years in the business, Ripa has built an impressive resume. Let's take a look at how the spunky girl from Stratford, New Jersey became one of the highest paid talk show hosts on the air.
Ripa got her start on a soap opera
Before becoming a host on Live! Ripa was on another daytime television show going by another name. Fans of the soap opera All My Children knew Ripa as Hayley Vaughan. Ripa first appeared on the soap in 1990 and quickly became one of the show's most popular character.
Fans of the daytime soap know that Ripa is not the only one in the family who was on All My Children, Ripa's husband Mark Consuelos starred on the show from 1995 to 2002. The pair met on set and quickly began dating in real life. On May 1, 1996, just months after their first date, the couple eloped in Las Vegas. Their onscreen characters were also married, one year later.
Ripa's portrayal of Vaughan earned the actress two Daytime Emmy nominations. In 2002, Ripa's character was left town for a talk show offer in California.
Ripa took a seat next to Regis Philbin and quickly became one of the most powerful women in media
As we all know, Ripa's on-screen character was not the only one to get a talk show gig. In 2000, after 12 years on the show, Kathie Lee Gifford announced that she would be leaving Live! With Regis and Kathie Lee. Suddenly, the popular daytime talk show was in need of a new co-host. Ripa's perky personality and charm were perfect for the job.
Over the course of her 16 years on Live! Ripa has interviewed a wide selection of guests, including movie stars, athletes, and politicians. She has been nominated for 14 Daytime Emmy awards for Best Talk Show Host, winning four times.
Ripa has seen a number of co-hosts throughout her tenure at Live!. After Philbin left in 2011, Michael Strahan took over as Ripa's number two. When he left in 2016, Ryan Seacrest stepped in. In addition to the permanent co-hosts Ripa has dealt with, there have been a number of guest co-hosts throughout the years, including Ripa's husband Mark Consuelos.
Ripa and Consuelos love to work together
Ripa and Consuelos just can't seem to get enough of each other. Not only has Consuelos made numerous appearances on his wife's show, but she has had a guest spot on his show as well.
Consuelos is currently starring on the teen television drama, Riverdale. Consuelos plays Hiram Lodge, estranged father to Veronica Lodge. Ripa was recently cast to guest star on the show as Hiram Lodge's mistress. Of her appearance, Ripa told Extra TV, "It's a lot of fun. Finally, I'm doing something that my kids will see."
Speaking of the couple's kids, Ripa is not the only one to guest star on Riverdale. The pair's 21-year-old son, Michael, appeared on the show as a young Hiram Lodge.
What is Kelly Ripa's 'Live!' Salary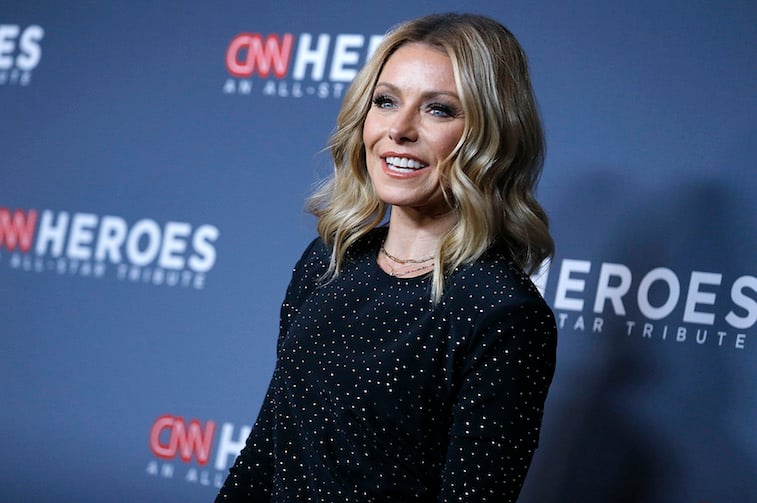 Ripa has been on television for a long time. And with that comes experience and negotiating power. Her show continues to be a strong performer and is consistently ranked as one of the top-rated talk shows on TV.
The talk show host recently received a pay raise. In 2017 Ripa was reportedly making $17 million per season on Live! Her new pay raise puts her annual salary at $20 million per year.