What Is Khloé Kardashian's Relationship With Corey Gamble Really Like?
Trusting men might be easy for her sisters, but it's not so simple for Khloé Kardashian.
Ever since her ex Tristan Thompson was allegedly caught cheating on her with Kylie Jenner's best friend Jordyn Woods, the Good American founder has had a tough time putting her guard down around men.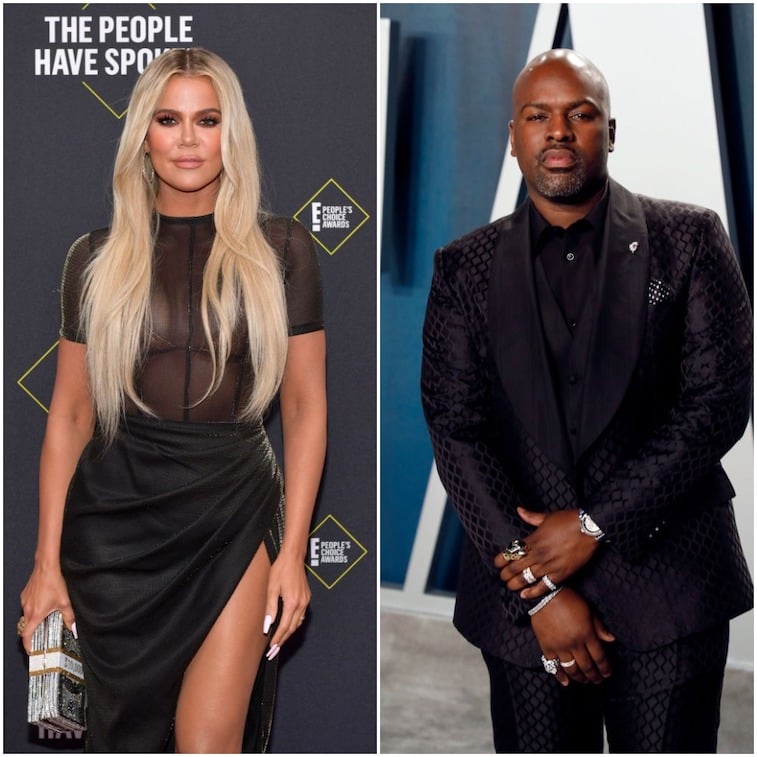 While it's completely understandable why Kardashian is like this, it has had an effect on her relationship with males (who aren't family) ever since — especially with Corey Gamble.
Kardashian was once on the fence about Gamble
When Kris Jenner first started dating Gamble back in 2015, it took some of the KarJenners a while to give him a chance.
While Gamble and Kourtney Kardashian hit it off almost instantly, Kim and Khloé Kardashian had their reservations about him right from the jump.
Though Kardashian West eventually warmed up to him, KoKo continued to question the Atlanta native's motives, especially since she didn't get the best vibe from in the beginning.
During a 2019 episode of Keeping Up with the Kardashians, the reality star admitted that she was skeptical of Gamble's relationship with her mom at first, seeing as though it started soon after Jenner's divorce from Caitlyn Jenner.
"When Corey and my mom started dating I was definitely skeptical because my mom just got out of a 24-year marriage," KoKo explained in the episode. "Then when I saw time progressing and the relationship was still there, we tried to get to know him, but he has not been receptive in this whole thing."
Though she was on the fence about him, Kardashian decided to give Gamble a chance since he did make Jenner very happy. But she soon put her guard back up when she went to meet Jenner in Palm Springs for a "girl's weekend" and surprisingly found the talent manager there.
"I can't believe my mom never gave me a heads up that Corey's here," Kardashian said during her confessional. "So the whole thing is weird."
"I think it's really unfair to direct this attitude towards Corey," Kris said of her daughter. "It's really important for Khloe to understand that she really needs to get on my bandwagon because Corey is a part of the family, he isn't going anywhere and she needs to be nice."
They've since warmed up to each other
Though she wasn't too thrilled to see Gamble on their family trip, Kardashian eventually decided to give him a chance after Jenner explained how much she enjoys his company.
"I want you to be happy," she told her mom. "You have to live your life for you and be happy and if you are, that's great. I support you and I want you to feel like we're happy for you, because we are."
Once they returned home from their trip, Kardashian and Gamble had a sit-down conversation where she confessed that she was hard on him because she was protective of her mom.
"We're happy you make our mom happy," she told him. "We just want to move forward and be in a good place."
Ever since then, Kardashian and Gamble have been getting along pretty well.
The mom of 1 recently proved that there were only positive vibes between herself and the tour manager when she gave him a special surprise for his birthday back in November 2019.
To mark the occasion, Kardashian baked Gamble a custom Dallas Cowboys cake, which Jenner showed off on her Instagram Stories.
"Oh my god you guys, Khloé made the cutest cake for Corey because she knows he loves the Dallas Cowboys," the momager said while panning the camera over the homemade confection.
"Khloé you are adorable," Jenner captioned the video. "Just the sweetest. HBD @CoreyGamble."
In a second video, the momager films her beau sampling his birthday surprise. "How is it?" she asks. "Damn, it's good," Gamble replied as he licked his fingers.
So it appears that Kardashian is no longer on the fence about Gamble and now considers him part of the family just like her siblings.
While they probably aren't best friends, it's evident that Kardashian and Gamble's relationship is in a much better place than it was once was.