What Is Kim Kardashian's Favorite Kanye West Song?
Everybody has the one playlist that gets them going. That motivates them and pushes them to get things done. For Kim Kardashian-West, her personal playlist is stacked with tracks from her Grammy-winning husband.
In 2016, Kim released a list of all of her favorite Kanye West songs. Which hits make the cut and does she have a favorite Kanye West song?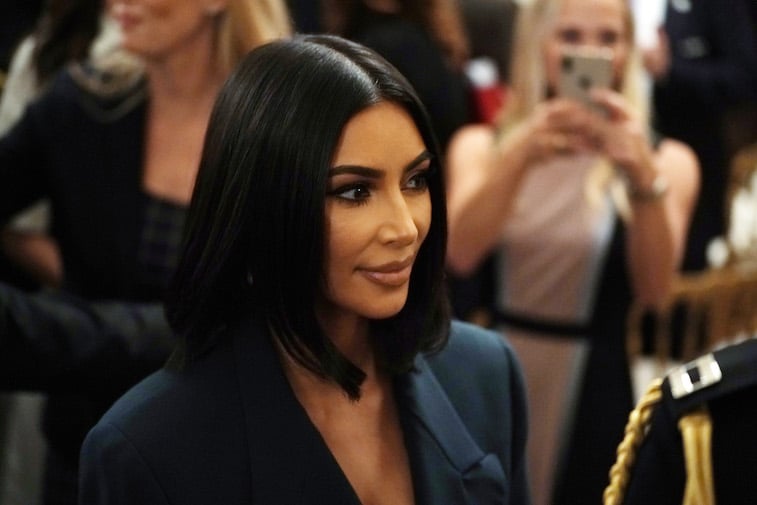 What is Kanye West's most popular song with fans?
Kanye West first popped onto the scene in 2003 when his song "Through the Wire" landed on the Billboard Hot 100 chart. During his career, Kanye West has released 96 songs with four reaching the top spot on the Billboard charts. The Chicago-native has had 17 top-ten hits over the past 16 years.
West has had several hits that have connected with listeners and have continued to be popular over the years. But of his music, no song has seen as much success as West's 2005 collaboration with Jamie Foxx, "Gold Digger."
"Gold Digger" grabbed the No. 1 spot on September 17, 2005, knocking out Mariah Carey's "We Belong Together." It held onto the top spot for ten straight weeks until it was pushed out by Chris Brown's "Run It."
West's other number one hits include "Slow Jamz," "Stronger," and "E.T." Both "Gold Digger" and "Slow Jam" featured Jamie Foxx and "E.T." was actually Katy Perry's song. Though "Gold Digger" is the most popular song of West's career to date, "Stronger" is the singer's only solo number one hit.
What is Kim's favorite song?
In her 2016 list, the reality star doesn't name her favorite song, rather she lists 28 of her favorites. Among her most-loved songs are popular hits like "Gold Digger," "Heartless," and "Jesus Walks." The list also included several lesser-known songs like "RoboCop" and "Waves."
Though Kim doesn't directly name which songs earn the top spot, we can speculate which ones hold the most meaning. Religion has always been important to the West family and there are several tracks that revolve around religion. "Jesus Walks" and "No Church in the Wild" both earn a spot on Kim's list and could rank near the top.
Kim also includes a few of Kanye's most popular songs, so it is possible that her tastes align with Kanye's fans and "Gold Digger" or "Heartless" top the list.
The couple's daughter, North, recently revealed her favorite song
While some of Kanye West's music may not be appropriate for his children yet, it's clear that the couple has exposed their children to some of their father's music.
During a 2017 interview with Interview Magazine, North was interviewed by Britney Spears' sons. She was asked to name her favorite song. North didn't hesitate in naming her father's song, "Amazing" as the one that tops her list.
"Amazing" was released in 2008, five years before North was born. The song was originally a standalone track and was later nominated for a Grammy award.
Going back to Kim's list, it is very possible that Kim considers "Amazing" to be her favorite song as well. In fact, "Amazing" ranks as our top choice for Kim's favorite song, based on her daughter's love for it.
Music is important to the West family
While Kanye West has made a career out of making music, his professional life is not the only place where music plays an important role. In January, West started hosting Sunday services.
These services have been described as spiritual and Kim even calls them a healing experience. Music is an important component of these events, with West performing and inviting choirs to perform.
The inclusion of the gospel and songs like "Jesus Walks" contribute to the positive energy these events provide.