What is Larry David's Net Worth?
Larry David's brand of humor, wit, and cynicism certainly resonates as he has amassed a pretty, pretty, pretty decent sized fortune. Some resources cite David as being worth $400 million, whereas others have him sitting closer to $500 million.
David, the famous co-creator of the 90s hit television show, Seinfeld, changed mainstream comedy blending his self-deprecating sense of humor with comedian Jerry Seinfeld's gift of observation. The show not only put David on the pop culture map, but it also launched a career that lasted decades. Here's how Larry David created his wealth.
David began as a struggling comedian
Born in Brooklyn, New York on July 2, 1947, David led a relatively normal life during his early years. He graduated from the University of Maryland in 1970 with a history degree. Then, he went on to work for a bra wholesaler and quit his job (but then returned to work, acting like he never quit in the first place). These instances and more became some of the hilarious building blocks that eventually became Seinfeld.
David went onto try his hand at standup. At one point he went on stage, checked out the crowd and had no vibe with the group, according to IMDB. He said, "This just isn't going to work," and left the stage without performing.
Early comedy success did not completely elude David as he went onto be a regular writer for the late-night comedy series, Fridays as well as writing for one season of Saturday Night Live. Only one of David's SNL sketches aired.
And then came Seinfeld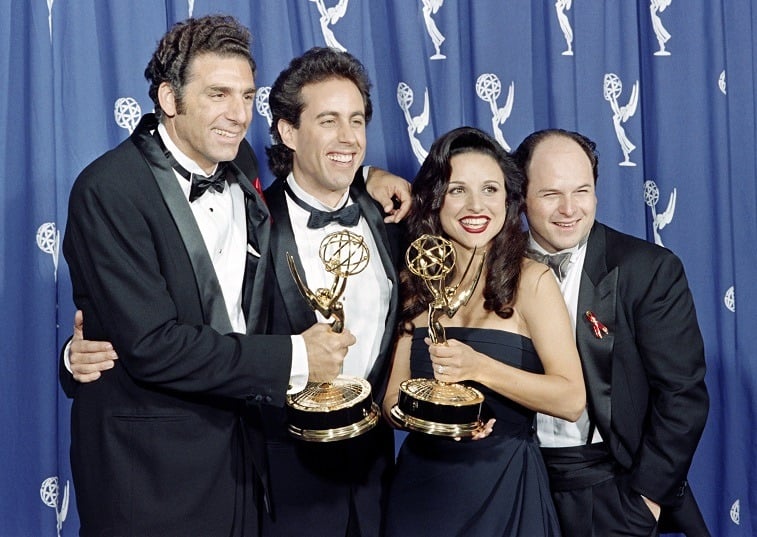 Jerry Seinfeld and Larry David met through mutual friend Carol Leifer. David wrote material for Leifer, which Seinfeld appreciated. They comedians formed a partnership and pitched the show, which initially had a lukewarm reception. Originally titled, The Seinfeld Chronicles debuted in 1989 to which the audience said, "eh."
However, "the show about nothing" took off, as NBC aired episodes after hit show Cheers, according to Uproxx. The cast of characters fell into place, with David hiring former colleagues Michael Richards from Fridays and Julia-Louise Dreyfus from SNL. The girth of material during the early Seinfeld years came from David's many flubs and mishaps. One "life imitating art" moment ended up helping David win an Emmy. The episode The Contest was the only Emmy David won for the series, although he was nominated five times for Seinfeld.
This is when he really cashed in
David made a significant amount of money from Seinfeld. He wrote 62 out of 180 episodes and he and Seinfeld each own 25% of the show's equity. When the show was sold into syndication, David made a reported $250 million, according to Celebrity Net Worth. The show sold to Columbia Tristar for $1.7 billion. David makes an estimated $40-50 million from Seinfeld alone.
When Hulu bought the streaming rights to the show for $180 million, David earned $80 million. And in the last 20 years, the show has generated more than $3 billion, which works out to about $17 million per show.
David takes center stage with Curb Your Enthusiasm
The Seinfeld comedy brand continued in popularity, which helped David's 1999 HBO pilot mockumentary, Larry David: Curb Your Enthusiasm quickly gain traction. HBO immediately signed David to more shows, which simply became Curb Your Enthusiasm. The show has no script, but a simple outline, which makes awkward situations and spontaneous comedy possible. Since the show's official launch in 2000, it has logged 10 seasons.
His net worth took a staggering hit when this occurred
David's net worth was significantly reduced following his divorce to wife Laurie in 2007, according to Celebrity Net Worth. In David's typical curmudgeonly way, he told Rolling Stone, "I don't have anything near what I'm reputed to have. My wife got half of it, the whole thing is ridiculous, and yet people are obsessed with the fact that I've made millions of dollars [from Seinfeld's] syndication . . . It's okay for all these other people you've interviewed to have it, but not me?
Check out The Cheat Sheet on Facebook!