What is Michael Avenatti's Net Worth?
What is Michael Avenatti's Net Worth?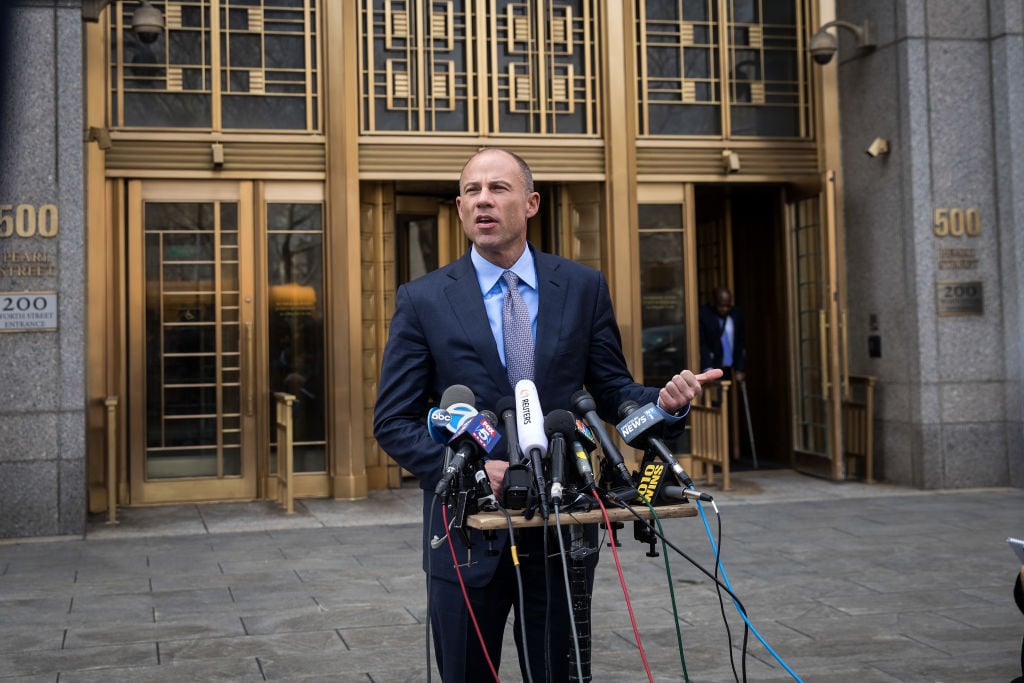 Michael Avenatti is an attorney, well known for representing adult film star, Stormy Daniels. Avenatti rose to rock star status after blasting President Donald Trump, using the same media manipulation Trump uses against him."Our media strategy has elevated the stature and respect afforded my client exponentially, "Avenatti told The Atlantic. "One-hundred fold or more since we started this back in early March. Anyone that claims otherwise either is jealous or doesn't know what they're talking about."
Avenatti also hits as hard as Trump too. "I've made a lot of predictions, many of which have come true," he continues. "I don't know of anything I've predicted yet that has not come true. Every time I've given an opening statement in a trial, I've made predictions. How is it any different from that?"
He has had a successful career thanks to his pitbull approach to law and larger than life presence. Avenatti has a net worth of $20 million, but could he be taking a professional and financial hit after recent events?
Early credentials set him up for success
Avenatti received his B.A. from the University of Pennsylvania, in 1996, Coed reports. He majored in political science which set him up for law school at George Washington University. He graduated first in his class. And was later honored in 2003 with the Michael J. Avenatti Award for Excellence in Pre-Trial and Trial Advocacy issued annually at George Washington University Law School.
Law practice
https://www.instagram.com/p/BorZYHyAv4T/
He immediately dove into private practice after law school. He started his law career at O'Melveny & Myers in Los Angeles in California then joined Greene Broillet & Wheeler, according to Coed. Eventually, he opened his own firm, Eagan Avenatti, LLP, which has offices throughout California.
At the same time, the glitz of on-camera work appealed to him. He became a legal correspondent for 60 Minutes. Plus, he took his fast life as an attorney to the track. He became a race car driver in 2010 and competed in races like FIA World Endurance Championship, Porsche Supercup and United SportsCar Championship races.
Aventatti is larger than life
Obviously watching Avenatti on television or reading his tweets provides insight into his personality. "[He] obviously is not shy, he wasn't shy ever," attorney and former co-worker Brian Panish told The Atlantic. "He had a plan in what he was gonna do and he did it … What you see is what you get."
And while trial lawyers often experience significant burnout due to intense pressure, Avenatti's former professor, Jonathan Turley says he doesn't see that for his former student. "There are some who actually seem to thrive on those pressures. Michael Avenatti is one of them. It's no accident that he found car racing as a form of recreation." Turley said Avenatti had shown an interest in litigation as soon as he got to GW. "He had an overwhelming desire to be on a litigation team," Turley said. "The reason he's lethal is because he loves it."
Then came Stormy
https://www.instagram.com/p/BnBkueHgiDt/
Avenatti wasn't supposed to be Daniels' lawyer, according to her book Full Disclosure, Business Insider reports. Her original attornies breached their contract with Daniels and she needed new representation. After exhaustive attorney shopping, a legal contact connected Daniels with a lawyer he thought might be perfect. That attorney was Avenatti.
Aventatti not only found Daniels' story to be truthful, but he also captured her passion for the case as well. But he was cautious at first. "I knew that she was an adult film star and I haven't represented any adult film stars. That's just not what I do," Avenatti told CNN. "I mean, I've had a real legal career with real cases of significant magnitude and I've got a reputation that I've built over the years. And I was skeptical about lending that reputation to somebody in the industry, quite honestly."
But then, "I met her and she blew every conception that I had, misconception that I had, out of the water," he added. "This is an incredibly intelligent woman. One of the most self-aware people I've ever met in my life."
A new storm brews for Avenatti
Aventatti was charged with felony domestic abuse in November 2018, NPR reports. Initially reports that his estranged wife, Lisa Storie-Avenatti was involved were retracted. However, her attorneys issued this statement following his arrest, "Ms. Storie-Avenatti was not subject to any such incident on Tuesday night," her attorneys said in a statement to BuzzFeed. The case is still pending.
Check out The Cheat Sheet on Facebook!