What Is Mick Jagger of The Rolling Stones' Net Worth?
Simply put Mick Jagger is an icon. His career with The Rolling Stones has spanned generations and his performances are legendary. The man embodies what it means to be a rock star.

Early years

Born Michael Phillip Jagger on July 26, 1943, in Dartford, England, Mick Jagger always had an interest in music, according to Biography. He had a particular interest in blues and R&B.

He got his first guitar at the age of 14 and pursued music while he studied at the London School of Economics from 1960 to 1963. It was there that The Rollings Stones were formed.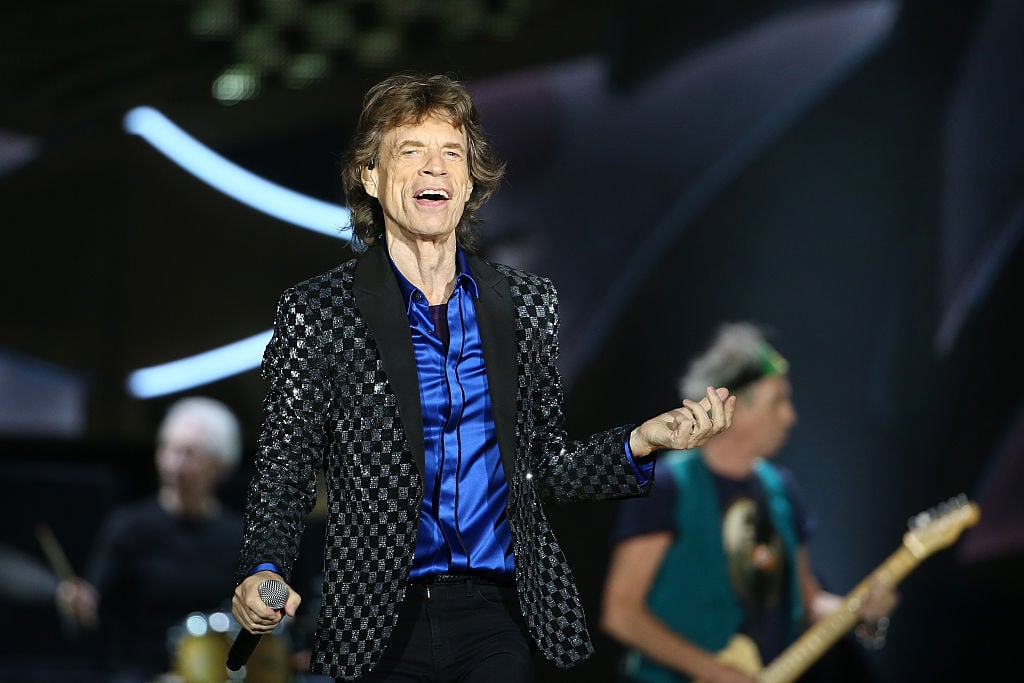 Today's members of The Rolling Stones include Mick Jagger (lead vocals), Keith Richards (guitar), Charlie Watts (drums), and Ronnie Wood (guitar).

Past members include Bill Wyman (bass), Ian Stewart (keyboard) who later became the band's road manager, Brian Jones (guitar), and Mick Taylor (guitar).

The band's first gig

The Rolling Stones first gig took place on July 12, 1962, at London's Marquee Club, according to The Rollings Stones official website. The lineup included Mick Jagger, Keith Richards, Brian Jones, Ian Stewart, Dick Taylor, and Tony Chapman.

By the winter of that year, The Rolling Stones had gained momentum.

"Something was happening in the late winter of 1962 and afterwards," Keith Richards said as part of an interview for the band's website, "because suddenly hundreds and then thousands of people were queuing up to see us"

"And it doesn't take a nail driven through your head to realize that something's going on and that you're part of it. It was an amazing experience and it happened so fast, starting in London and then moving out from there. It was like hanging onto a tornado."

Hits

The Rolling Stones have become a musical force lasting more than 50 years. Their hit songs (and albums) are many but a few of their hit songs include "(I Can't Get No) Satisfaction," "Angie," and "Gimme Shelter," and "Paint It Black."

The band started touring in the 1960s and has continued to do so. Fans often wonder, "Will this be their last tour?" or "Will this be my last chance to see them?" but The Rolling Stones continue to perform.

"It's incredible to think about working with the same band for fifty years," Mick Jagger said. "Of course, members have come and gone over the years, but it is still the Rolling Stones. Inevitably it makes you think about the mortality of it. But here we are making plans and attempting to get things organized for the future!"

The Rolling Stones have indeed planned for the future. Their U.S. tour, No Filter, kicks off on April 20, 2019, and many of the venues are already sold out.

Jagger's personal life

Jagger has had most of his play out on the world's stage. Marriages, divorces, children, drug use, and a drug arrest have all been news. He has eight children with five women, according to ET.

His oldest child, Karis, is 47 years old. Her mother is Marsha Hunt. Jagger first got married in 1971 to Bianca Jagger. They had a daughter, Jade, who is 46 years old, before they divorced in 1978.

From 1977 to 1999, Jagger was with Jerry Hall. The two share four children together; Georgia, James, Gabriel, and Elizabeth.
After his relationship with Hall ended in 1999 Jagger welcomed another son the same year. He had his son, Lucas, with Luciana Gimenez.

Jagger also shares a son with his current girlfriend, ballerina Melanie Hamrick. They welcomed their son, Deveraux, in 2016.

What is Mick Jagger's net worth?

The Rolling Stones frontman whose career has spanned more than five decades has a net worth of £260 million GBP, according to Business Insider. His net worth equates to $339 million US.

Jagger is the fifth richest British musician behind Sir Elton John, U2, Lord Lloyd-Weber, and Sir Paul McCartney and Nancy Shevell.
Jagger added "sir" to his name in 2003 when he was knighted during the birthday celebration of Queen Elizabeth II, according to Rolling Stone magazine.