What is Nick Offerman's Net Worth?
Nick Offerman is known for his ingenious comedic talents. For the last few decades, Offerman has been delighting fans from all over the world with his unique and subtle comedy routines.
He is most recently known for playing the hilarious role of Ron Swanson on the hit sitcom, Parks and Recreation. His brilliant portrayal of this character is just one of the many reasons why fans love him so much.
Not only has Offerman had a prosperous career in front of the camera, but he has also worn a few different hats in the entertainment industry. Keep reading to find out Offerman's net worth is as well as the many careers that he has had throughout this life.
Nick Offerman's acting career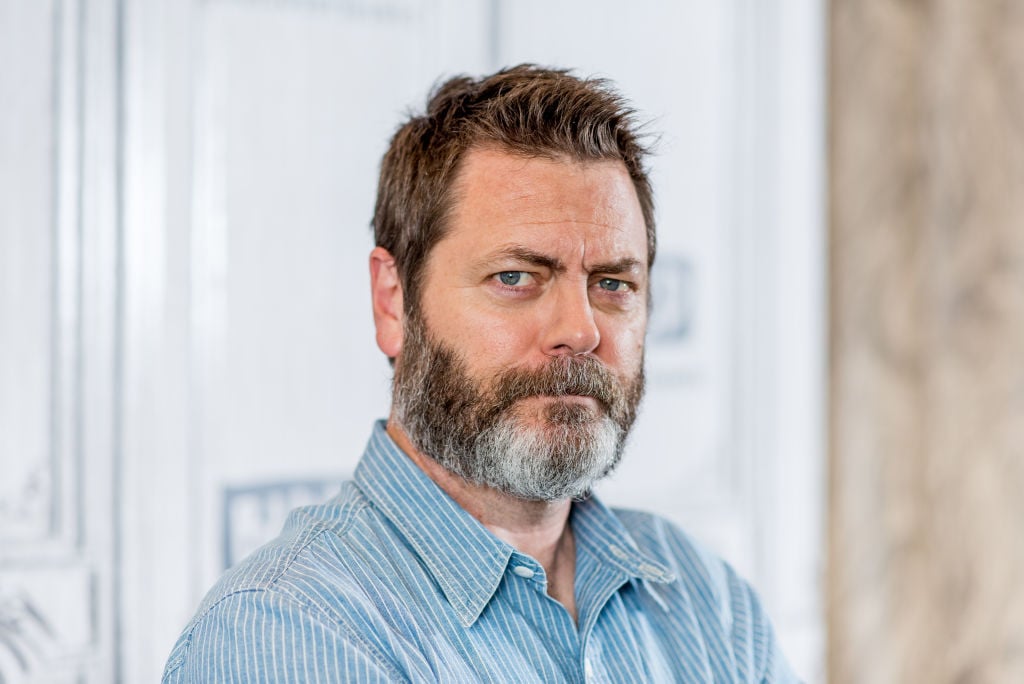 In the early '90s, Offerman was involved in several different theater groups where he had worked as an actor and a fighting choreographer. In 1997, he landed his first televised acting role when he appeared in one episode of ER. 
For the next few years, he continued to make small appearances on several different TV shows including Will & Grace, King of Queens, and George Lopez. 
In 2009, he was cast to play his first lead role in a sitcom when the producers of The Office decided to put together another show called Parks and Recreation. Offerman played the character of Ron Swanson.
At first, many fans thought that Offerman's character was going to be similar to Michael Scott from The Office. The character's clueless, yet funny, personality did remind us of Dunder Mifflin's favorite regional manager.
However, once fans started seeing that Ron Swanson was cutthroat and a bit of a hermit, they started to see more of Dwight Schrute's character in him. When fans saw how Offerman was able to take two unique and very popular characters and brilliantly combine them into one, his popularity really started to grow.
In addition to his television career, Offerman has also been featured on the big screen several times. It had lent his voice to a couple of different animated movies including Hotel Transylvania 2, Ice Age: Collision Course, and Lego Movie 2. One of Offerman's most well-known movie roles was his portrayal of McDonald's co-founder, Dick McDonald, in the movie The Founder.
Nick Offerman's other career moves
In addition to his acting skills, Offerman also has some highly impressive carpentry skills. In fact, back in the '90s while he was with one of the theater groups, he worked as an actor and a carpenter. It seems like he has always liked working with wood and fixing stuff.
When he proposed to his wife, Megan Mullally, who played Karen Walker on Will & Grace, he had put the engagement ring in a wooden box that he hand-carved into the shape of a heart. 
His carpentry skills have also helped him in the entertainment industry as well. In 2018, he and friend, Amy Poehler, co-hosted a show together called Making It. 
The show features several different crafty contestants that compete in a wide range of challenges that put their building skills to the test. He has also released a few instructional DVDs that showcase how to make different things out of wood.
He is also an avid writer and has written three semi-autobiographical books. His first book is entitled Paddle Your Own Canoe: One Man's Fundamentals for Delicious Living. 
His second book was published in 2015 and is called Gumption: Relighting the Torch of Freedom with America's Gutsiest Troublemakers. And his last book was published just a year later and is entitled Good Clean Fun: Misadventures in Sawdust at Offerman Woodshop.
In 2018, he and his wife also wrote a book together entitled The Greatest Love Story Ever Told. Shortly after the book's release, the Offerman and Mullally went on The Tonight Show Starring Jimmy Fallon to talk about their book. They had said that the book is a light-hearted take their relationship and includes many of their own private conversations.
What is Nick Offerman's net worth?
According to Celebrity Net Worth, Offerman has had a very prosperous career. With the work that he has done on different movies and television shows, as well as books, Offerman has been able to accumulate a net worth of $4 million. That number is very impressive. But because he is so talented in many different fields, we expect that number to grow greatly in the near future.