What Is 'No Sudden Move' About?
No Sudden Move is Steven Soderbergh's latest star-studded film. Here's a quick breakdown of the movie — including what it's about, the cast, and where to watch it.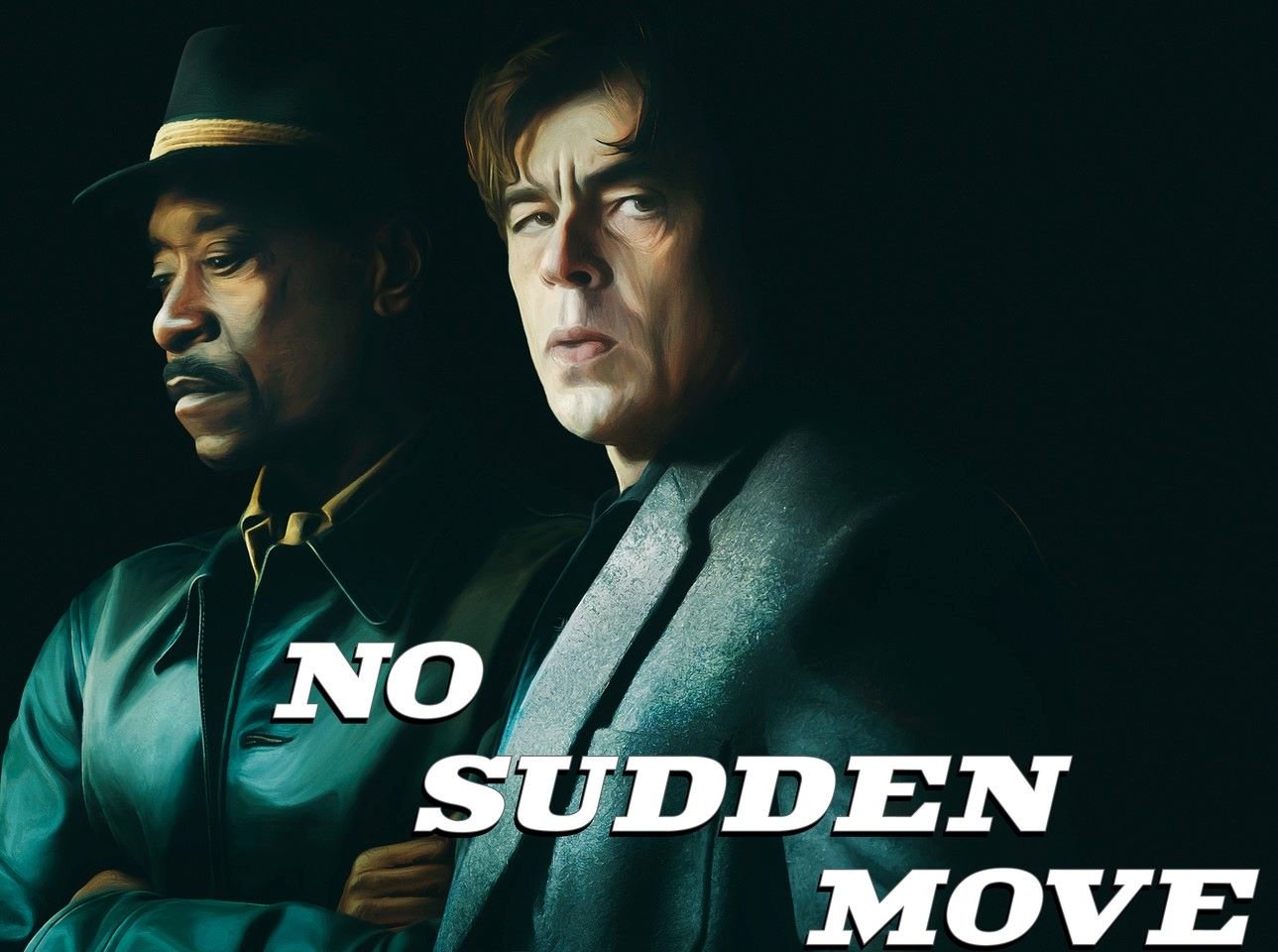 What is 'No Sudden Move' about?
No Sudden Move is a heist movie set in 1950s Detroit. It stars Don Cheadle as Curtis Goynes, a man recently released from prison for committing petty crimes.
As he searches for a job and tries to settle his debts, Curt is approached with a plan to steal an important document. He joins a group of small-time criminals and attempts to pull off the heist.
But when things go wrong, Curt and the crew must navigate the changing, race-torn city to find out who hired them and why.
RELATED: Don Cheadle's War Machine Deserves an Origin Story So He's Not a Pointless MCU Character
In a recent chat with Collider, screenwriter Ed Solomon (Bill & Ted's Excellent Adventure, Men In Black, Now You See Me) revealed that the film was written with Cheadle and Ocean's Eleven in mind. And he noted that he used actual historical events from Detroit's history as inspiration for the story.
"I was researching Detroit and realized that right in that era, the mid-50s in Detroit, was right in the middle of when the auto industry and the tire industry and the oil and gas industry were all tearing up the train tracks and raising these vibrant, vital African-American residential business communities, which were Black Bottom and Paradise Valley, and destroying them to make the freeways," Solomon said.
"So I thought, this is a fascinating backdrop that gives Don's character a kind of moral imperative and some real punch and power, that seemed like a really strong way to set the film."
The 'No Sudden Move' cast features several award-winning actors
No Sudden Move comes from Academy Award-winning director Steven Soderberg (Traffic, Erin Brockovich).
The film stars Academy Award nominee Don Cheadle (Hotel Rwanda, Avengers: Endgame); Oscar winners Benicio del Toro (Traffic, Sicario) and Matt Damon (The Bourne Identity, Goodwill Hunting); Golden Globe nominees David Harbour (Stranger Things, Black Widow) and Ray Liotta (Goodfellas, Something Wild); and Emmy winner Jon Hamm (Mad Men, Richard Jewell).
Bill Duke (Commando, Black Lightning), Kieran Culkin (Igby Goes Down, Succession), Brendan Frasier (The Mummy, Encino Man), Noah Jupe (Honey Boy, The Undoing), Julia Fox (Uncut Gems), and Amy Seimetz (The Girlfriend Experience) also star.
What is the 'No Sudden Move' release date?
No Sudden Move began filming in Detroit in September 2020 and wrapped a month later, in November. The movie made its world premiere in June 2021 at the Tribeca Film Festival.
It was released for streaming audiences on July 1.
How to watch 'No Sudden Move'
No Sudden Move is available to stream exclusively on HBO Max. HBO cable subscribers can log in to the HBO Max app with their cable-provided login and password. New customers can sign up for HBO Max with plans starting at $9.99 per month.
A star-studded heist film like No Sudden Move would look great on the big screen. But unfortunately, the movie is not playing in theaters. It also doesn't look like it will be coming to streamers like Netflix or Hulu anytime soon.